Which NFL Teams Are Allowing Fans at Games in the Playoffs?
The NFL playoffs get underway on Saturday afternoon with a distinctly unfamiliar look. Partly that is due to a new format that has expanded the postseason to seven teams per conference, but the different feel is by and large down to the absence of fans in the stands.
While sparsely populated or downright deserted stadiums have been the norm during the NFL regular season because of the coronavirus pandemic, the sight of playoff games played without the traditionally electric atmosphere will take adjusting to.
Both No. 1 seeds, the Kansas City Chiefs and the Green Bay Packers, plan to operate their stadiums at limited capacity when they make their playoffs debut following their first-round bye. Meanwhile, here's a breakdown of which stadiums will welcome spectators during the Super Wild Card round this weekend.
Saturday, January 9
Indianapolis Colts @ Buffalo Bills—1:05 p.m. ET, CBS
After playing behind closed doors throughout the regular season, the Bills will welcome a limited number of fans for their first playoff game at home in 25 years. Last month, New York Gov. Andrew Cuomo announced Bills Stadium will be open to 6,772 fans for the game against the Colts on Saturday afternoon, provided attendees returned a negative COVID-19 test before being granted access.
The Bills added a $63 surcharge to the ticket price to cover the cost of the test, then informed ticket holders of their appointment times and carried out tests on over 5,000 fans in Bills Stadium parking lot on Wednesday. Spectators attending the game on Saturday will be socially distanced, but it remains to be seen whether the Bills will be allowed to welcome fans for their Divisional Round game should they beat the Colts.
"The state has said, 'You can plan [for fans at a second playoff game], but there's no guarantee, '" franchise owner and team president Kim Pegula was quoted as saying by ESPN.
"They want to see how this process goes, in terms of mask-wearing, ingress, egress, all of that. So a lot of our messaging to our fans is to just really follow the protocols that are in place."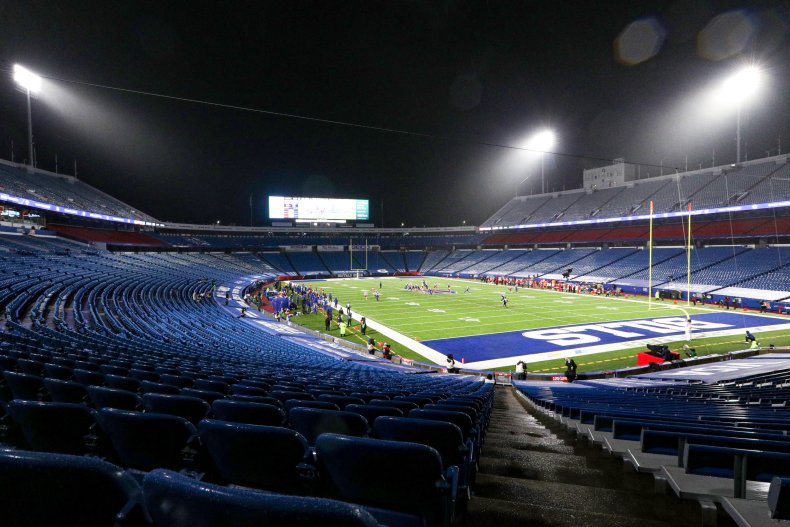 Los Angeles Rams @ Seattle Seahawks—4:40 p.m. ET, FOX
Lumen Field has been desolately empty throughout the regular season and the trend will continue on Saturday, when the Seahawks host NFC West rivals Los Angeles Rams.
Tampa Bay Buccaneers @ Washington Football Team—8:15 p.m. ET, NBC
Washington's first playoff game since 2015 will go ahead behind closed doors, the franchise said earlier this week.
"Our entire team, especially our players, will miss having our passionate fans in the stadium as we take on the Tampa Bay Buccaneers," the team said in a statement.
"We are grateful for all of the support from our community and encourage everyone to stay safe."
WFT played without fans until Week 9, when approximately 3,000 spectators were allowed to attend the game against the New York Giants.
Sunday, January 10
Baltimore Ravens @ Tennessee Titans—1:05 p.m. ET, ESPN
The Titans will allow fans at Nissan Stadium on Sunday for a rematch of last year's Divisional Round matchup against the Baltimore Ravens. Nissan Stadium operated at 10 percent when it first re-opened to spectators on October 4, before increasing to 12.5 percent and 15 percent over the next two weeks and has operated at a 21 percent capacity—approximately 14,500 fans—from November. The arrangement is expected to remain in place for Sunday's playoff game.
Chicago Bears @ New Orleans Saints—4:40 p.m. ET, CBS
Approximately 3,000 fans will attend the Saints' game against the Bears on Sunday afternoon, the same amount that has been able to attend games at the Mercedes-Benz Superdome since October. The Saints had hoped to host 15,000 fans for their game against the Kansas City Chiefs on December 20, but had to shelve their plans due to a spike in COVID-19 cases.
Earlier this week, Saints head coach Sean Payton floated an ambitious plan to pack 50,000 fans inside the Superdome, following the blueprint adopted by the Bills.
"I brought up the idea of testing 50,000 people and quarantining them in a hotel and having the most safest Superdome known to man, scientifically," he told reporters on Wednesday. "Bus them, they've tested every day, and you've got a COVID-free facility. I think that's possible. I don't know if it's taken off or not."
Unfortunately for Payton and Saints fans, the plan never took off.
Cleveland Browns @ Pittsburgh Steelers—8:15 p.m. ET, NBC
In normal circumstances, an AFC North rivalry matchup on primetime in the playoffs would have made for a febrile atmosphere at Heinz Field. Normal circumstances, however, have long been at a premium in the NFL this season and Steelers and Browns will play behind closed doors on Sunday night.
Pittsburgh welcomed approximately 5,000 fans in Week 5, 6 and 10 of the regular season but were denied permission to open the stadium for the Wild Card Round.
"We are disappointed we will not be able to hoist our season ticket holders and other fans at Heinz Field on Sunday night against the Cleveland Browns in our AFC Wild Card game," Steelers spokesman Burt Lauten said in a statement earlier this week.
"We were hoping to receive approval to host fans for the playoffs at a capacity similar to our games in October and November, but unfortunately the state's orders will only permit 2,500 total people in the building, including players, coaches and staff. This will limit fans in the seating bowl to family and friends of players and the team."