NFTs Can Be Trojan Horse for Buyers; PC Sales Pandemic Surge Continues
If Bitcoin lacks fundamentals and is held aloft by the "Tinkerbell effect," then Non-Fungible Tokens (NFTs) are art by acclamation.
Bitcoin and NFTs have value despite their apparent detachment from the real world simply because someone is willing to buy them. But an NFT is bound by intellectual property law and doesn't float above what some see as mundane market concerns.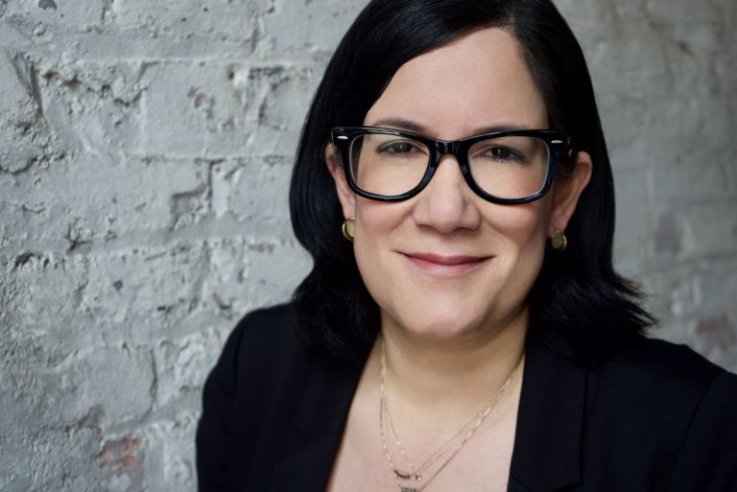 "Copyright in NFTs is not automatically assigned," Anita K. Sharma, an entertainment attorney and managing partner of Sharma Law in Brooklyn, New York, told Newsweek. "The buyer owns the tokens that are in their digital wallet, but not necessarily the artwork associated with the NFT."
sharmalawpllc.com
"People think traditional law doesn't apply to the blockchain, but that is not the case," Anita K. Sharma, an entertainment attorney and managing partner of Sharma Law in Brooklyn, New York, told Newsweek. "Many NFTs incorporate third party content—logos, art, music or game characters—so using such intellectual property without the owner's permission is a problem for an NFT creator."
It is important for buyers to understand that the purchase of the NFT gives the buyer control of the digital tokens, but does not necessarily include other important rights associated with the sale, she said.
"Copyright in NFTs is not automatically assigned," Sharma said. "The buyer owns the tokens that are in their digital wallet, but not necessarily the artwork associated with the NFT."
Bitcoin can be bought and sold for another just like it, meaning it is "fungible."
But non-fungible tokens are one of a kind, allowing the creation and preservation of distinctive designs. The blockchain can be used to verify the ownership and authenticity of an NFT.
Mike Winkelmann's Everydays, The First 5000 Days, a piece of digital artwork, recently sold for $69.3 million at auction house Christie's. The artist, known in the art world as Beeple, started posting a new work online in May 2007 and continued to do so for the next 13.5 years. The individual postings were consolidated into one piece and sold, apparently making Christie's the first to introduce an NFT to the art world.
There's a stampede into NFTs, and some artists and buyers think they're in the clear because an NFT is guaranteed to be one of a kind and backed by the blockchain.
But it's also possible a digital art aficionado could spend big bucks on a stack of pixels that includes a bundle of legal grief.
"Enforcement of intellectual property rights can be difficult once an object is sold," Sharma said. "Although the NFT will be associated with a digital wallet address, the identity of the wallet owner may be very hard to discern without computer forensics work. This is why it's very important to find the NFT with one's intellectual property in it when it's listed on an exchange and before it's sold."
Some NFTs are deftly crafted and all-but-guaranteed to get a smile out of anyone but the professionally dour.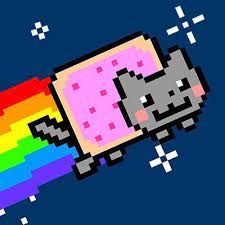 Nyan Cat
twitter.com
Nyan Cat looks like a throwback to the Pacman electronic game graphics of the 1980s, although a finicky few might argue that Inky, Blinky, Pinky and Clyde were more sharply drawn and showed more personality.
Nyan, the now-iconic grinning digital kitty, has a head that looks as if it were made with a child's plastic snap-together bricks. The beast bounces up and down in place as circles, squares and plus signs move right to left. The digital critter has pink cheeks and there's a rainbow wafting on a digital breeze to highlight its bobbing tail.
Restaurateurs fill the plate to make the meal attractive, and this may be a case of filling the NFT frame. No apparent poaching of intellectual property in this feline, but other NFTs provoked yowls and hissing from copyright holders.
"Make sure, as a seller, that you own the content," Sharma said. "An artist made $1.85 million by selling NFTs, including characters he used to draw for DC Comics. The company sent a stern warning to those employed by DC that unlicensed use of NFTs is prohibited."
The buyer also has responsibilities, and should read the fine print before buying an NFT.
"When buying an NFT, pay close attention to the selling platform's material terms of NFTs, because these vary from platform to platform and even NFT to NFT," Sharma said. "For example, buying an NFT doesn't automatically give you the right to reproduce it, resell it or use it for commercial purposes."
The owner can draft the license expansively or narrowly. Buyers therefore should understand what is and isn't being licensed.
The artist can grant rights to create a small number of NFTs to maintain scarcity and preserve value of the piece, or even impose restrictions on the licensee to modify the piece.
In what could be the intersection of the art world with popular culture, Tampa Bay Buccaneers quarterback Tom Brady hopes to develop digital collectibles with a top agency. Is this a case of Brady imitating Beeple or Beeple and other NFT creators following Brady to the money?
It may not matter.
After all, it's often said that tables and chairs in a restaurant are just tables and chairs, but tables and chairs in a gallery are art. However, a digital rendition of those tables and chairs is likely to come with a lawyer attached.
At least the blockchain should make NFT forgery impossible, or at least difficult and more trouble than it's worth.
In the 1930s, Han van Meegeren, a Dutch artist criticized for lack of originality, decided to showcase his talent by forging and selling a painting said to be by Johannes Vermeer. Critics raved. He continued the forgeries and created six previously "undiscovered" works by Vermeer. He pocketed millions.
Somewhere, there's a clever kid with a computer who sees an opportunity in NFTs.
In mid-morning trading Friday, Bitcoin changed hands at $36,885.56, down 7.70% in the last 24 hours but up 25.49% for the year. The 24-hour range is $35,184.77 to $40,363.18 The all-time high is $64,829.14. The current market cap is $690.49 billion, CoinDesk reported.
Market Pulse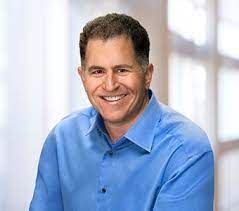 Michael Dell CEO Dell Computers
corporate.delltechnologies.com
Strong demand for personal computers during the COVID-19 pandemic drove Dell's first quarter sales higher despite a worldwide shortage of semiconductors.
The Round Rock, Texas-based company said revenue increased 12% to $24.5 billion from the same period a year ago. Net income totaled $938 million.
Earnings were boosted by a 42% increase in consumer revenue. Sales of desktops, laptops and tablets were strong.
"These results are driven by the 'do anything from anywhere' economy where technology enables connectivity and outcomes for all of us," Jeffrey W. Clarke, Dell's Vice Chairman and Chief Operating Officer, told Wall Street analysts on an earnings call. "Instead of going to work, school, entertainment or shopping, it all comes to us through our PCs. That need for connectivity was demonstrated in the record demand last year and has continued into this year."
Clarke said the PC market grew during the coronavirus lockdown and is likely to continue to expand as many companies permit more employees to work from home at least several days a week.
Earlier, Pat Gelsinger, Intel's CEO, said the worldwide semiconductor shortage could continue as much as two more years as the chipmaker posted weaker quarterly earnings. Spot shortages have hit a range of industries and forced temporary slowdowns or shutdowns at some auto assembly plants.
Intel plans to spend about $20 billion to build two new chip fabrication plants in Arizona.
Dell plans to spin off VMware late this year. The company's first-quarter revenue rose 9.5% to $2.99 billion and profit increased 10% to $2.99 billion. VMware helps companies digitize their operations.
Dell's shares recently fetched $99.70 each. Wall Street's price target, an estimate of fair value, ranges from $80 to $134 a share.