Nicaragua's President Says He Wants to Meet Trump, but Accuses U.S. of Plotting a 'Coup' Against Him
Nicaragua's President Daniel Ortega has voiced his desire to meet with President Donald Trump while also accusing the U.S. of plotting a "coup" to overthrow his government.
As the head of state of the Central American country since 2007, with his wife Rosario Murillo currently serving as his vice president, Ortega has faced mass demonstrations against his leadership since April. Hundreds have been killed and detained in violence, which rights groups blame on a government crackdown. They claim that more than 320 protesters have been killed since the spring, but Ortega's government says the number is fewer than 200 and accuses political opposition parties of the deaths.
In an interview with France 24, which aired Monday, Ortega said he plans to attend the United Nations General Assembly meeting in New York on September 25, during which time he hopes to meet with Trump directly to discuss the situation.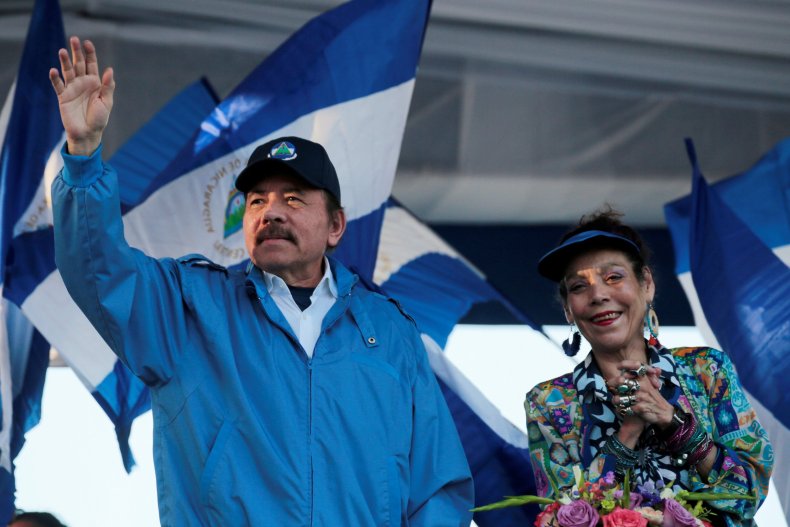 "I think that the idea of having exchange and dialogue with a global power like the United States – and here I'm not talking just on behalf of Nicaragua, I'm talking for Latin America as well – is necessary, in fact, it's an imperative," he told the French news channel.
However, he also accused Washington of supporting the demonstrations against him while also strongly criticizing a recent a report from the U.N. High Commissioner on Human Rights that drew international attention to the situation in his country.
"We are under threat," Ortega said. "We can't rule out anything out as far as the U.S. is concerned. We can't rule out a military intervention," he added, claiming that the CIA has trained and funded Nicaraguan military groups to launch a "coup."
Referencing the recent U.N report—which highlighted extrajudicial killings, enforced disappearances, torture and ill-treatment of protesters—the Nicaraguan leader blasted the global body as being in Washington's pocket. He again denied that government police officers or paramilitaries have committed any crimes against demonstrators.
Ortega was first elected president from 1985 to 1990 and assumed power once again in 2007. Since then he has been re-elected in 2011 and in 2016, selecting his wife as his vice president.
The Nicaraguan leader was once considered to be a leftist reformer in his country, but his positions and alliances have shifted in recent years. The president's political party, the Sandinista National Liberation Front, has become increasingly viewed as a pro-business association and less of a party supporting the common people's interests.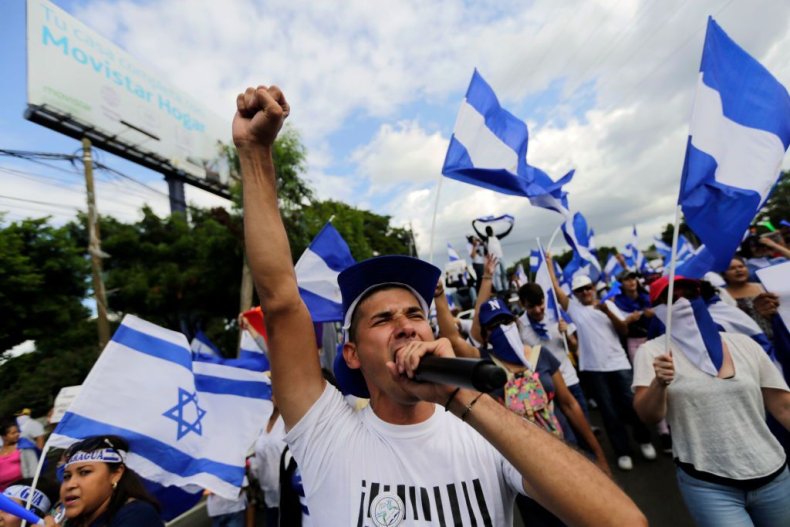 But a leading business organization, the Superior Council of Private Enterprises, which has traditionally been seen as close to Ortega, has also turned on the president and demanded early elections. The president's own brother, Humberto Ortega, the founder of the Sandinista army and former Sandinista army chief, told The Miami Herald in June that he supports holding elections early as well.
Despite the popular opposition, Ortega has refused to step down or hold early elections. Instead, he maintains that opposition leaders are backed by Washington and threaten his country's autonomy. Analysts disagree, however.
"The opposition to Ortega consists of a variety of forces, with a variety of visions for the future of the country. They include business groups and ex-Sandinistas, right, center and left," Geoff Thale, vice president for programs at the Washington Office on Latin America, told Newsweek in July. "What has united them is the recognition that the Ortega era has come to an end and that Daniel must go."