Who Is Nichelle Nichols' Son? Kyle Johnson Slammed After Selling Mother's Home
Star Trek actress Nichelle Nichols' son, Kyle Johnson, has attracted headlines this week, after it was reported that he sold his ailing mother's home.
Actor Johnson, 70, who is 88-year-old Nichols' only child, has been serving as the conservator of person and estate for his mother since January 2019, as she battles dementia.
And he has attracted the ire of Nichols' close friends, who have spoken against his move to sell the star's prized home in Woodland Hills, California, which she had owned since 1982.
According to those friends, Johnson acted against his mother's wishes with the sale of a home they say she was "proud" of and helped to design and build.
So who is Kyle Johnson? Like his mother and dancer father Foster Johnson, Johnson also launched a career in the entertainment industry, taking on TV roles and appearing in movies, most notably the 1969 drama The Learning Tree.
The slot car racing enthusiast was also active on the Los Angeles music scene in the 1980s, before landing a radio show on KNFT in Silver City, New Mexico—hosting the station's only left-of-center program.
However, the stint was short-lived as the show was pulled from the air after just two months, reportedly amid pressure from local advertisers.
And he's now facing controversy of a different kind, with Nichols' friend, producer Angelique Fawcette, and former manager, Gilbert Bell, speaking out against Johnson's handling of the conservatorship in a new interview with People.
"She's been like a mother to me," Fawcette told the publication of Nichols. "It's been horrendous. It's been painful to watch her go through this experience."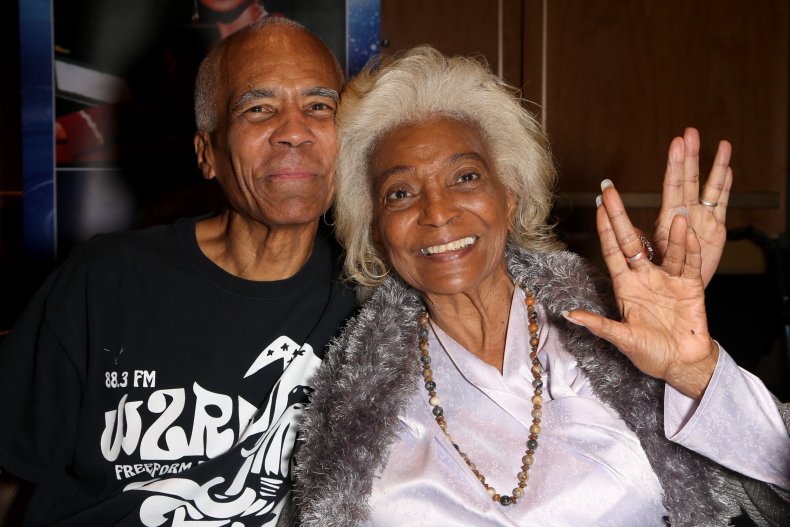 "When the house was sold, I was very hurt for her," she added. "She has no place to go back to anymore. It hurt me because I knew that it would hurt her. She stated that she wanted to remain in her home, yet the court let her son move her out."
Bell, who previously lived on the property in question, told People in a separate interview: "Her home is gone. It's been sold out from under her. She would be horrified if she knew that.
"She was proud of [that house]. She designed it. She helped build it. She planted the trees on it. It was a dream come true for her," he went on. "No matter where we were, when she came back from a convention and she would come into her home, she would sing to the house and say, 'Hello, home. Hello, house. I'm home.'"
According to the Los Angeles Times, Nichols' property, which included a main house and guesthouse, was sold last week for nearly $2.2 million.
Johnson stated via email that proceeds from the sale of the house were placed into his mother's conservatorship account to fund her care, per the Los Angeles Times.
He also told the publication that he is living in a rental house in New Mexico, though he didn't specify where in the state they are residing.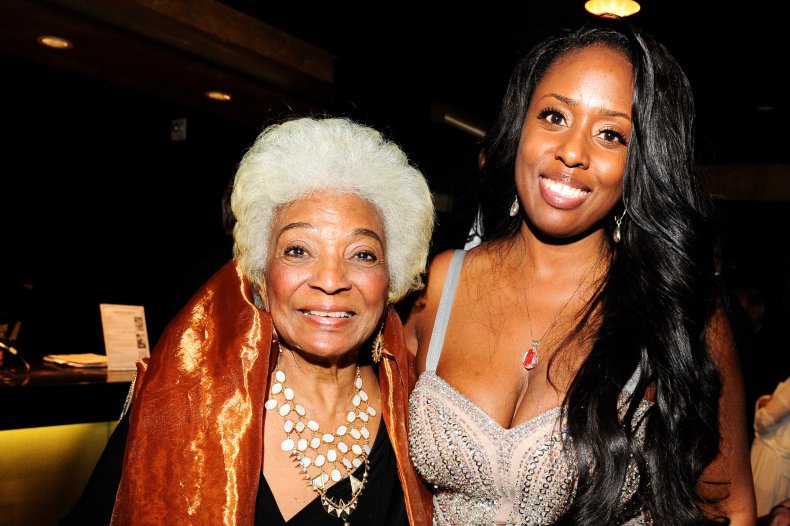 "We have moved here, and we're going to remain here," Johnson said, adding that the home they now live in is "smaller, a little more modest than being in Los Angeles, but meeting our needs."
Both Bell and Fawcette told People that they have not seen Nichols since 2019, the same year that Johnson became conservator.
Bell contends that Johnson had long intended to sell Nichols' home, telling the publication: "He [had told me] he didn't think she should be in her home and that it was a white elephant. [He said] she had no business being there, that he wanted her in a one-bedroom condo."
He added of Johnson: "He wanted to get the property sold. He's in charge."
"This is a very special woman," Bell continued of Johnson. "And it's a shame that her last years, with all she has contributed, not only to entertainment, but to NASA and society, that she would continue to be mistreated like this."
Fawcette said: "When you have a relationship with someone, that relationship is always going to remain in your heart and soul. Unfortunately, her son has tried to destroy our relationship. The relationship will always be here and I will always keep my promise to fight for Nichelle."
According to allegations made in court documents and in interviews with Newsweek, Bell was previously accused of embezzling an unknown amount of money from Nichols.
It was also alleged that Bell transferred ownership of Nichols' house to him, removed her from medical care, took possessions from her house, and subjected her to a grueling schedule of sci-fi convention appearances.
Family members claimed that Bell intentionally isolated her from family contact and coerced her into signing a long-term lease that kept him in her guest house for eight years, paying $300 a month in rent and nothing toward utilities—allegedly draining Nichols' assets and leaving her in debt.
While Bell did not speak to Newsweek, his lawyer, William D. Bowen, described the allegations as "frivolous and offensive."
Newsweek has contacted representatives for Nichelle Nichols and Kyle Johnson for comment.
Nichols is best known for her role as Lieutenant Nyota Uhura in the Star Trek franchise from the 1960s, when she became one of the first Black women to take on a major role in a primetime TV show.
She would go on to reprise her role in six Star Trek feature films, the last of which was 1991's Star Trek VI: The Undiscovered Country.