Nick Cannon shares several children with different women, and he's just welcomed another one with Bre Tiesi.
Cannon has previously spoken about how he has had multiple kids by different women "on purpose," welcoming four children by several mothers over the span of a few months.
Here is everything you need to know about the comedian's children and their mothers.
How Many Kids Does Nick Cannon Have and Who Are The Mothers of His Children?
Cannon is the father of eight children by four different women, and he just welcomed his eighth baby with real estate agent and model Tiesi.
Moroccan and Monroe
The rapper's eldest children are fraternal twins Moroccan and Monroe, who he welcomed with Mariah Carey in 2011. They are now 10 years old.
Cannon and Carey wed secretly in the Bahamas in 2008, but they divorced in 2016 after separating in 2014.
During their initial separation in 2014, Cannon said in a statement that his "main focus is my kids," per Fox News, and the former couple remained friends in order to raise their children together.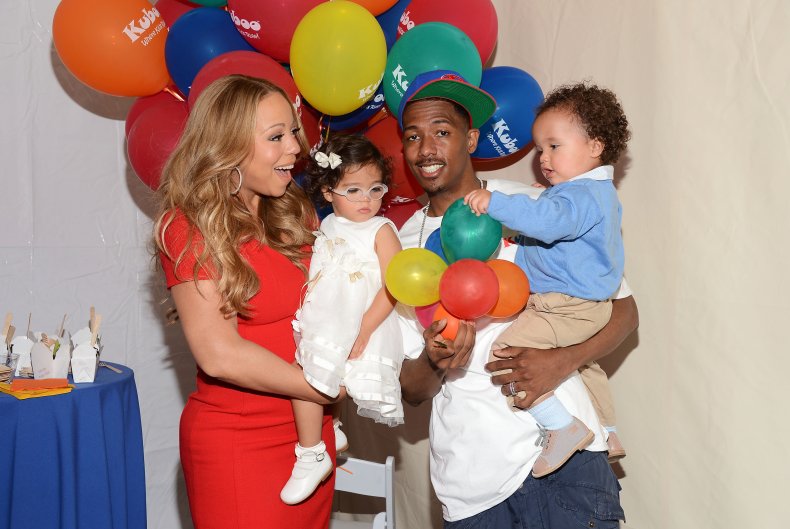 Golden and Powerful Queen
Cannon shares two children with model Brittany Bell—5-year-old son Golden and 13-month-old daughter Powerful Queen.
The pair first met in 2015 and they are said to have dated on-and-off for several years before welcoming their first child together.
Following the birth of their daughter, Bell wrote on Instagram: "The best gift ever. we have been surprised with... A GIRL!!!!!... All I can say is that Nick was my rock through the most intense yet empowering natural water birth. It was nothing but POWERFUL."
Zion and Zillion
Four months after the birth of his daughter Golden, Cannon announced he would be welcoming twins Zion and Zillion with DJ Abby De La Rosa.
The pair welcomed the boys in June 2021, and on June 14 De La Rosa shared a video of herself with the babies as she announced their names publicly
In the post, she wrote: "JUNE 14TH, 2021. Welcome to the world Zion Mixolydian Cannon & Zillion Heir Cannon [sic]."
It was announced Cannon was having a seventh child days later, on June 23, 2021, and in July the musician defended himself on his Power 106 Los Angeles radio show.
Per E! Online, he said of having children so close together by different mothers: "I'm having these kids on purpose. I don't have no accident!
"Trust me, there's a lot of people I could've gotten pregnant that I didn't. The ones that got pregnant are the ones that were supposed to get pregnant."
Zen
Cannon welcomed his seventh child, a son named Zen, with model Alyssa Scott on June 23, 2021.
Sadly, Zen passed away at just five-months-old from a brain tumor caused by hydrocephalus, which is an abnormal increase in fluid in the brain.
On December 7, Cannon announced that he and Scott had lost their son to the disease during an edition of his show The Nick Cannon Show.
Shortly after Zen's passing, Scott took to Instagram and shared a video montage of their son and she reflected on their grief.
She wrote: "Oh my sweet Zen. The soreness I felt in my arm from holding you is slowly fading away. It's a painful reminder that you are no longer here. I caught myself looking in the backseat as I was driving only to see the mirror no longer reflecting your perfect face back at me.
"When I close a door too loudly I hold my breath and wince knowing a soft cry will shortly follow. It doesn't come. The silence is deafening. These last five months we have been in this race together. We would hand the baton off to each other.
"You kept me going. It would be the middle of the night and you would smile at me. A surge of energy would fill my body and pure joy would radiate from within me. We were a team, both determined to see it through. It feels unbearable running without you now. I can't.
"And in this moment I feel myself being carried. By your sister.. By God. By complete strangers encouraging me to not give up. It has been an honor and privilege being your mommy.. I will love you for eternity."
In December, Cannon also shared a video in which he got a tattoo tribute to his late son of him as an angel.
His eighth child
The Masked Singer host held a baby shower with Tiesi, and she shared a video of the event on Instagram on Monday, January 31 to publicly confirm their baby news and that they were having a boy.
In her post, Tiesi wrote: "My son. Been keeping you safe in my belly from this world as long as I could.. you are surrounded by so much love. Mommy and daddy can't wait to meet you."
Tiesi shared a second post in which she cradled her baby bump and said in the caption: "May you always know, little one, that you were wished for, longed for, and will forever be loved my son."
On the Monday edition of his show, Cannon said of his growing family: "That sounds weird saying 'the next mother' because as everybody knows I have a lot of children, and I love them all dearly, sincerely. Every single one of my children are just as special as the other. It's never a competition.
"Parents know what I mean when I talk about just the love that you have for a child, whether it's a child that's here, whether it's a child that's no longer here, whether it's a child that's grown, whether it's a child that's about to be here. It doesn't matter how many you have. It's this unconditional love, this godly-like love that comes over the process."
On Thursday, February 3, Cannon took a moment on his show to apologize for the manner in which he announced his son's birth at the same time as discussing his son Zen's passing.
He explained that he wanted to say sorry to the mothers of his children, saying: "I would like to address the comments I made on Monday's show. I wish to always protect and respect the privacy of the mothers of all my children.
"I didn't know what to say, so I was probably talking too fast and probably misspoke. And I know I can do better when dealing with delicate and sensitive discussions.
"So I promise you, I promise the mothers of my children, I promise my family that I would do better and continue to be more understanding, caring, compassionate, like they often show me each and every day."
He added: "It felt like I was probably making some comparatives or probably discussing when talking about the passing of my son, Zen, and then also talking about the new child that I'm expecting.
"I didn't have to do that. I didn't need to do that, because those are two completely separate moments in my life and they both deserve the respect."
Sharing his thoughts on Zen's tragic death and how he is still struggling with grief amid the news of his eighth baby's arrival, he went on: "Grieving is a process and I'm still grieving each and every day, myself and Alyssa, our family, we still deal with that... people are trying to do the timing and all of that. None of that matters.
"We lost a child. It was a sincere and still is a sincere and real situation. I love her, and I love my son, Zen, and always will."
Tiesi took to Instagram on Monday, July 25 to confirm that she had given birth to their son in an "all natural unmedicated home birth" and that Cannon was with her during the special moment and was "supportive" of her throughout.
The model also revealed that they had shared a vlog of the home birth for anyone who was interested in knowing more about unmedicated home births.
Update 02.03.2022 2.50 a.m. EST: This article was updated to include confirmation that Bre Tiesi is having Nick Cannon's eighth child.
Update 02.04.2022 10.28 a.m. EST: This article was updated to include Nick Cannon's apology after announcing he was set to welcome his eighth child with Bre Tiesi.
Update 07.26.2022 03:04 a.m. EST: This article was updated to include Bre Tiesi's announcement that she had given birth to her son with Nick Cannon.