What Nick Cannon Has Said About His Kids and the Possibility of More Babies
Nick Cannon has had seven children by four different women and he is currently expecting an eighth with a fifth, his girlfriend Bre Tiesi.
While he already has a large brood, The Masked Singer host has confirmed that he is expecting more children and has hinted that he will be welcoming more than three of them in 2022.
Cannon spoke about fatherhood and his family during an appearance on Angela Yee's Lip Service podcast on Tuesday, June 7.
What Nick Cannon Has Said About His Kids and the Possibility of More Babies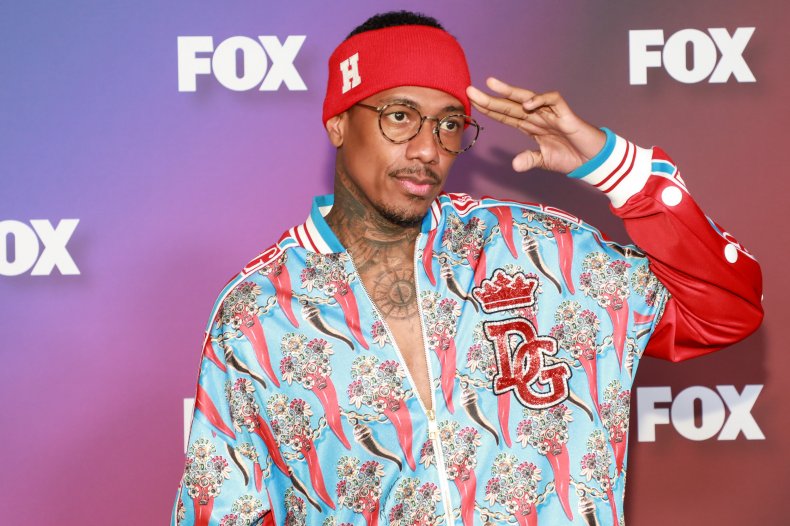 Per CNN, during the podcast Cannon told Yee: "Let's just put it this way... the stork is on the way."
He also hinted he'd be having more than three children in a year, which is how many he welcomed in 2021, by adding: "If you thought it was a lot of kids last year..."
Cannon explained that he had been celibate for a month and a half, but when his youngest son Zen, whom he shared with model Alyssa Scott, passed away at 5 months old in December 2021 after a brain cancer diagnosis, he stopped.
"I started going through some stuff... I got depressed with the loss of my son. So in December... the thing is everybody saw I was so down. So everybody was like, 'Let's just give him a little vagina, and that's gonna cure it all,'" he said.
"I fell victim to it 'cause I was in a weak state. So December, especially right before Christmas, I started f**king like crazy."
Cannon has spoken about the mothers of his children often in the past, saying on his show in January that it is "never a competition" between them.
While announcing his the imminent arrival of his eighth child, he said: "That sounds weird saying 'the next mother' because as everybody knows I have a lot of children, and I love them all dearly, sincerely. Every single one of my children are just as special as the other. It's never a competition.
"Parents know what I mean when I talk about just the love that you have for a child, whether it's a child that's here, whether it's a child that's no longer here, whether it's a child that's grown, whether it's a child that's about to be here.
"It doesn't matter how many you have. It's this unconditional love, this godly-like love that comes over the process."
Meanwhile, the rapper has also said he feels monogamy is not "healthy" while making an appearance on The Language of Love podcast with Dr. Laura Berman in February.
Cannon, who was married to Mariah Carey from 2008 to 2016, also claimed that monogamy is representative of "selfishness and ownership."
He said of not getting married: "You can still make covenants without getting the government involved, where two people say, 'We choose to be monogamous because we value this so much, we don't want anyone to be a part of this energy we have,' and I don't feel like that's healthy.
"I don't think monogamy is healthy. I feel like that gets into the space of selfishness and ownership."
While speaking about having children by multiple women he stressed that he doesn't engage in unprotected sex with everyone.
He explained: "Every woman that I have a child with, there is definitely a conversation about, 'Wow, how amazing would this be?' I feel like every woman I have a child with are amazing mothers, and there was a thought process going into like, 'Man, she would be an amazing mother, she's desired children, I can't wait to see what type of mother she would be.'"
"So, in saying that, I would say that they're all planned," added the talk show host.