Lin-Manuel Miranda Leads Nick Cordero Tributes: 'Devastating'
Leading figures in the entertainment industry have been mourning the tragic death of Broadway actor Nick Cordero. He was 41.
The Tony-nominated actor known for his work in Bullets Over Broadway, Waitress, and A Bronx Tale the Musical died Sunday after a lengthy struggle with COVID-19.
Cordero leaves behind his wife Amanda Kloots and their son Elvis, who was born in June 2019.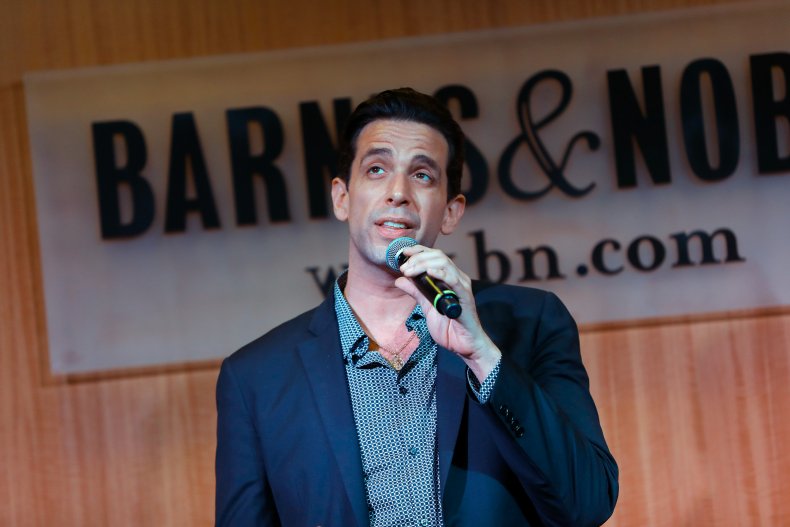 Many fans of Cordero as well as his acting friends and colleagues are struggling to come to terms with the tragic loss.
Hamilton creator Lin Manuel Miranda summed it up in his poignant tweet today, writing: "Devastating. What a loss, what a light. Whole heart with Amanda and his family tonight."
Cordero was diagnosed with what was thought to be pneumonia in March before a grueling battled with coronavirus ensued.
The musical theater star spent weeks in intensive care at Cedars-Sinai Medical Center in Los Angeles.
During his stay, he underwent a leg amputation, was given a temporary pacemaker, and was put into a medically induced coma. He was also awaiting a double lung transplant.
His wife, Broadway dancer and fitness instructor Kloots announced Cordero's death via Instagram.
"God has another angel in heaven now," she wrote. "My darling husband passed away this morning. He was surrounded in love by his family, singing and praying as he gently left this earth."
Several heartfelt tributes to the late star have been pouring in on social media, with many high profile actors sharing their heartbreak, disbelief, and in some cases, anger.
"I'm lucky enough to have never missed a Nick Cordero bway role," Glee star Darren Criss tweeted. "I got to see him as Dennis, Cheech, Earl, and Sonny, and I always loved seeing him on stage. For such gruff parts, he was in reality a sweet man, well-loved by his colleagues & certainly by his fam. Sad to hear. RIP."
Scrubs actor Zach Braff shared a number of tweets to honor his late friend.
"Nick Cordero passed at 11:40am today with his mother and wife by his side," he tweeted. "I can honesty tell you I have never met a kinder human being. Don't believe that Covid only claims the elderly and infirm. I am so grateful for the time we had. 'We'll catch up some other time.'"
He later tweeted: "Nick Cordero fought as hard as he could for 90 days. Wear a mask. F*** Covid."
Little Women star Florence Pugh, echoed her boyfriend Braff's comments, sharing a video of Cordero on Instagram, writing: "We lost one of the great ones today.
My friend Nick Cordero passed this morning, holding hands with all his loved ones. Him and his wife @amandakloots have been fighting extremely hard for 90 days. He caught COVID-19 in March and has been hospitalised ever since despite having no pre-existing health conditions."
Priscilla Presley tweeted: "I'm so shocked to see the news today that Nick has passed. My heart and soul goes out to Nick Cordero's beautiful wife and family. Rest In Peace, Nick."
America Horror Story's Sarah Paulson urged people to donate to a GoFundMe set up to support Cordero's family.
"If you are able. There are broken hearts tonight," she wrote.
Jesse Tyler Ferguson of Modern Family fame urged the public to fight the virus in light of Cordero's death.
"Incredibly sad news," he tweeted. "Can we please do what we need to do as a country to fight this virus together? It doesn't care how healthy you are. It doesn't care if you want to go to Fire Island. It doesn't care if you are tired of wearing a mask. Reign. It. In."
Comedian Travon Free added: "The Nick Cordero story is so sad and makes it even more infuriating how so many people don't take coronavirus seriously."
Get Out actor Bradley Whitford also expressed his heartbreak, tweeting: "Horror. Love to the Cordero family. Please wear a mask. It has the power to prevent unspeakable suffering and sorrow. Rest In Peace Nick Cordero."
Journalist John Schwartz tweeted: "This one got to me. My wife and I have been following the progression of Cordero's illness over the many weeks of suffering for him and for his family, including a leg amputation. I urge everyone who says this disease is nothing to step back and think."