The children's TV network Nickelodeon added something to its playbook on Sunday that had children learning the game of football, and adult fans loving it as well.
Nickelodeon televised the NFL Wild Card playoff game between the Chicago Bears and New Orleans Saints, complete with professional analysis from a former player and cartoon graphics to make the broadcast more entertaining.
The crew of lead announcer Noah Eagle and color commentators Nate Burleson and Gabrielle Nevaeh Green brought the action live from the Mercedes-Benz Superdome, complete with sideline reporter Lex Lumpkin.
During the first half when Saints quarterback Drew Brees threw a touchdown pass to teammate Michael Thomas, the Nickelodeon broadcast showed slime spraying from the end zone markers, completely covering the end zone. The slime happened for all three Saints touchdowns in their win.
Here's one video tweet of the slimy touchdown that gave New Orleans a 7-0 lead.
When the game went to a referee review of one particular play, Nickelodeon had the lead character of CBS sitcom Young Sheldon explain it. CBS was the network covering the game live on Sunday.
When the Bears kicked a field goal in the second quarter to trim New Orleans' lead to 7-3, the netting behind the goal post was of Sponge Bob, and the ball sailed toward the underwater character's mouth.
In the third quarter, Eagle described how big New Orleans defensive lineman Cameron Jordan is. Gabby gawked at Jordan's 6-foot, 4-inch, 287-pound frame, and former NFL receiver Burleson said Jordan can act "goofy" at times, despite his hulking physique.
Graphics for the red zone—the area between the goal line and the 20-yard line—also had flashy cartoon animation, as did the first-down line. Burleson called the red zone "the money zone," as he drew a dollar bill sign on the cartoon-like graphic.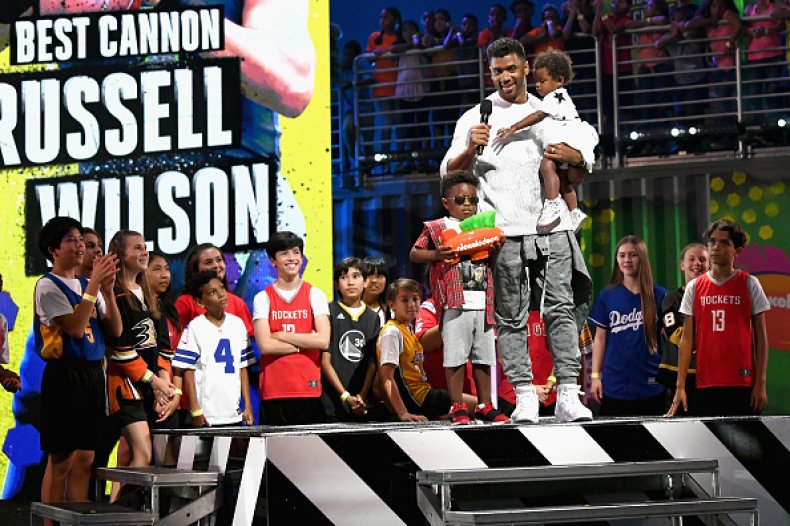 Burleson, who's a regular analyst on CBS' The NFL Today show, did a phenomenal job of breaking down a complex game and explaining it so that children—or perhaps those who don't fully understand the game—could know the game better.
The crew in the booth explained everything from the play clock's importance, why third down plays are crucial, and the meaning of what a catch actually is. It might have been better than the actual CBS call for some of the plays on Sunday.
The Nickelodeon broadcast was so impressive that it became a trending topic Sunday on twitter. Here are some of the tweets from folks watching and posting.
The crew of Jim Nantz and Tony Romo had the call as the lead NFL announcers on CBS. But some fans opted to watch the Nickelodeon bunch.
Uncommon Knowledge
Newsweek is committed to challenging conventional wisdom and finding connections in the search for common ground.
Newsweek is committed to challenging conventional wisdom and finding connections in the search for common ground.
About the writer
Scott McDonald is a Newsweek deputy night editor based in Cape Coral, Florida. His focus is assigning and writing stories across all topics, from news to politics, business, weather, sports and international news. Scott joined Newsweek in 2018 after a lengthy career of print journalism in Texas, including The Dallas Morning News, where he was a sportswriter, and he's a voter for the Heisman Trophy. He has been a newspaper editor-in-chief and also a newspaper publisher. He is a graduate of The University of Texas at Austin. You can get in touch with Scott by emailing s.mcdonald@newsweek.com. Languages: English