Video of Nicki Minaj Insulting Leigh-Anne Pinnock While Jesy Nelson Laughs Sparks Outrage
Nicki Minaj is facing a backlash today after she participated in an Instagram Live with Jesy Nelson to address the singer's "blackfishing" allegations.
Nelson and Minaj have just collaborated on a brand new single "Bad Boyz" which marks the U.K. singer's first solo song since departing the girl group Little Mix.
The group are huge in the United Kingdom and have been one of the country's biggest girl bands of the last decade.
Nelson famously left last year after releasing a documentary about the years of cyberbullying she suffered from the public while in a girl band.
However, the 30-year-old has long faced accusations of blackfishing—when a non-black person tries to appear Black or racially ambiguous—and her new video has seen those issues with excessive tanning and cultural appropriation brought to a whole new audience.
Nelson's former bandmate Leigh-Anne Pinnock, who is Black, has now been dragged into the situation after Minaj used the Instagram Live to lash out at Pinnock's criticism of Nelson.
During the Live, Nelson said never intended to cause offense and was intending to celebrate R&B and hip hop.
In her new video, she is heavily tanned and her hair is styled with wigs and braids, while some of her outfits include basketball shorts and gold teeth.
"I personally want to say that my intention was never, ever to offend people of color with this video and my song because like I said, growing up as a young girl, this is the music that I listened to," Nelson said.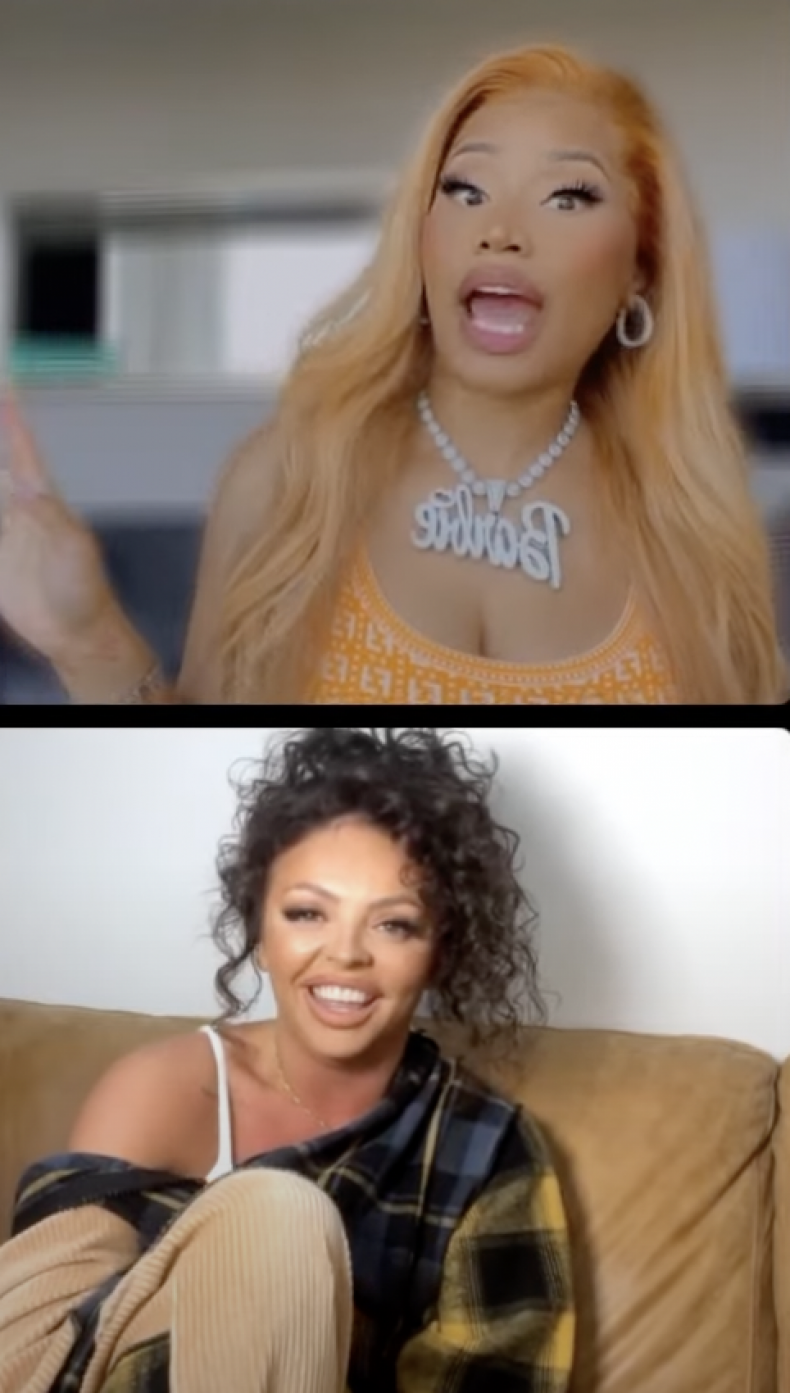 "These are the videos that I watched and thought were the best. For me personally, '90s/2000 hip-hop, R&B music, was the best era of music.
"I just wanted to celebrate that. I just wanted to celebrate that era of music because it is what I love."
The Live came after reports that Pinnock had warned her about blackfishing and unverified DMs purporting to be from her went viral.
Nelson added: "It's just hard for me because I was in a group with two women of color for nine years and it was never brought up to me up until the last music video I did with them."
She then laughed as Minaj went on a tirade against Pinnock whom she called a clown.
"If you was in this woman's group and you ain't talk about this s*** for 10 years, and as soon as you see she got a video coming out with Nicki Minaj and Puffy, now you sending text messages and all this s***... print those text messages out, bust your ass open and shove them up your motherf***ing ass," Minaj said.
"Stop trying to hurt people and kill people's lives and careers, this is the way people feed their families. Stop—if you want a solo career, baby girl, just say that," she added.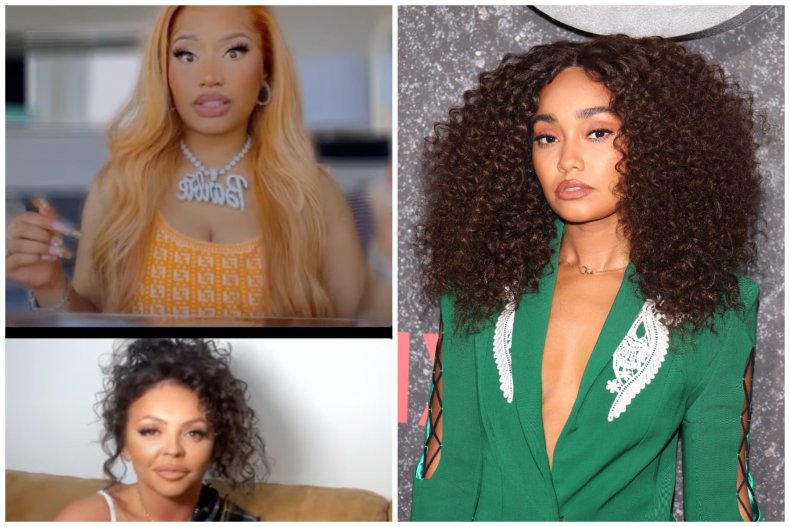 "Only jealous people do things like this. It makes you a big jealous bozo. I love you guys but please don't do this. Let these people be miserable all by themselves."
Minaj is now facing backlash for siding with Nelson over the blackfishing issue and dragging Pinnock in front of 100,000 people on Instagram Live.
"my girl leigh-anne has done NOTHING to nicki and yet she attacked her publicly in a drama she's not even a part of ?????," reads one tweet.
While another added: "Not Nicki painting Leigh-Anne as the angry, jealous black woman in order to help a white woman continue to be a culture vulture... This rrally the hill you wanna die on?"
"Jesy sitting there quietly while Nicki Minaj talks shit about Leigh Anne the same way she sat there quietly while Leigh Anne was going through racism and hardships as a black woman," said another.
While another tweet reads: "Jesy Nelson made an entire documentary about the importance of kindness and online trolling, but happily sat there and laughed as Nicki Minaj ripped Leigh-Anne Pinnock to shreds in front of 100k people on their Instagram live. That shit makes me uncomfortable."