Nicki Minaj Says She Won't Return to Twitter After Claiming She Was Blocked Over Vaccine Tweets
Rapper Nicki Minaj said she won't be returning to Twitter after claiming the social media platform suspended her account following tweets she made about the COVID-19 vaccine.
Minaj posted on her Instagram story that she was put in "Twitter jail" over a series of tweets she made on Monday prior to the Met Gala. The post read, "Asking questions is OK. I like being fkng dumb. Then boom. Can't tweet."
Later, the rapper went live on the platform and said, "Look at what they just did. I will never use Twitter again. First of all, I didn't give any facts about any vaccine... I didn't give any facts about anything."
Minaj added that the platform is becoming scary and that people should be able to ask questions about the vaccine. She speculated that Twitter blocked her account over spreading misinformation about the COVID-19 vaccine.
A spokesperson for Twitter told Buzzfeed that "Twitter did not take any enforcement action in the account."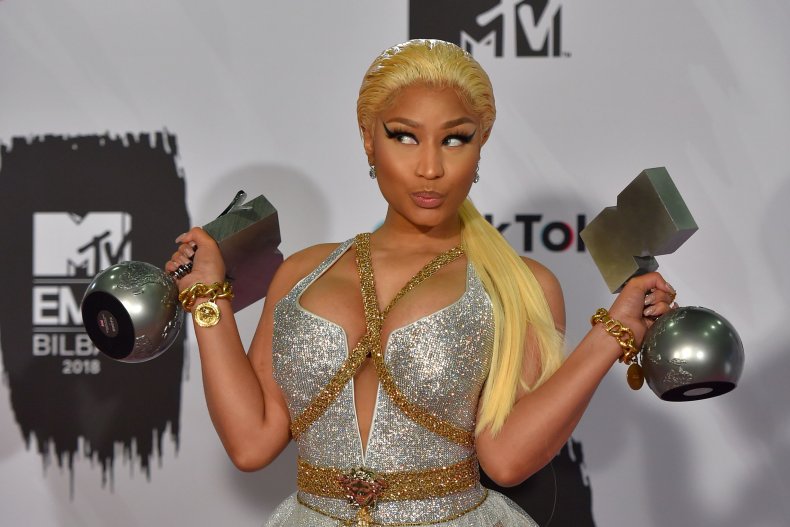 On Monday Minaj tweeted that she would not be at the 2021 Met Gala because she had not yet received a COVID shot. This year, attendees were required to provide proof of vaccination and wear a face covering.
Celebrities and fans slammed the rapper for waiting to get vaccinated, and Minaj clarified that she isn't an anti-vaxxer but that she wanted to do more research after hearing of her cousin's friend's experience.
The story in the rapper's tweet has been disputed by people, media outlets, and even the Trinidad & Tobago health minister but Minaj continues to defend herself. She even said that the White House invited her for a visit to discuss COVID after her viral tweet.
But soon after Minaj said she accepted the invitation, she claimed she was blocked from posting on Twitter through her Instagram account.
She also shared a screenshot of a tweet from user @DaPrinceSleeze that says, "Nicki Minaj just giving the whole world the true embodiment of a free black woman in America. Many of you can not see it through your emotional blinders and leash tied to one idea and generations of conditioning. Right is right regardless of who saying it, it's not selective."
Minaj also posted a screenshot from user @Shehenekaaa that said, "People are truly missing the point because they've made this topic so sensational that people just immediately get emotional and can't think straight. They are silencing anyone that says anything other than 'get the shot.' That's very scary for where this is heading."
As media outlets reported on Minaj's tweets, the rapper criticized those who she said got the story wrong. CNN anchor Brianna Keilar said during a segment that Minaj cited her cousin's friend's reaction as a reason for why she didn't get vaccinated which the singer said is a lie.
On the other hand, Minaj posted a Fox News clip of Tucker Carlson speaking on the issue with a bullseye emoji—referencing that he hit the mark.
"It's the last part of Nicki Minaj's tweet that enrages [our political class]. The part where she says that you should pray on it and make the decision yourself like a free human being and don't be bullied," he said. "Our media and public health officials didn't like this because they make their livings bullying people. So they couldn't let it stand."