Nicki Minaj Tells Meghan McCain To 'Eat S***' After Vaccine Tweets
Nicki Minaj has hit back at critics of her COVID-19 vaccine impotence claim, telling Meghan McCain to "eat s***" on Twitter.
The rapper surprised fans yesterday when she revealed her reason for not going to the Met Gala was because she is unvaccinated against coronavirus and didn't want to get the jab specifically for the event, and wanted to do "more research."
Taking to Twitter, the "Anaconda" rapper told fans: "They want you to get vaccinated for the Met. if I get vaccinated it won't for the Met. It'll be once I feel I've done enough research. I'm working on that now. In the meantime my loves, be safe. Wear the mask with 2 string that grips your head & face. Not that loose one."
Minaj faced immediate backlash, with a number of people condemning her decision not to get vaccinated.
This then prompted the 38-year-old to offer a bizarre anecdote to justify her hesitation around getting the vaccine, explaining that a family member in Trinidad has a friend who received the vaccine and had a negative reaction that left him impotent.
"My cousin in Trinidad won't get the vaccine cuz his friend got it & became impotent. His testicles became swollen. His friend was weeks away from getting married, now the girl called off the wedding. So just pray on it & make sure you're comfortable with ur decision, not bullied."
The tweet unsurprisingly sent Twitter into a bit of a meltdown, with Minaj's claim already debunked by a public health expert.
The View panelist Meghan McCain is one celebrity who criticized Minaj's impotence anecdote.
The TV personality retweeted the rapper's tweet and added: "That's entirely enough internet for today."
This prompted Minaj to immediately hit back at McCain, telling her to "eat s***."
McCain then retaliated further, condemning the rapper for using her platform to spread misinformation and poked fun at Minaj's feud with fellow rapper Cardi B.
"You have an enormous platform and have just spread unimaginable vaccine hesitancy to your fans," McCain tweeted. "Not only is it deeply irresponsible, it is very sad. I hope you talk to doctors and scientists like @ashishkjha like I did eventually. People are still dying from covid."
"#TeamCardi."
Dr. Leana Wen, an emergency physician and public health professor at George Washington University told People that impotency is not a known side effect of the approved COVID-19 vaccines.
"It is just not true that getting the COVID-19 vaccine is associated with infertility in either males or females," Dr. Wen told the magazine.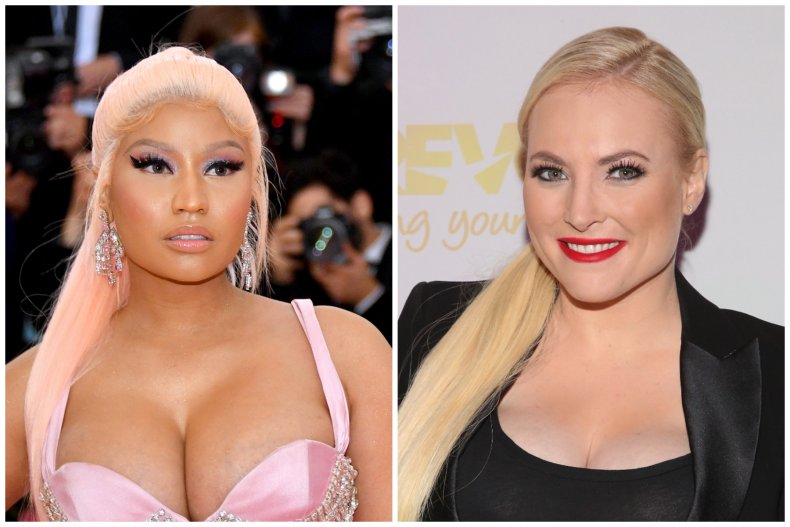 McCain criticized the vaccine herself hack in May, when on The View she said, that while she is fully vaccinated herself, she felt that Republicans were being alienated with the messaging around getting the jab.
"A lot of this feels like it's more about control than science. If the vaccine is 94 percent effective, which we are told by science and the CDC and all smart people who come on this show it is—if the vaccine works, why do we still have to wear masks outdoors? Why do we have to wear masks inside? And that's also part of the messaging problem," she argued, per The Wrap.