Nicki Minaj 'Threatens' Reporter on Met Gala Red Carpet in Viral Clip
A video from the 2022 Met Gala red carpet seemingly showing Nicki Minaj threatening to "slap the s***" out of a reporter has gone viral.
The glamorous annual event held on Monday night in New York featured a range of celebrities wearing extravagant clothing but Minaj's altercation has become a talking point.
The theme for the 2022 event at The Metropolitan Museum of Art was "Gilded Glamour." Minaj turned up dressed in black with dots over her body and face and unique looking baseball cap-type head wear. While she walked the red carpet, Minaj spotted someone who she seemingly felt she had to confront.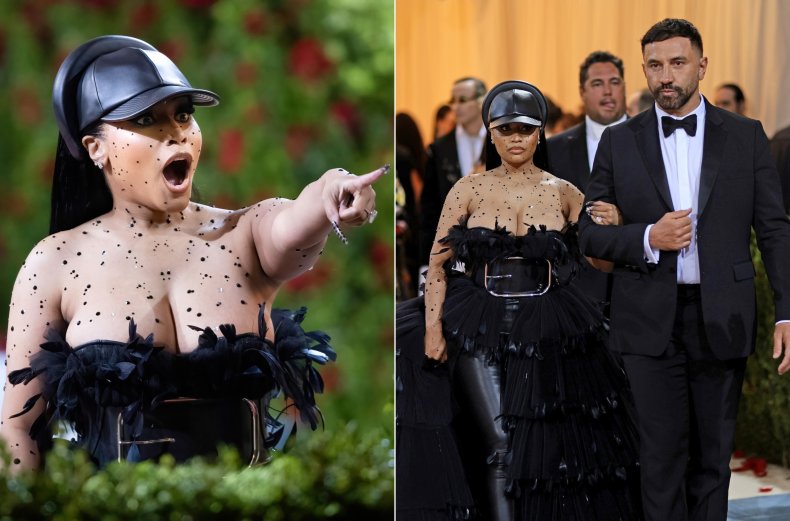 A TikTok video posted by entertainment journalist Sharon Carpenter is gaining traction online as it captures audio from Minaj as she appears to threaten a reporter.
The caption on the screen reads, "Nicki Minaj confronting reporter for leaking info on her Met Gala attendance."
In the video Minaj can be heard saying, "Hey you. Are you the man that leaked that I was gonna be here?" A voice off camera can then be heard saying, "Me?"
"Yeah you." Minaj replies, "It was you. About to come up to you and slap the s*** out of you. Come here." The video abruptly cuts off and it's unclear whether the exchange was serious or in jest.
The video has been viewed over two million times and received thousands of likes and comments. While fans like TikTok user @get_hai praised Minaj with comments like "this is how you wear a hat to the met," others wrote about the incident.
A TikTok user got over four thousand likes for commenting, "She always has to argue with someone," with a facepalm emoji. @Texxastayy echoed the sentiment and wrote, "Always got beef w someone like girl just chill." Another user, @dessssiiree pointed out "Lmao he was doing his job."
While her words may have sounded stern, some fans commented that the incident was a joke. TikTok user lubaiko wrote, "I hope yall realize she was joking, they purposefully cropped out the part where she was laughing up the steps
Another video of the same moment from a different angle was shared on Twitter. It cuts off at almost the same point but just before the video ends, Minaj can be seen grinning.
Minaj was one of dozens of A-list celebrities at the 2022 Met Gala. Among the talking points was Kim Kardashian wearing Marilyn Monroe's dress, Hillary Clinton attending the event and Sebastian Stan's bright pink suit.
Whilst mingling at the event, Katy Perry posted a video of herself with Minaj, with both women complimenting each other and commenting on their bodies now that they're both mothers.