Trinidad and Tobago's health minister fired back against Nicki Minaj's tweet saying her cousin's friend's testicles swelled up to an unusual size after receiving the COVID-19 vaccination, calling it a "false claim."
The Trinidadian-born rapper tweeted Monday, amid a twitterstorm about vaccination requirements at the Met Gala and her own unvaccinated status, that one reason she was still skeptical of the COVID vaccine was because of adverse testicular side-effects she had heard about third-hand from her cousin in Trinidad.
Trinidad and Tobago Minister of Health Terrence Deyalsingh said Wednesday that "there is absolutely no reported such side effect or adverse event of testicular swelling in Trinidad, or I dare say anywhere. None that we know of anywhere else in the world."
"We had to check and make sure that what she was claiming was either true or false," Deyalsingh said at a news conference. "Unfortunately, we wasted so much time yesterday running down this false claim. As far as we know at this point in time, there has been no such reported either side effect or adverse event."
Minaj has faced backlash for spreading misinformation about the COVID vaccine via the tweet in question: "My cousin in Trinidad won't get the vaccine cuz his friend got it & became impotent. His testicles became swollen. His friend was weeks away from getting married, now the girl called off the wedding. So just pray on it & make sure you're comfortable with ur decision, not bullied."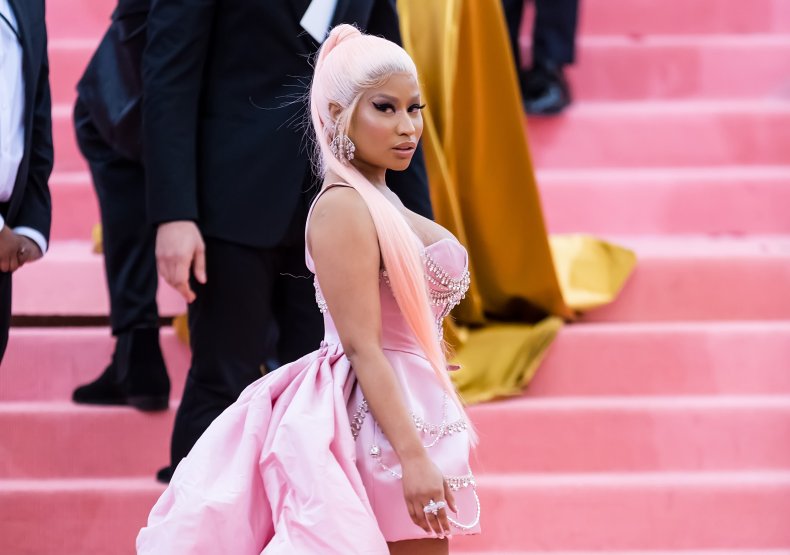 Dr. Anthony Fauci debunked Minaj's warnings in an interview with CNN's Jake Tapper on Tuesday, saying, "There's no evidence that it [impotence] happens, nor is there any mechanistic reason to imagine that it would happen," he said. "So the answer to your question is no."
"There's a lot of misinformation, mostly on social media, and the only way we know to counter mis- and disinformation is to provide a lot of correct information," Fauci added. "And to essentially debunk these kinds of claims, which may be innocent on her part. I'm not blaming her for anything but she should be thinking twice about propagating information that really has no basis."
The singer has not backed down from defending herself from criticism, however. After multiple members of the media, some in jest, including Jimmy Kimmel, said they would like to interview Minaj's "cousin's friend," she tweeted, "He's willing to talk for the right price. I'm his manager. Call me, Jimmy."
Deyalsingh, however, was not making jokes on Wednesday when he addressed the matter in front of reporters. "What was sad about this is that it wasted our time yesterday trying to track down because we take all these claims seriously, whether it's on social media or mainstream media," he said.
Newsweek reached out to Deyalsingh's office for comment but did not receive a response in time for publication.