Actor Nicolas Cage went into detail about his approach to acting in a new interview with The New York Times. In between stories about pet king cobras and Holy Grail quests, Cage also offered his preferred ending for the reviled 2006 remake of The Wicker Man. Cage plays police officer Edward Malus, who visits a pagan island in search of a little girl.
As in the 1973 original, Cage's character is sacrificed inside a burning altar, the towering, faceless wicker man. But remake director Neil LaBute (Lakeview Terrace) made some infamous additions, like a wicker helmet full of stinging bees. Late in the movie, Cage attempts to infiltrate a pagan ritual disguised in a bear suit.
"I could have had a little more help with that film," Cage said. "Initially, I wanted them to leave me in the bear suit to burn me. That would have made the whole farce of the film more disturbing, because of what I was trying to do there. Do you remember an old movie by Roger Corman called The Masque of the Red Death?"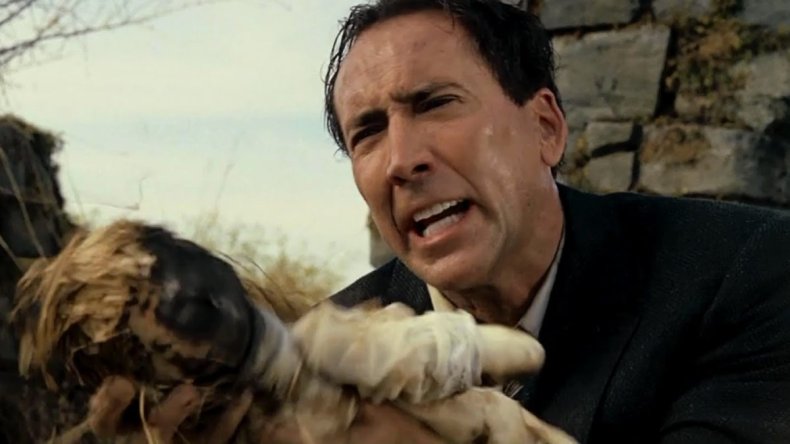 In The Masque of the Red Death, the Satan-worshipping Prince Prospero, played by Vincent Price, throws a debauched party while the plague spreads outside his castle gates.
"Patrick Magee gets tricked into wearing an ape suit, and a dwarf throws brandy on it and lights him on fire. What began as absurd and comical became horrifying because insult was added to injury," Cage told The New York Times. "In The Wicker Man, I was trying to get this whole trajectory to go along with the absurdity by having them light me on fire in the bear suit. That really would have been horrific."
The interview reveals the many different approaches Cage has taken to acting over the years, beginning with his "surrealist" approach early in his film career, such as his performance as a vampiric literary agent in Vampire's Kiss, inspired by German silent films like The Cabinet of Dr. Caligari. Since then, Cage has invented approaches to acting of his own, including "Western Kabuki" and "nouveau shamanic."
"Why not experiment? Western Kabuki to me was, let's go all the way out. Nouveau shamanic is nothing other than trying to augment your imagination to get to the performance without feeling like you're faking it," Cage said to interviewer David Marchese. "This author Brian Bates wrote a book called The Way of Wyrd, and he put forth the notion that actors hailed from old shamans. So I was kind of making a statement about that, and I added "nouveau" to be fancy."
Nouveau shamanic acting is partly about an innate "proclivity to open up your imagination," Cage said, describing how he added a line inspired by comparative religions scholar Joseph Campbell to Mandy, which expressed the nouveau shamanic sensibility: "The psychotic drowns where the mystic swims."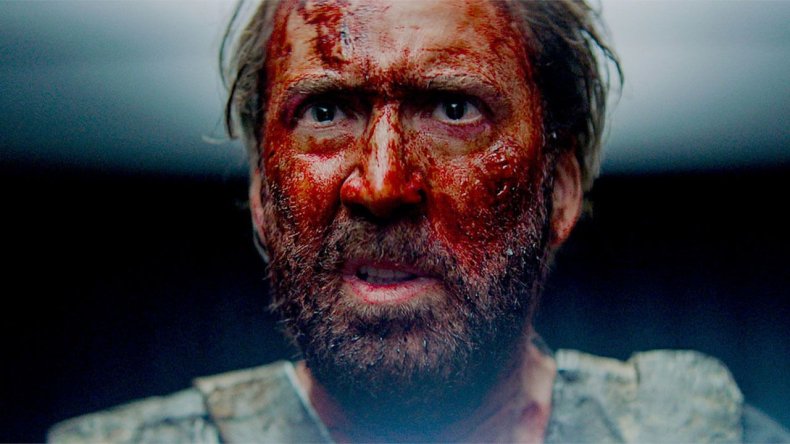 (Cage spoke to Newsweek about the psychedelic horror movie in 2018, describing how his performance was partly inspired by Jason Voorhees of the Friday the 13th slasher series.)
But nouveau shamanic acting can also be enhanced with the use of totems, such as the little sarcophagus from "an ancient pyramid" that Cage sewed into his jacket for the movie Ghost Rider: Spirit of Vengeance, or even a poem, written out by hand, then folded and kept in your pocket.
"What power objects could you find that might trick your imagination?" Cage said. "The trigger doesn't have to be something that's extraordinarily expensive."