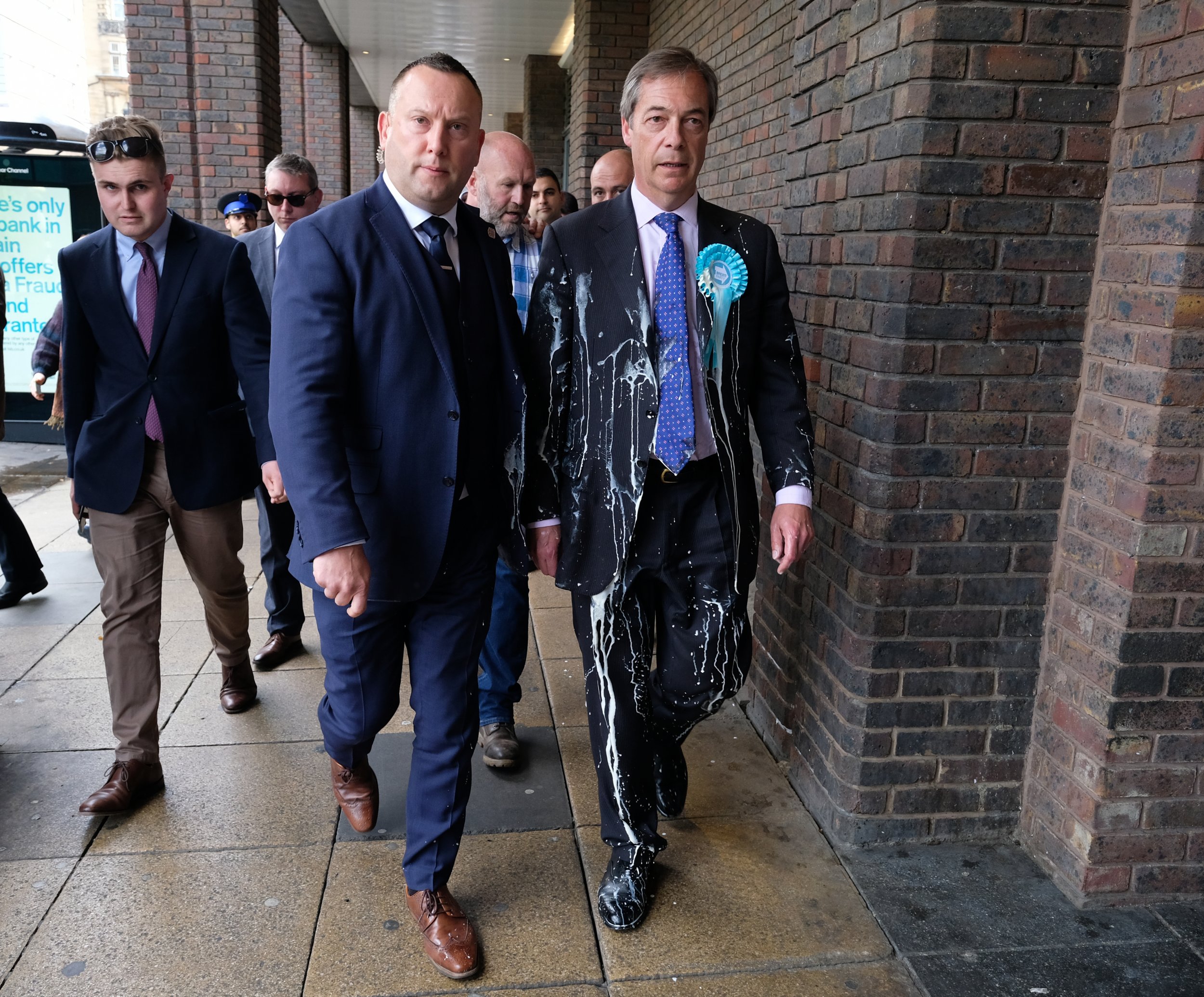 Nigel Farage, leader of the U.K.'s populist Brexit Party, reportedly refused to leave his campaign bus for a short while on Wednesday during a milkshake scare, though his team deny this is what happened.
A protester doused Farage in milkshake on Monday while he campaigned in the English city of Newcastle, the latest in a spate of similar incidents involving those on the hard and far-right of British politics.
During his latest trip around the southeastern county of Kent, Farage was warned at one stop that three balaclava-wearing men holding milkshakes were amid a crowd of his supporters, Kent Live reported, and he was told not to leave the bus.
"There are a couple of guys standing over there with milkshakes, they were going to throw them over him," Michael Botton, the campaign's bus driver, told Kent Live. "But the police are there, we've spotted them and now Nigel isn't getting off the bus."
According to The Sun, there were two groups thought to pose a milkshake threat. The second group were actually drinking iced coffees and, according to a former Farage adviser who was at the scene, they engaged in polite conversation with the Brexit campaigners.
Raheem Kassam, who previously worked for Farage and is an ex-editor of Breitbart in London, wrote on Twitter that reports of the incident were "literal fake news."
"After several walking campaign stops (including, bravely, between a McDonalds and a Burger King) @Nigel_Farage was due to pull up to supporters on his bus and do media interviews from the top deck. He was never scheduled to get off," Kassam wrote.
"We all knew that because 5 mins before we arrived we were told by organizers 'we don't need to get off, we're not getting off.' I got off anyway, and mingled in the crowd. Did some selfies. Then I spotted the so-called milkshake assassins. They hadn't 'surrounded' the bus. They were 2 rather polite kids and one mid aged guy who were quite nice when engaged in debate. We shook hands."
Kassam then shared a video of the three men: "You can also see their 'milkshakes' which were actually frappacinos I think (important distinction) were basically empty. They had no intention of throwing them, and everyone knew that."
A spokesman for Farage told Mail Online that suggestions he hid on the bus were not true: "Nigel did media interviews on top of the campaign open-top bus and then got off to mix with supporters afterwards, taking photographs and signing boards."
Police charged Paul Crowther, 32, with common assault and criminal damage after he allegedly threw a banana-and-salted caramel milkshake over Farage in Newcastle.
It followed other milkshake attacks on Carl Benjamin, the YouTuber better known as Sargon of Akkad, who is running as a candidate for the far-right United Kingdom Independence Party (UKIP), and Tommy Robinson, real name Stephen Yaxley-Lennon, a convicted fraudster and far-right activist also standing in the European elections.
The milkshake attacks sparked a debate in Britain. While some regard them as a trivial and humorous form or protest against the far-right, others say it normalizes political violence.