The British Have Made Throwing Milkshakes at the Far-Right a Thing
The British populist politician Nigel Farage on Monday became the third victim of an emerging trend across the pond—the milkshaking of right-wing politicians and activists.
Farage, who leads the Brexit Party and tops the polls ahead of the European Parliament elections scheduled for Thursday, was covered in milkshake by an onlooker as he walked around the northeastern city of Newcastle.
His dousing followed that of Carl Benjamin, the YouTuber better known as Sargon of Akkad, who is running as a candidate for the far-right United Kingdom Independence Party (UKIP), and Tommy Robinson, real name Stephen Yaxley-Lennon, a convicted fraudster and far-right activist.
Both men have twice been covered in milkshake while out on the streets of Britain. While many enjoy the absurdist memetic humor of the milkshakings, some argue it has normalized acts of political violence, setting a dangerous precedent in a febrile society.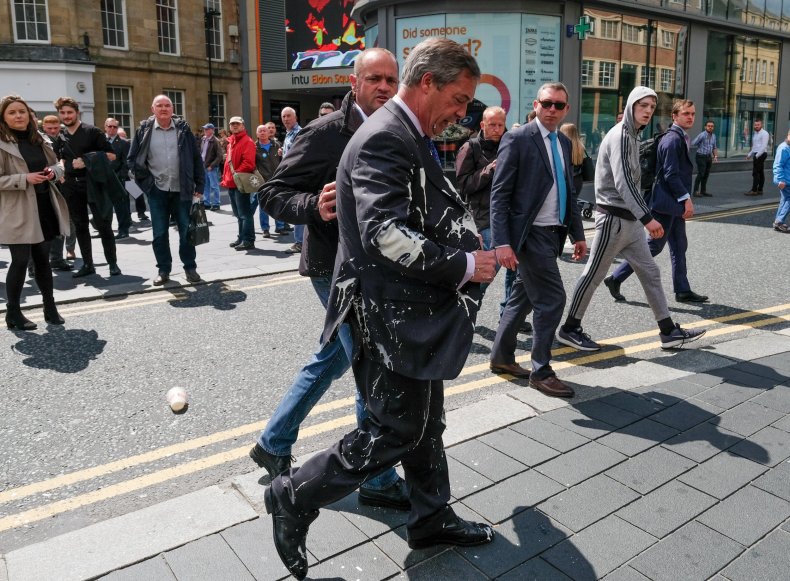 The alleged Farage milkshaker was Paul Crowther, 32, whom police arrested on suspicion of common assault.
Crowther told the media it was a banana-and-salted caramel milkshake from a Five Guys restaurant that cost him £5.25 ($6.66), which he was looking forward to drinking, but that it went to a better purpose.
Speaking shortly after the incident as he was detained by police, Crowther told BBC News: "I didn't know he [Farage] was in town. I thought this is my only chance. It's a right of protest against people like him. The bile and the racism he spouts out in this country is far more damaging than a bit of milkshake to his front."
Farage was reportedly heard berating his security staff for not spotting the threat in advance. He later posted a tweet criticizing some of those who still support Britain remaining in the European Union: "Sadly some remainers have become radicalised, to the extent that normal campaigning is becoming impossible. For a civilised democracy to work you need the losers consent, politicians not accepting the referendum result have led us to this."
Videos of the assorted milkshakings have swirled around social media, causing both delight and disdain, inspiring copycat incidents, with more likely to happen in the coming weeks.
The threat of milkshaking is now so real that police asked a McDonald's restaurant in Edinburgh, Scotland, not to sell milkshakes before a nearby rally by Farage and his Brexit Party, Sky News reported.
Former British Prime Minister Tony Blair, although a critic of Farage, told the radio network LBC that the incidents are "horrible and ridiculous and people shouldn't do it."
Blair continued: "I can't stand it. I really feel very strongly about this. The guy is entitled to his point of view. I don't agree with him. I profoundly disagree with him.
"But we've got to get out of this situation where if you disagree with someone you can stop them speaking, you can disrupt their meetings, you can throw things over them—it's ridiculous."
There was also some blowback for the milkshakers. Danyaal Mahmud, 23, poured a milkshake over Tommy Robinson's head, in Warrington, Cheshire, after the far-right leader and his supporters approached him.
The group then beat Mahmud, who was at an anti-fascist rally earlier in the day and had clashed verbally with Robinson.
"I'm a low-key person, I didn't anticipate this publicity and I don't want it—I'm getting death threats on social media and I am worried about me and my family being targeted," Mahmud told The Observer.