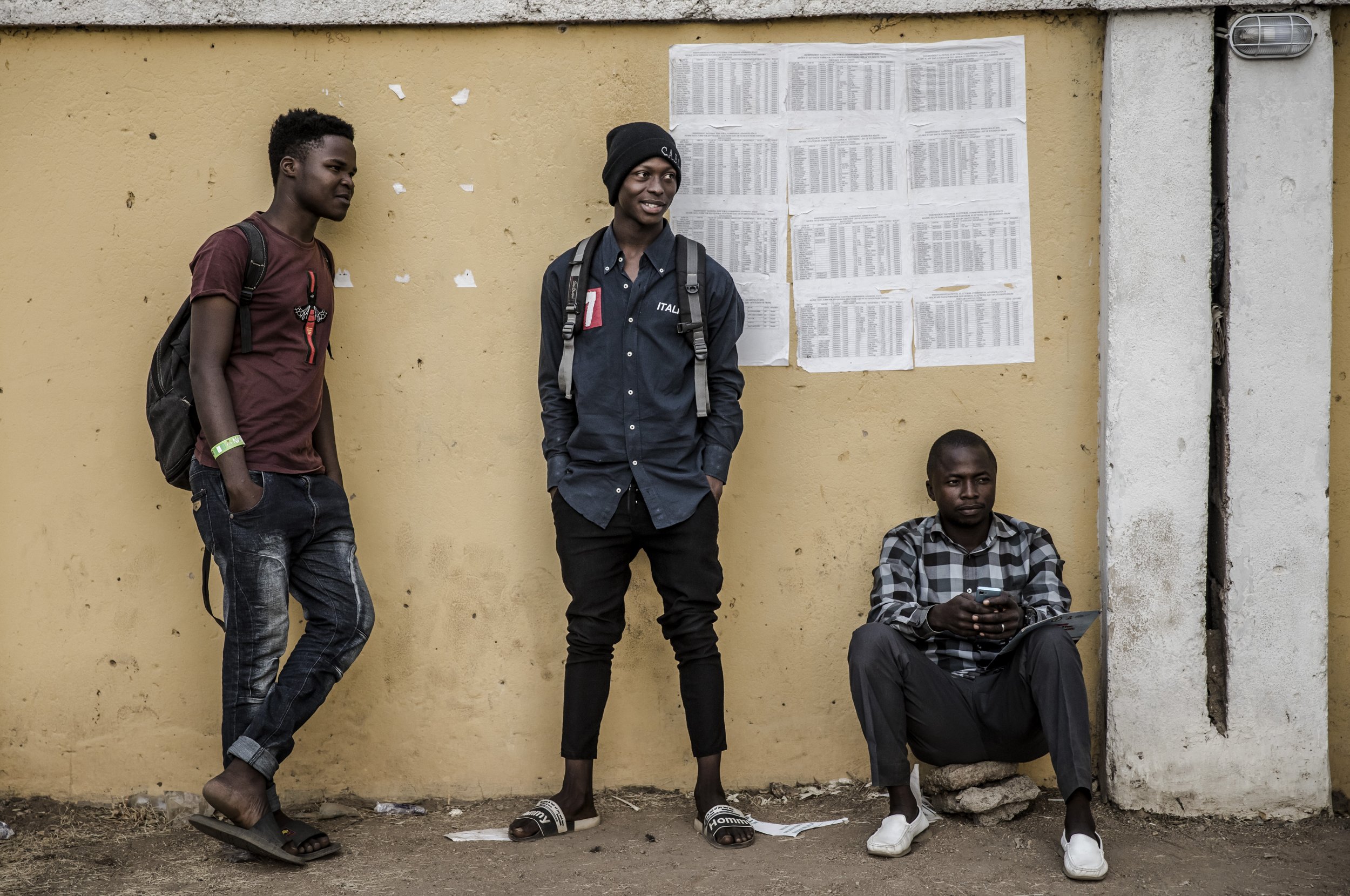 Sat on a sofa in a hotel room in east London, Biafran secessionist leader Nnamdi Kanu sighs as he talks about the upcoming presidential elections in his home country, Nigeria. The 51-year-old activist is smiling, but he looks worn out. His media aides hover around him with composed devotion and nod profusely as he speaks about freedom and non-violent resistance.
Kanu, a dual Nigerian and British national, is today regarded as the main leader of a renewed movement calling for the independence of Biafra, territories that were forcibly annexed to Nigeria during British colonization. A unilateral declaration of independence by the Biafra Republic in 1967 sparked a bloody civil war that claimed at least a million lives. Nigeria re-annexed the territories in 1970, following the end of the war.
Head of the Indigenous People of Biafra (IPOB), Kanu began calling for independence on Radio Biafra, a radio station he founded in London. He sometimes urged people to take up arms against Nigeria, a stance he no longer seems to back.
Known initially only to a small circle, he rose to international fame after Nigerian authorities arrested him on treason charges almost four years ago. He spent nearly 19 months in jail, standing trial, and was then released on bail. He then went missing after his house in Abia state was allegedly raided by the military, only to resurface in Israel last year.
As millions of people are readying to decide whether Nigeria's incumbent leader, President Muhammadu Buhari, should run for a second term, Kanu is urging his fellow Igbo people—one of the largest ethnic groups in Nigeria—not to take part in the elections, scheduled to take place on Saturday, 16th February.
The leader is facing some criticism for the boycott calls, with human rights activists urging people to go to the polls. But Kanu believes the boycott will send a strong message to Nigerian leaders that the pro-Biafra movement is "real" and that a referendum is needed in order to resolve the issue peacefully.
"It [the boycott] is a multi-faceted approach. It is civil disobedience, passive resistance, it is an expression of our resentment of Nigeria and what it represents," Kanu tells Newsweek.
"I hope that what we are looking for can be accomplished peacefully. I am an advocate of passive resistance. Gandhi and Martin Luther King tried it to very good effects, so why should it not work in our case?"
"But the world must also recognize that there has to come a time when these killings must stop, or else I can no longer control what the people might be able to do," he says, referring to alleged violence targeting pro-Biafra protesters.
Amnesty International has accused Nigerian security forces of killing at least 150 pro-Biafra supporters since 2015. 
The army denied the allegations, claiming it intervened to prevent "ethnic clashes," and accused Amnesty of trying to tarnish its image, according to Reuters.
Kanu believes Amnesty's report is just a scratch on the surface and it does not represent the reality on the ground. He says the killings continue.
The boycott calls are the latest blow to hit the election campaigns, which have not been free from drama. Buhari himself is being accused of not having delivered promises made during his campaign. He is also combatting body double rumours. Some, including Kano, have been claiming "the real" Buhari has died and has been replaced by a look-alike, "Jubril from Sudan." The rumours have been endorsed by other high-profile figures, including ex-president Goodluck Jonathan.
Buhari—who spent several months on medical leave in London in 2017—publicly denied the claims during a rally in Poland. "It's the real me," the 76-year-old head of state told the crowd last December.
Atiku Abubakar, the other main candidate and leader of Nigeria's main opposition party, PDP, has been accused of corruption, claims he denies. He is also being alleged of not being a true Nigerian, as he was allegedly born in a Cameroonian territory annexed to Nigeria only in the 1960s.
Kanu believes no running candidate is suitable to run Africa's most populous country, which he often refers to a "damnable contraction" and the fruit of colonization. He only wants his people to be free, and accuses the Nigerian authorities of perpetrating a "genocide" against his people.
The Nigerian government has always denied Kanu and pro-Biafra groups' accusations of violence. The government always maintained the country's unity was a priority and that although peaceful pro-Biafran protests were welcome, demanding the breakaway of the Biafran territories went against the constitution.
Kanu's influence on many people who seek independence is undeniable. But despite his popularity, it is not clear whether pro-Biafrans will go ahead with the boycott. Nigerian media reported that some separatist groups backed Kanu's calls, while others said they will vote.
But Kanu is adamant the boycott is the only way to create new momentum around the struggle for a free and independent Biafra. A struggle he says he is ready to sacrifice everything for.
"My people are forgotten people, victims of genocide, victims of the worst kind of racism, discrimination, apartheid and abuse. We we are seeking to return from where we came, to go back to how we used to be before our colonial masters came," he says.
"The boycott is a way for us to send a very clear and unmistakable message to the world that we are serious about Biafra. We will eventually get our referendum, either sanctioned by the Nigerian state or not. But it is bound to happen."
Ludovica Iaccino is a freelance journalist and humanitarian worker. She reports on human rights and conflicts, with a focus on Africa and the Middle East.