Nike Has Strong Case Against Lil Nas X Over Satan Shoes, Lawyers Say
Nike has a strong case against the art collective that collaborated with Lil Nas X on the controversial "Satan Shoes," according to lawyers.
The footwear brand is suing MSCHF Product Studio for trademark infringement over the 666 pairs of modified Nike sneakers released in collaboration with the singer's equally controversial new song and video for "Montero (Call Me By Your Name)."
In its filing, Nike asked the court to order MSCHF to "permanently stop" fulfilling orders for the "unauthorized" Lil Nas X Satan Shoes.
"MSCHF and its unauthorized Satan Shoes are likely to cause confusion and dilution and create an erroneous association between MSCHF's products and Nike," the sportswear giant says in the lawsuit.
Lakmal Walawage, an associate at JMW Solicitors LLP, told Newsweek that the situation presents an interesting trademark case from a social and political point of view.
He thinks that by bringing the lawsuit, Nike is attempting to retain a consumer base that might also be fans of the Grammy winner.
"The case is brought on the basis that the 'Satan Shoes' both cause confusion and dilute the Nike marks," he said.
"In practical and commercial terms, the lawsuit signals a determination from Nike to retain the support of their consumers who have made their voices heard against the shoes," he explained.
"These consumers may be viewed as religious or traditional in their views or outlook, while logically the shoes would seem less likely to cause damage to the reputation of any of the Nike marks amongst sections of the public that are atheist or agnostic, and/or younger. They did sell out almost immediately."
Meanwhile, Giovanni Visitini, a trademark attorney at Lawbite, said Nike has a strong case against the art collective if the company feels that its reputation was damaged by being associated with Satan.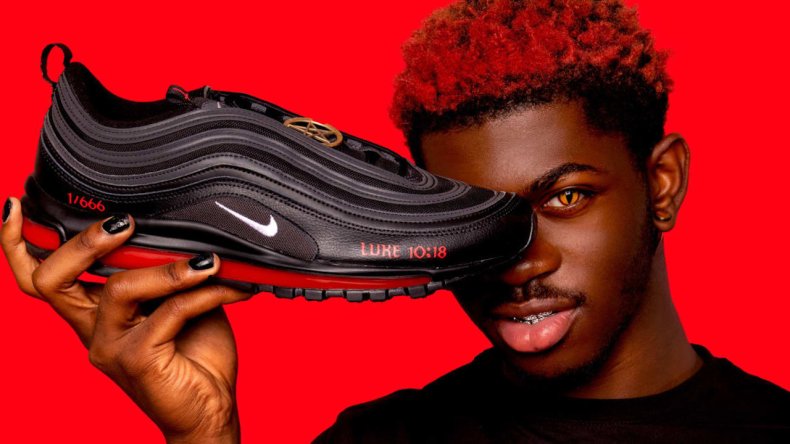 "The general principle is that you can customize anything, but you need to make sure that when you resell it, people are not confused—if customers get confused then the brand owner might have a chance of winning the case.
"So the way it looks, the shoes could be damaging for Nike's reputation, because I don't think that any brand wants to be associated with Satan."
He added: "I think Nike might succeed and the most likely result is that they will probably get a settlement out of court."
In Nike's complaint, the company says that "in the short time since the announcement of the Satan Shoes, Nike has suffered significant harm to its goodwill, including among consumers who believe that Nike is endorsing satanism."
The modified black and red Nike Air Max 97 sneakers are adorned with a bronze pentagram charm and a drop of human blood in the mid-sole.
Nike said the Satan Shoes prominently feature their famous Swoosh logo.
MSCHF Product Studio also made a modified pair of Nike "Jesus Shoes" in 2019 but no legal action was taken then.
"I think Nike really fear that the 'Satan Shoes' will have a negative impact on their reputation," Visitini continued. "And if the public associate Nike with these shoes issues then they have a much better case."