Nikema Williams Calls Out Brian Kemp Over Georgia Voting Law: 'A Lie Don't Care Who Tell It'
Georgia Representative Nikema Williams joined Democratic leaders in criticizing new legislation that many fear will limit voting access across the southern state, and particularly sideline communities of color during future elections.
Williams, who represents Georgia's fifth congressional district and began her first term in the U.S. House this past January, pinpointed fallacies inherent to Governor Brian Kemp's defense of the law in one of several messages shared to Twitter over the weekend.
"As my grandma used to say, 'A lie don't care who tell it,'" Williams tweeted Saturday, responding to a statement that Kemp's office issued the previous evening. In it, Georgia's Republican state leader claimed that SB 202, a package of broad voting restrictions formally signed into law on Thursday, "expands voting access, streamlines vote-counting procedures, and ensures election integrity."
Kemp, alongside Georgia's Republican Secretary of State Brad Raffensberger, became prominent targets of former President Donald Trump's denigrating remarks in the aftermath of November's general contest. Refusing to accept that a majority of Georgia voters cast ballots in favor of President Joe Biden's win, even after the state conducted multiple audits to confirm results, Trump attempted to undermine Georgia's election process, as well as Kemp and Raffensperger's respective leadership capabilities, in lawsuits and the press.
When voters later elected Democratic Senators Raphael Warnock and Jon Ossoff during runoffs at the beginning of the year, Trump suggested that Kemp was partly to blame for Republicans losing control of the Senate.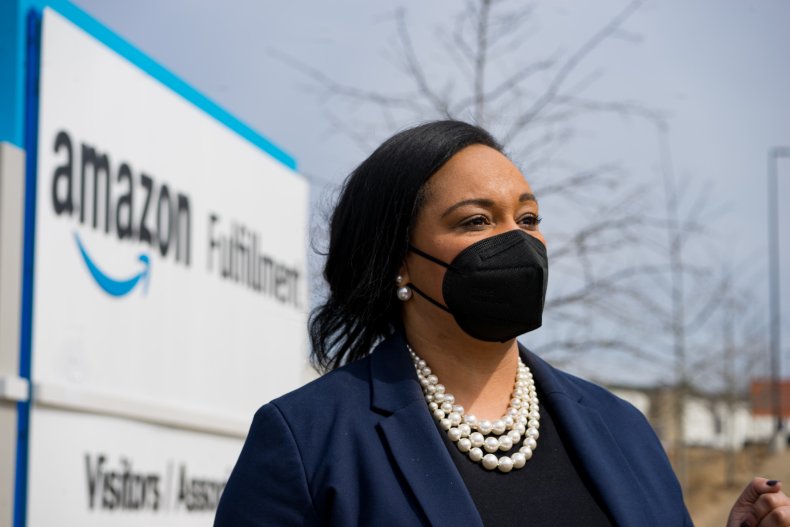 Trump's accusations of election fraud, in Georgia and other states where Biden earned most voters' support last November, were widely discredited. However, a number of Republican-backed bills to restrict voting access have emerged in legislatures across the U.S. since the onset of 2021. The new law in Georgia will ultimately work to increase state lawmakers' influence over election processes, while instituting stricter identification requirements for those who want to vote absentee and limiting availability of ballot drop boxes.
"The Georgia voting law — like so many others being pursued by Republicans in statehouses across the country — is a blatant attack on the right to vote, the Constitution, and good conscience," said Biden in a Friday statement. "It's Jim Crow in the 21st Century — and it must end."
The president denounced Georgia's restrictive legislation, which a number of Democratic figures, including Williams, have described as a clear step toward voter suppression, while Congress moves to pass HR1. The bill, already passed by members of the House, aims to expand voting rights nationwide with amendments to current campaign finance laws and regulations to reduce partisan manipulation.
Kemp has spoken out in support of his state's new voting restrictions.
"It's obvious that neither President Biden nor his handlers have actually read SB 202, which I signed into law yesterday. This bill expands voting access, streamlines vote-counting procedures, and ensures election integrity," the governor said in a statement released Friday, following the president's earlier condemnation.
"There is nothing 'Jim Crow' about requiring a photo or state-issued ID to vote by absentee ballot — every Georgia voter must already do so when voting in-person. President Biden, the left, and the national media are determined to destroy the sanctity and security of the ballot box," he continued.
Newsweek reached out to Kemp's office for further comment, but did not receive a reply in time for publication.