Nikki Haley Comes Out Swinging for Trump
There was very little drama in it when Nikki Haley—former U.S. Ambassador to the United Nations, onetime two-time governor-elect of South Carolina—stepped onto a Charleston stage Wednesday morning to make a "special announcement" about her plans for 2024.
The Charleston Post & Courier had broken news of her presidential campaign nearly two weeks earlier, while a Tuesday video announcement—and a massive banner reading "NIKKI HALEY FOR PRESIDENT" hanging above her head between two South Carolina state flags—cemented intentions she'd been signaling since early trips to battleground states like Iowa, New Hampshire and Georgia last year.
That did not rob the event—attended by hundreds of weekday attendees and a phalanx of state and national journalists—from any of its electricity, with a frenetic soundtrack of pump-up songs like "Crazy Train" and "Cotton Eye Joe" punctuated by enthusiastic cheers echoing through the cavernous, hangar-like space of the Charleston Visitors' Center. The crowd, numbering in the hundreds, if not thousands, flowed beyond the event space and onto the adjacent promenade, squinting in the sunlight of a pristine 70-degree South Carolina morning.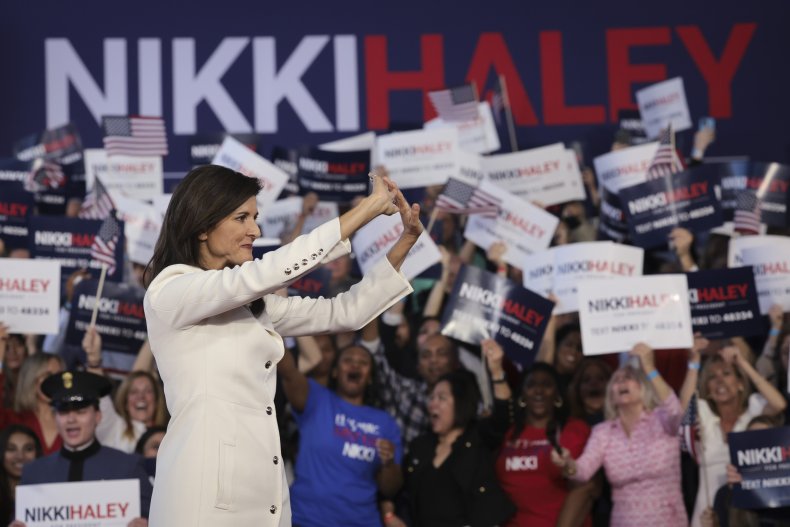 Candice Glover—a South Carolina native and a 2013 American Idol winner—delivered the national anthem, while the mother of Otto Warmbier—an American student detained and murdered by the North Korean government—told attendees about her personal relationship with Haley as an ambassador and how she "took on North Korea" in her effort to keep Otto's memory alive.
"We need a leader in the White House who inspires us to be the best version of ourselves," she said. "...We need a leader in the White House who fights for us the way she did for Otto."
The biggest surprise, however, was who she came for.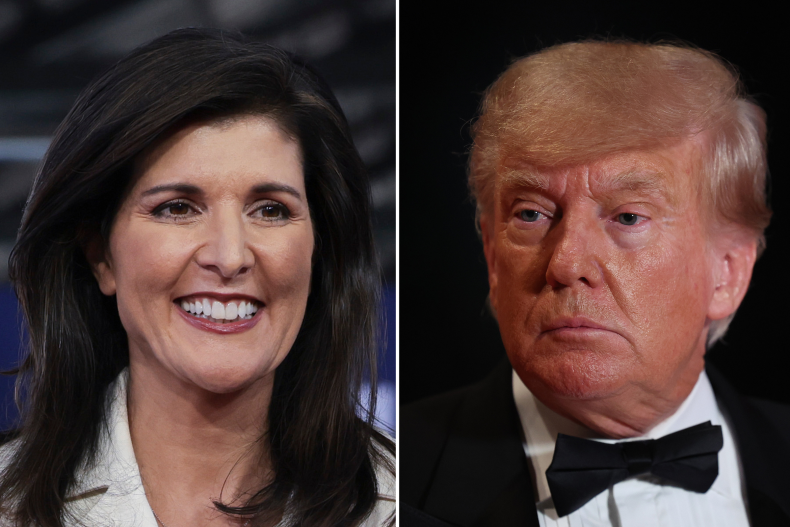 In her first opportunity to speak to voters as a candidate, she called for her party to move beyond the divisiveness of its recent past. She spoke about opportunity and her upbringing as the child of Indian immigrants in the small rural town of Bamberg, South Carolina, in a land of strength, and vision.
But that vision of greatness, as Haley described it, is now being held back not only by President Joe Biden, but by the ghosts of a party whose leading candidate for president is creeping toward his 80th birthday and, if victorious, would leave office as the oldest to ever occupy the office.
While she never called Trump by name, Haley explicitly called for voters to reject past leadership and embrace someone new, focusing attacks not just on President Joe Biden, but the old political establishment. She noted that Republicans have lost the national popular vote seven of the last eight election cycles, and called on votes to reject solving 21st-century issues with solutions from "20th-century politicians."
"We're more than ready to move beyond the stale ideas of the past," Haley said, "and are more than ready for a new generation to lead us into the future."
That platform included a rejection of the idea of the United States as a "racist country," occupied by a people full of love and not hate. She called for a return to a posture of strength on the national stage. But she also delivered the boilerplate policy planks of the current Republican Party, including voter identification, supporting the police, and a strong stance on immigration.
But she also offered new pledges, including a commitment to end corporate welfare, enact term limits, and—stealing a page from onetime South Carolina Congressman Joe Cunningham—introduce mental competency tests for any and all politicians over the age of 75.
"When it comes to our politicians, we'll light a fire under them," she said. "In the America I see, the professional politician will officially retire."
'The Beast of the Southeast'
In the early voting state of South Carolina—the first primary state in the American southeast, and a place that has chosen all but one Republican nominee since it entered the electoral fray in 1980—Haley leaves a storied, if divisive, legacy as the state's first female governor who now seeks to be the nation's first female president.
While her response to the 2015 murder of nine Black congregants at Mother Emanuel AME Church in Charleston—and her subsequent effort to remove the Confederate flag that had long hung over the statehouse—earned her the state's respect, her administration and its policies were steeped in the gospels of contemporary conservatism that aided her rise in her party's politics on a national scale, even while still occupying the governor's mansion.
While her administration cut taxes and shepherded in a new period of economic growth in the state (earning it the moniker of being "The Beast of the Southeast" in some business journals, she said), she forcefully and publicly rejected efforts to expand the state's Medicaid program following the passage of the Obama Administration's Affordable Care Act, reportedly resulting in the death of hundreds, experts have said.
Her administration also engaged in a 2014 effort to defend South Carolina's ban on same-sex marriage after a federal court overturned the law and, in office, often maintained a combative working relationship with the Republican-controlled state legislature. According to reporting by The State newspaper when she resigned to join President Donald Trump's administration in 2017, Haley would sometimes assign letter grades to lawmakers for how well they performed in office and was prone to publicly chastise those who failed to vote for her agenda.
That didn't seem to matter much to South Carolina voters, however. When the dust cleared on the 2014 election, Haley had won re-election by 15 points—nearly tripling her performance just four years earlier. Since then, her presence in the state's politics has remained a crucial difference maker, with her endorsement in last summer's Republican primaries helping swing a contest considered to be competitive between Charleston Congresswoman Nancy Mace and the Trump-endorsed Katie Arrington into a full-fledged blowout.
As Haley said teasing her announcement in a January Fox News interview: "I've never lost a race. I said that then I still say that now. I'm not going to lose now."
A Crowded Field: 2024 Presidential Hopefuls
Entering the arena in 2024 with pugilistic figures like Trump and incumbent Governor Ron DeSantis—who continues to mull a bid of his own—it remains to be seen whether Haley's new brand as a conservative thought leader whose "Stand for America PAC" was a constant presence in battleground districts throughout the 2022 midterm elections can sell voters on a more conciliatory style of politics built around Facebook memes and culture war issues like "saving" women's sports.
While Haley remains an internet favorite—boasting more Facebook followers than any candidate in the race not named Donald Trump or Mike Pence, according to an analysis by FWIW News—her poll numbers nationally remain anemic, typically hovering in the low single-digits.
She also carries some baggage, including touching the third rail of lobbying Congress to cut spending on programs like Social Security in 2020, and has already faced some seemingly baseless, open speculation by hardline conservative figures about whether she was fired from the Trump administration or resigned, which both Trump and Haley claimed publicly at the time after her abrupt exit from the administration in 2018.
She also has to contend with the possibility of a presidential run from South Carolina Senator Tim Scott, who is already weighing the possibility of launching his own bid for the presidency later this year, according to the Wall Street Journal.
Battle lines have already been drawn in the state political elite as well.
While former South Carolina Republican chairman Katon Dawson and House Freedom Caucus member Ralph Norman—a former statehouse colleague and one of her first endorsements as a gubernatorial candidate—delivered remarks at Haley's announcement Wednesday morning, Trump announced his campaign in the state earlier this year flanked by the state's Republican Governor, Henry McMaster and Pee Dee-area Congressman Russell Fry, whom Trump endorsed in a competitive primary against impeachment voting Republican Tom Rice in 2021.
Can Nikki Haley Win?
Still, Haley stands a chance.
Some polls in early battleground states show Haley polling at-or-near double-digits, suggesting there is a potential opening for Haley to have an impact in a race, if not use her foothold in the electorate to pull ahead of candidates like Pence. One poll from the University of New Hampshire showed Haley polling at 8 percent in a field for president, with half of all respondents stating they did not believe Trump should run again.
"In 2016, Trump was exactly what our country needed," Norman said, saying he reminded Republicans of the fire they were missing in previous elections that allowed them to take the White House.
"I believe Republicans are desperately looking for new leadership at the top of the ticket," he later added. "Most importantly, they're looking for a nominee that can defeat the socialist Democrats."
As things stand, however, polling argues a Haley run would only serve to divide the pool of undecided voters even further against a figure who maintains a larger base of loyalists than any other candidate, all but guaranteeing Trump—who has lost the popular vote twice as a national candidate—will once again be the Republican nominee in 2024.
A recent Yahoo News/YouGov poll suggested even one additional candidate in the 2024 Republican primary would be enough to split the vote and keep Trump ahead of DeSantis, whom numerous polls show with a slight lead over Trump in a head-to-head primary contest.
"The only way that could be prevented is if it narrowed down to a two-person race eventually," Utah Senator Mitt Romney told the Huffington Post's Igor Bobic earlier this week. "That means donors and influencers say to their candidate, if they're weakening, hey, time to get out."
"I think President Trump is by far the most likely to become our nominee," he added. "So I think she's an underdog."
But Haley—as Dawson claimed Wednesday—has been underestimated before, both in her challenge to the state's then-longest serving legislature and, later, as governor.
And in those scenarios, Haley has come out on top.
"Don't underestimate Nikki Haley," Dawson told the crowd. "When you underestimate Nikki Haley, you're making a mistake. And when she tells you something, you better believe it."
Newsweek reached out to Haley for additional comment.