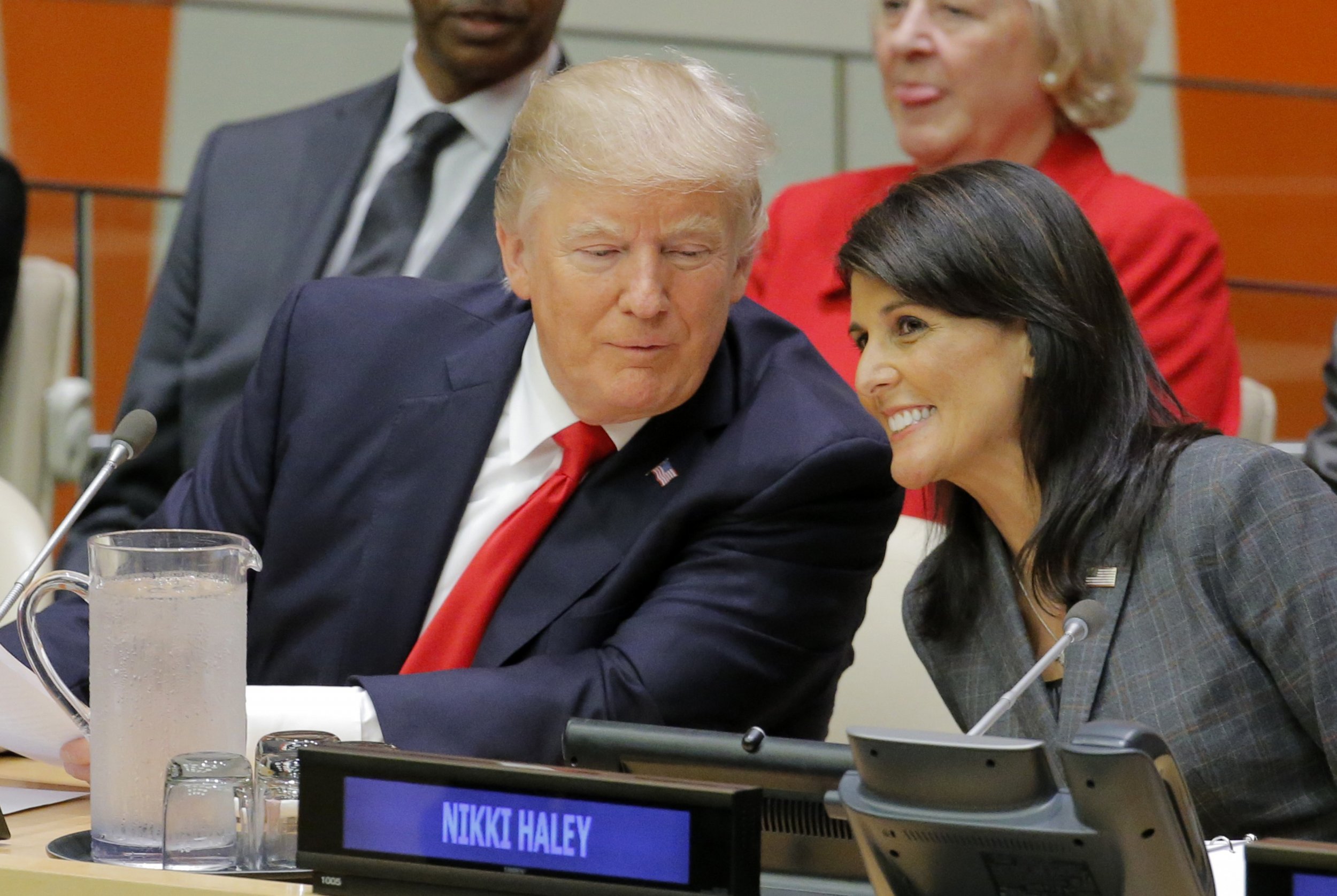 Updated | United States Ambassador to the United Nations Nikki Haley has angrily shot down rumors she was having an affair with President Donald Trump, calling the speculation "disgusting" and "highly offensive."
Haley's comments to Politico's Women Rule podcast on Thursday come after Michael Wolff, author of an explosive tell-all book about Trump's first year in office, hinted at the affair last week on HBO's Real Time With Bill Maher.
In the incendiary book Fire and Fury: Inside the Trump White House, Wolff writes, "The president had been spending a notable amount of private time with Haley on Air Force One and was seen to be grooming her for a national political future."
Wolff has been widely criticized both for factual errors in the book and his reporting tactics. He told Maher he was "absolutely sure" that Trump was cheating on his wife Melania, though apparently not confident enough to publish it in the best-seller.
Haley denounced the accusation, saying such rumors are a predictable misfortune for successful women with strong opinions.
"It is absolutely not true," she told the podcast. "I have literally been on Air Force One once and there were several people in the room when I was there," Haley said, a reference to a flight in July from Washington, D.C., to Long Island, New York.
"He says that I've been talking a lot with the president in the Oval about my political future. I've never talked once to the president about my future and I am never alone with him," she said.
Haley, 46, was born into an Indian immigrant Sikh family in South Carolina and first entered the political arena in 2004 when she defeated incumbent Larry Koon for the state House of Representatives seat. She became the first Indian-American to hold that position and served three terms. In 2010, Haley was elected Governor of the state, where she remained until resigning to accept the U.S. ambassadorship to the U.N. in 2017.
She has, at times, clashed with Trump, insinuating his campaign rhetoric was "the siren call of the angriest voices," and taking a tougher stance on Russia than the president. "When a country can come interfere in another country's elections," she said in October, "that is warfare."
The notion that Haley had slept her way into her current position rankled her. She said her career has often been punctuated by people seeking to undermine her successes.
"[T]he idea that these things come out, that's a problem," she said. "But it goes to a bigger issue that we need to always be conscious of: At every point in my life, I've noticed that if you speak your mind and you're strong about it and you say what you believe, there is a small percentage of people that resent that and the way they deal with it is to try and throw arrows, lies or not."
Wolff did not immediately respond to a request for comment from Newsweek or Politico.
News of the alleged tryst also comes as Trump deals with the fallout from reports he had an affair with porn star Stormy Daniels. Daniels, whose real name is Stephanie Clifford, is slated to appear on Jimmy Kimmel Live! Tuesday—after Trump delivers his State of the Union speech.
"I am pleased to announce that the very gifted @StormyDaniels will be on #Kimmel Tuesday 1/30 after the #StateOfTheUnion. I have MANY QUESTIONS! #MAGA," Kimmel announced Thursday night on Twitter.
This story has been updated to reflect Daniels's upcoming appearance on Jimmy Kimmel Live!