Former South Carolina Governor Nikki Haley said in a Thursday interview that she believes older politicians should have to pass a cognitive test to prove they're capable of holding office.
Though Haley made headlines for the suggestion, she's not the first to favor such a move. Senator Bill Cassidy, a fellow Republican from Louisiana, made a similar call in 2020. Perhaps more famously, former President Donald Trump once boasted of passing a cognitive test during a 2020 interview, before saying he would like to see then-challenger Joe Biden do the same.
During an interview on the Christian Broadcasting Network, Haley was asked by correspondent David Brody about the mental health of Biden, who at 78 is the oldest man to serve as commander in chief.
"Well, what I'll tell you is, rather than making this about a person, we seriously need to have a conversation that if you're gonna have anyone above a certain age in a position of power—whether it's the House, whether it's the Senate, whether it's vice president, whether it's president—you should have some sort of cognitive test," Haley answered.
"And right now, let's face it, we've got a lot of people in leadership positions that are old. And that's not being disrespectful. That's a fact," Haley continued. "And when it comes to that, this shouldn't be partisan. We should seriously be looking at the ages of the people that are running our country and understand if that's what we want."
Haley, 49, who also served as the U.S. ambassador to the United Nations, then cited what she said were examples of Biden not seeming to be fully aware of what was happening in certain situations. She went on to claim that such instances showed that Biden is "not totally in charge, and that makes everyone nervous."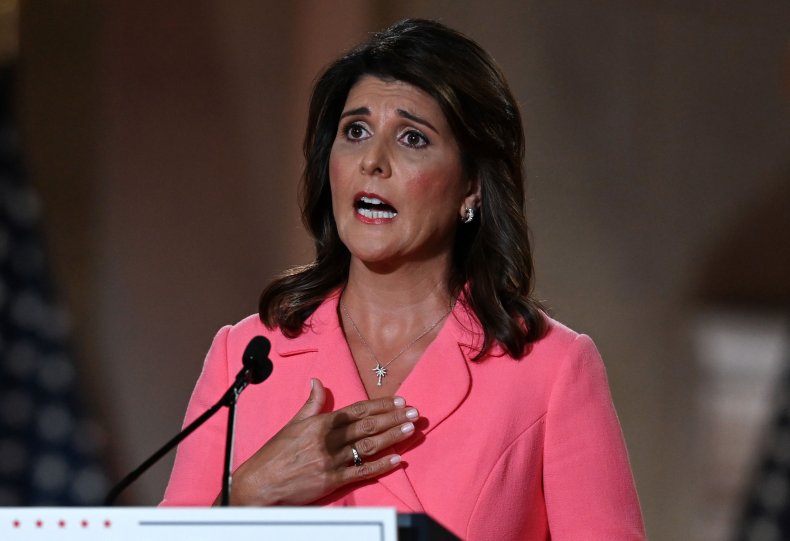 Cassidy, who is also a physician, also said during an October interview for Axios on HBO that aging U.S. politicians in all three branches of government should pass cognitive tests.
Though he didn't single out Biden or any other older officeholder, Cassidy said people "statistically" see a "more rapid decline" when they reach their 80s. Asked if there should be age limits for some offices, he decline to answer, saying people would assume he would be talking about Biden.
"I'm told that there have been senators in the past who, at the end of their term, were senile. I'm told that was true of senators of both parties," Cassidy told interviewer Mike Allen. "Now, you can argue, 'Well, they were elected, so who cares?' But would it be reasonable to have, for Supreme Court justices, members of Congress and leadership positions in the executive branch, an annual sort of evaluation in which they would have to establish, 'Yes, I'm doing OK'?"
Asked directly by Allen if he favored cognitive tests, Cassidy answered, "Of course."
In the lead-up to the 2020 presidential election, a lot of attention was paid to the candidates' ages. Biden is a few years older than Trump, who turned 75 in June. Trump discussed the subject in an interview with Fox News' Chris Wallace in July 2020, when they talked about a cognitive test the then-president bragged about passing.
Wallace told Trump that he had taken the same test and said, "It's not—well, it's not the hardest test. They have a picture and it says, 'What's that?' And it's an elephant."
Trump contended that was a "misrepresentation" of the test, noting that while the first questions on it were simple, it increased in difficulty. Then, to seemingly demonstrate how hard parts of the test was, Trump recited (and repeated) words that he had been asked to remember in order: "Person. Woman. Man. Camera. TV."
The moment led to ridicule from many, with his opponents seizing on the phrase, which trended on social media.
The test Trump took is the Montreal Cognitive Assessment. It was created by neurologist Ziad Nasreddine in 1996 to test for signs of dementia, Alzheimer's disease or other conditions.
"It is good that he has a good score, and it's very good that he has a higher than average score, so this is reassuring in terms of cognitive dysfunction," Nasreddine told The New York Times following Trump's Fox appearance. "It obviously does not measure whether a person is fit to be president."
Before the interview with Wallace, Trump also touted his test performance during a press conference in late June 2020. He said he didn't believe Biden would have similar results.
"I aced it. And I'd like to see Biden ace it. He won't ace it," Trump said at the time.
That same month, Biden dismissed the question of taking a cognitive test. He said during a press conference, "I've been tested, and I'm constantly tested. Look, all you've got to do is watch me, and I can hardly wait to compare my cognitive capability to the cognitive capability of the man I'm running against."
This past June, Ronny Jackson, Trump's former White House physician and currently a congressman from Texas, disagreed with Biden's self-assessment. He sent a letter to the president and Biden's chief medical adviser, Anthony Fauci, that demanded the president undergo a cognitive test. The letter was co-signed by 13 other GOP lawmakers.