Will Nikki Haley Run in 2020? Trump's Former U.N. Ambassador Likes Tweet Saying There's Zero Chance She'll Challenge President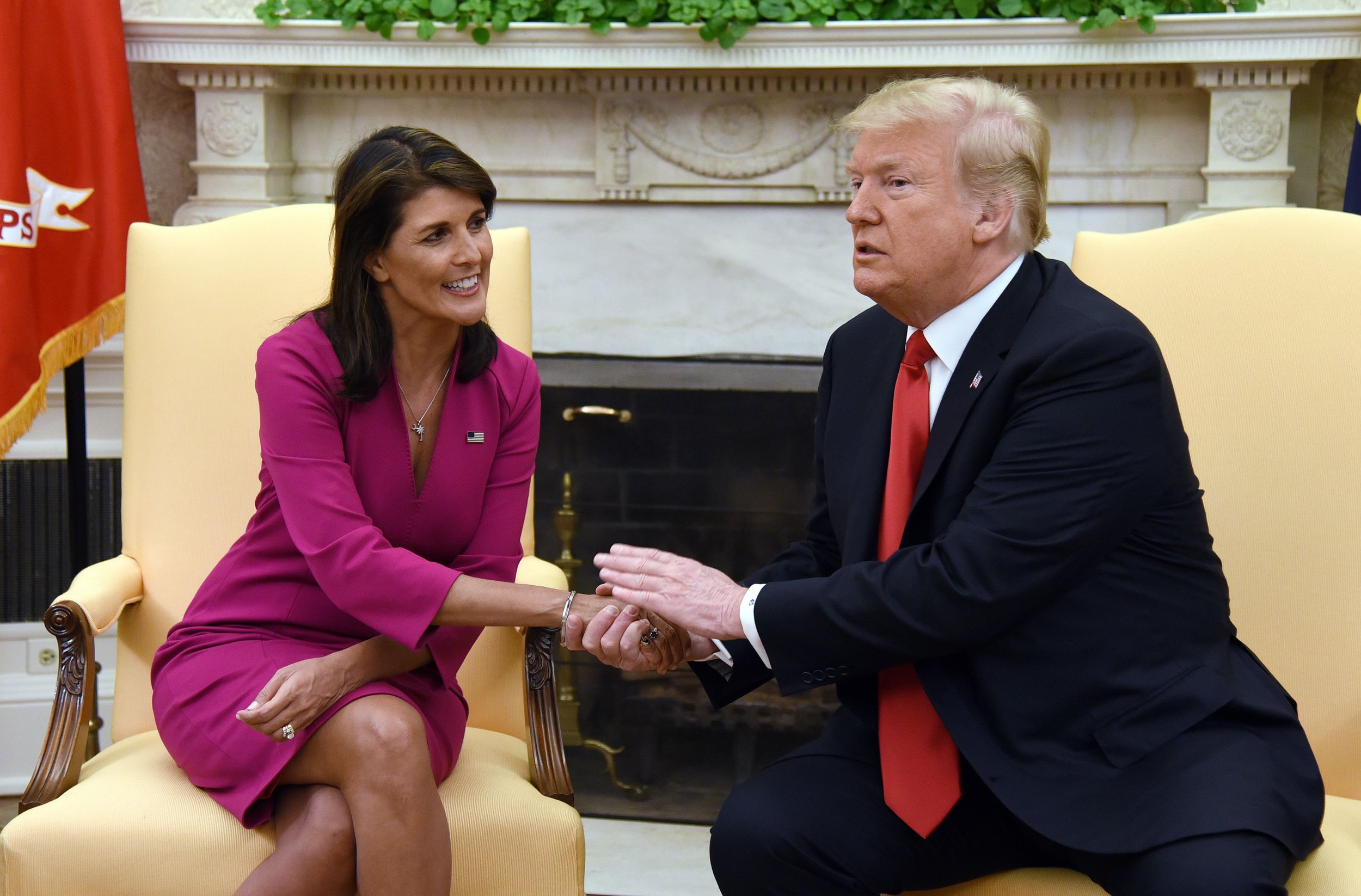 Former U.S. Ambassador to the United Nations Nikki Haley might have quashed rumors that she was considering a bid for the 2020 Republican presidential nomination, by liking a tweet that declared there was a zero percent chance she would run.
Though there had been some suggestions that Haley was preparing a run for top job, Politico reporter Eliani Johnson wrote Sunday that there is a "0% chance Nikki Haley primaries Trump in 2020."
Johnson was replying to a tweet written by New York Times reporter Maggie Haberman noting that Haley was among the most likely candidates if Trump chose not to run for a second term "for one reason or another."
Haberman was responding to Haley's guest of honor invitation to a top GOP donor dinner, amid suggestions that she was being considered as a replacement for the president. "There is a whole lot of doubt that she would try to primary Trump," Haberman wrote. "Either way, she reconnects with a donor network that she has ties to through this dinner."
Haley—who served as the governor of South Carolina from 2011 to 2017—won plaudits from within the Trump administration and the Republican establishment for her tenacious and assertive style as U.N. ambassador. Serving in the role for almost two years, the 47-year-old's tenure saw her become one of the party's rising stars.
Furthermore, an April 2018 Quinnipiac University poll indicated she was also popular among Democrats, with 55 percent in favor. In the current toxic political climate, such cross-party appeal is rare and could be a highly valuable asset at the ballot box.
When Haley left the role in December 2018, there were suggestions that she was hoping to secure a seat in the Senate if one became available—for example if South Carolina Senator Lindsey Graham decided to join the Trump administration. But there were also whispers she was eyeing higher office, perhaps even the Oval itself.
Though the Republican Party is—at least in public—united behind Trump for 2020, Haley is considered a possible alternative if the president resigns or is forced from office.
In December, for example, Joe Scarborough—host of MSNBC's Morning Joe—suggested any prospective presidential candidates should include Haley in their calculations.
"If I were actually war-gaming this, I would tell everybody that was thinking about running: Plan your campaign against Donald Trump, but expect to be running against Nikki Haley," Scarborough said. "You gotta think that way."
Haley had previously dismissed suggestions that she would try and primary Trump for 2020. In her resignation letter from her U.N. post, Haley explained, "I expect to continue to speak out from time to time on important public policy matters, but I will surely not be a candidate for any office in 2020."
But even if Haley decides not to challenge Trump in 2020, she could well be an early favorite for 2024.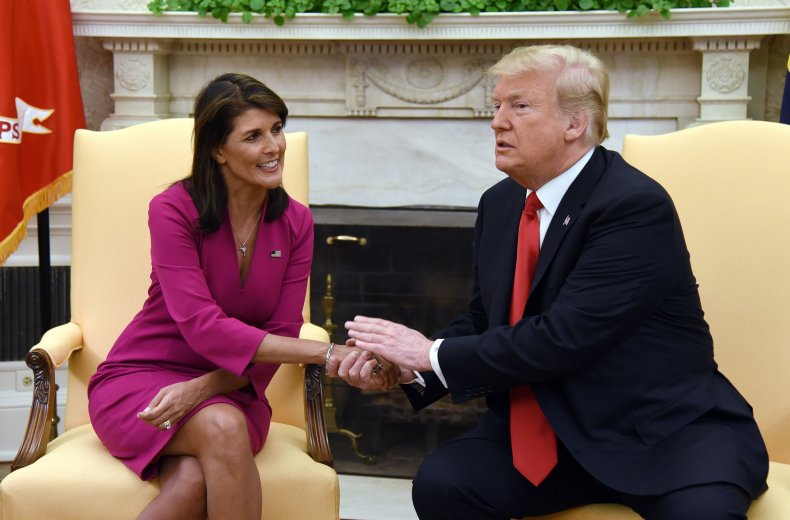 Will Nikki Haley Run in 2020? Trump's Former U.N. Ambassador Likes Tweet Saying There's Zero Chance She'll Challenge President | U.S.