Nikki Haley to Replace Mike Pence? Donald Trump Never Forgave Vice President for Criticizing 'Access Hollywood' Tape, Report Says
Outgoing ambassador to the United Nations Nikki Haley was reportedly floated as a possible running mate for President Donald Trump in his 2020 re-election bid by some of Trump's advisers, as the president has reportedly started to question whether Vice President Mike Pence was still loyal to him.
The president has reportedly never forgiven Pence for his critical comments following the release of an Access Hollywood tape in which Trump bragged that he could kiss women and grab them by the genitals without their consent because of his celebrity status, The New York Times reported on Friday.
The report, however, emphasized that Trump had not made any decision about whether to keep Pence on the 2020 ticket. And while sitting presidents often contemplate a new running mate, they rarely make such a change.
Trump has reportedly been asking advisers more and more about whether Pence was still loyal to him, and while that might not indicate he would dump Pence from his 2020 re-election bid, the president's advisers told the Times that such questions often suggest Trump's frustration with someone.
The president could be considering new strategies for his next campaign after Republicans were dealt major blows in last week's midterm elections. Democrats picked up at least 36 seats to retake the House and prevented Republicans from significantly bolstering their lead in the Senate. This was an election Trump had turned into a referendum on his first two years in office.
Pence, the former Indiana governor and staunch ally of evangelical voters and leaders, was originally viewed in 2016 as a running mate who could help Trump win the Midwest, the South and the religious right.
But Haley, who is reportedly close with White House adviser and Trump daughter Ivanka Trump, as well as Trump's son-in-law and adviser Jared Kushner, could increase the president's profile among women voters.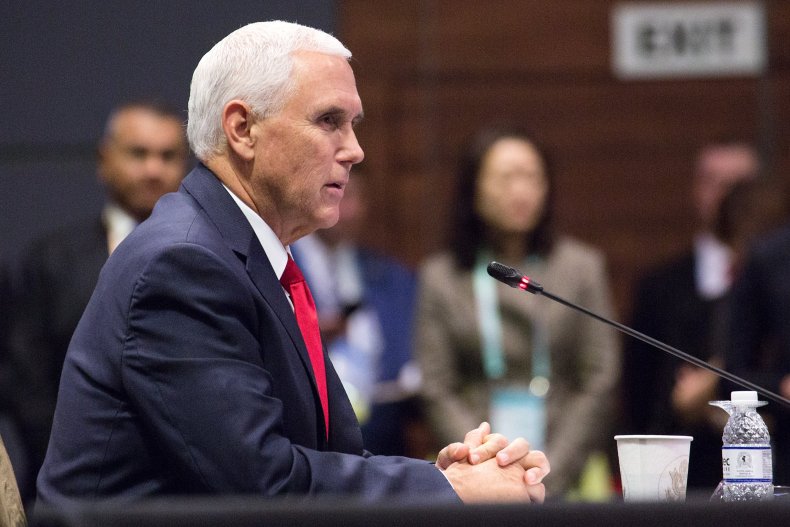 Haley, with the president by her side in the Oval Office, announced in September that she would step down as the nation's top diplomat of the world's largest international body. She cited her belief in self-imposed term limits and a whirlwind amount of work over the last six years, including her time as governor of South Carolina, a state Trump won handily in 2016.
Despite new questions about his loyalty, Pence has repeatedly defended Trump on myriad fronts. In May, the vice president said the special counsel should "wrap up" the probe of Russia's interference in the 2016 election, as Trump railed against what he's often described as a drummed-up "witch hunt."
Pence also stumped heavily for Trump during this year's midterms, especially in districts with more difficult races. According to an analysis by the Brookings Institution, Pence endorsed 61 candidates and 27 won, while he directly campaigned for 37 candidates and helped 14 of them win.