After Trump's 'Shithole Countries' Comments, Nikki Haley Tells African Envoys She Regrets The Controversy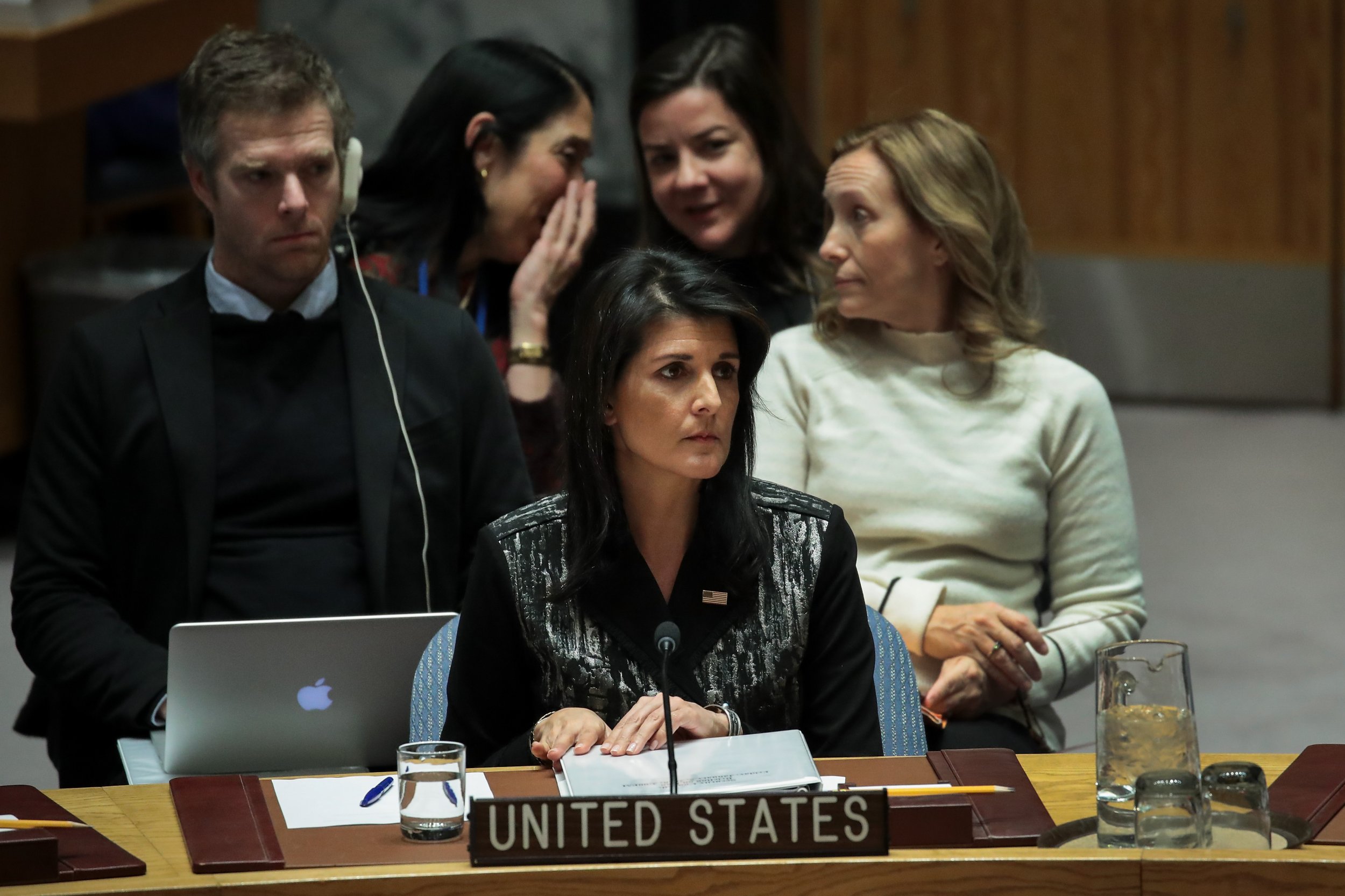 U.S. Ambassador Nikki Haley has reportedly told African envoys that she "regrets" the controversy caused by President Donald Trump's alleged made vulgar comments referring to African nations and Haiti as "shithole countries."
African nations had demanded an apology for the alleged remarks and were hoping to receive it during a closed meeting on Thursday requested by Haley.
However, the chair of the 54-nation African Group at the United Nations told reporters that while the U.S. ambassador acknowledged the continent's importance to the U.S. and said she "regretted" the incident, she fell short of issuing an apology, Reuters reports.
Trump is said to have asked why the U.S. should keep accepting immigrants from "shithole countries" like Haiti and African nations. He also reportedly followed up the remark by asking why "people from countries like Norway" don't migrate to the U.S. as much.
The president has since denied using derogatory language, but was contradicted by lawmakers present at the meeting, who insisted that he had.
Equatorial Guinea's U.N. ambassador, Anatolio Ndong Mba, told reporters the U.S. ambassador assured envoys that "Africa is very important to the United States," adding that the president has always spoken highly of Africa.
Haley told African envoys that she had not been in the room when the president allegedly said the comments, "but she regretted all this situation that has been created," Ndong Mba said. "She said she regretted that a lot."
Still, Ndong Mba said Haley did not offer any apology for the incident.
Read more: Trump's 'Shithole' Comments See U.S. Diplomats Summoned By African Nations To Explain Vulgar Language
Diplomats speaking on the condition of anonymity told Reuters that South African U.N. Ambassador Jerry Matjila, who spoke on behalf of the group, told Haley "it could be useful" for Trump to address African leaders directly when they meet in Addis Ababa at the African Union.
Despite not receiving an apology during the meeting with Haley, Ndong Mba said the discussion was "very friendly" and "very frank".
He added: "We appreciate the fact that she came, and she talked about all the cooperation between the United States and Africa, and that Africa is very important for the United States."
Haley did not make any mention of the discussion around Trump's reported remarks in a tweet about the discussion.
"Thank you to the Africa Group for meeting today," she said. "We discussed our long relationship and history of combatting HIV, fighting terrorism, and committing to peace throughout the region."
There had been growing concerns around the Trump administration's relationship with African countries with proposed cuts to U.S. foreign aid for African nations, months before the president was accused of making the vulgar comments.