Parkland School Shooting Suspect Nikolas Cruz Spotted Giggling, Laughing While in Jail, Observation Report Says
The 19-year-old suspect accused of shooting and killing 17 people at a Parkland, Florida, high school earlier this month has been observed "laughing" and "giggling" while in protective custody at the at the Broward County Jail in Fort Lauderdale, according to court observation records obtained by a local ABC affiliate.
The observation reports stated that Nikolas Cruz has been at turns "contemplative," "deep in thought," "restless" and "cooperative." He was also spotted "giggling" and breaking out in laughter in the company of his attorneys, according to the observation reports, which were obtained by WFTS-TV. The reports span six days, beginning three days after the February 14 attack.
Cruz is being held in a single cell separated from other prisoners due to his high profile, records state. At one point, the 19-year-old asked jail staff to read him the Bible, according to WFTS. That request came on the same day he was scheduled for a family visit.
His lawyers cautioned that the observations were not made by doctors treating Cruz.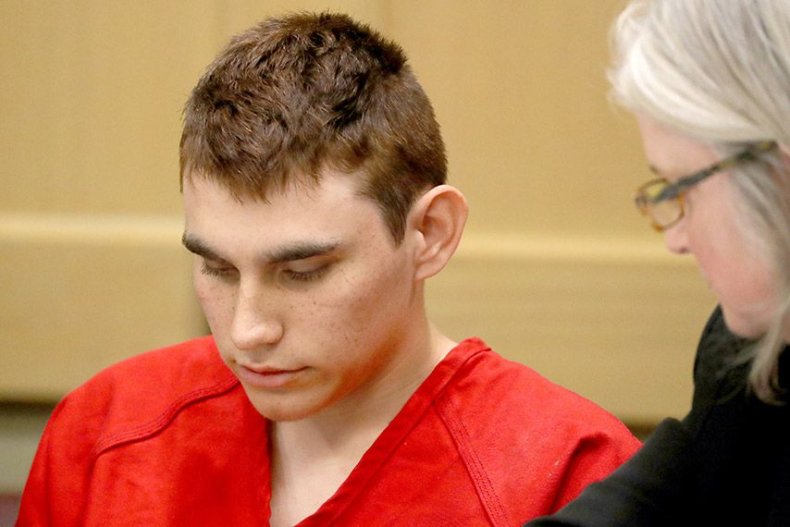 "They are snippet observations from corrections officers and are not clinical impressions made by his treating psychologist or psychiatrist at the jail," Chief Assistant Public Defender Gordon Weekes said in a statement. "They don't show a complete picture. They are generated because Mr. Cruz has a high-profile case and is on suicide watch."
The records come just one day after Florida prosecutors laid out their case to a grand jury for an indictment on 17 counts of first-degree murder—charges that could warrant a death sentence. Aside from brief comments in court, Cruz has not spoken about the shooting.
The Broward County Sheriff's Office had received at least 45 calls to respond to service about Cruz or his brother in the past decade, before the shooting at Marjory Stoneman Douglas High School, reports stated. Cruz had been expelled from the school prior to the attack for disciplinary reasons, according to school staff.
The suspect, who posted violent messages on social media, allegedly used a legally purchased AR-15 in the shooting. On Thursday, students at the high school returned for the first day of classes after becoming leaders of a movement to strengthen gun control laws in the country. The teens planned to march on the Capitol on March 24 as part of a large demonstration against gun violence.
"Everybody needs to remember, we are just children. A lot of people think that disqualifies us from even having an opinion on this sort of matter," said student activist Alfonso Calderon. "This matters to me more than anything else in my entire life."