'Nine Perfect Strangers' Episode 7 Recap: Masha's Tormentor Reveals Themselves
Things will never be the same at Tranquillum House after Episode 7 of Nine Perfect Strangers made some huge revelations and set up a race against time for next week's finale on Hulu.
Masha's tormentor was revealed, the Marconis made a big family decision, Carmel lost the plot and Delilah broke free of the retreat's control.
Episode 7, "Wheels on the Bus," moved at a frantic pace so try to keep up as Newsweek recaps everything that happened in the latest episode. As ever, spoilers ahead.
What happened in Episode 7 of Nine Perfect Strangers?
After last week's reveal that Masha's (Nicole Kidman) daughter died in a tragic accident, we find her meditating and thinking of her child in the opening scene of Episode 7.
This moment of tranquility is rudely interrupted by an unhinged Carmel (Regina Hall), who comes running across the grass and brutally attacks Masha. Carmel continues to beat her, screaming things intended for her ex-husband's new wife—"You stole my kids. I am their mother. You make them love you and call you mom." Eventually Yao (Manny Jacinto) arrives to separate them and they manage to restrain Carmel by strapping her to a gurney. They decide to confine her to her room, keeping her locked in there for the rest of the episode.
Frances (Melissa McCarthy) sees Carmel in this condition, which intensifies the feeling of discord among some of the guests at Tranquillum House. She tells Tony (Bobby Cannavale), Lars (Luke Evans), Ben (Melvin Gregg) and Jessica (Samara Weaving), and they discuss what to do next. During this interaction Frances, who had previously gotten together with Tony, imagines him as an atypical lover from one of her romance novels, proving the drugs are still having an effect on her.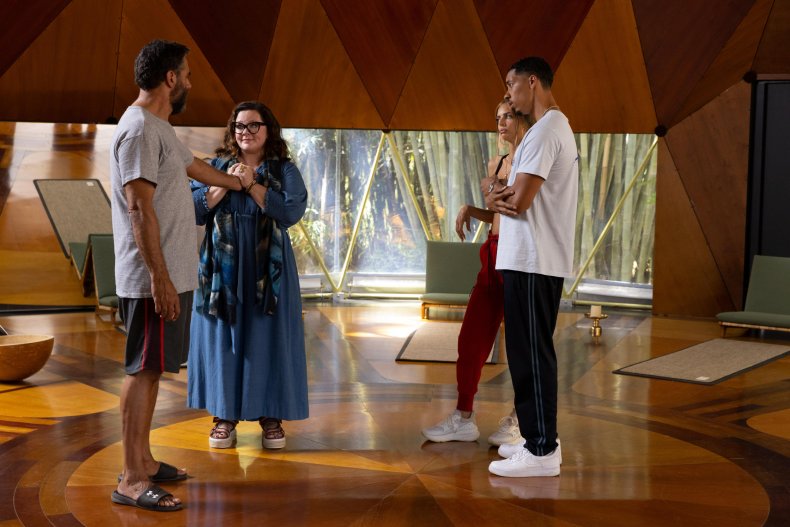 The Marconis are debating whether or not to take Masha up on her offer of taking more drugs to interact with the memory of their dead son Zach. Daughter Zoe (Grace Van Patten) is the voice of reason but Heather (Asher Keddie) and Napoleon (Michael Shannon) seem dead set on continuing to partake in the "delusion."
Investigative reporter Lars, who's been asked to document the events at Tranquillum House by Masha turns up to see what's happened to Carmel. Masha tries to compose herself and play it cool, but the cracks are beginning to show in her usually calm demeanor. Lars reveals he knows a guest died at the retreat last year and the victim's wife believes it was a result of being misdosed by Masha. She reminds him she was cleared in court.
Masha sits down with the Marconis to discuss their reservations about taking more drugs (including LSD) to see Zach. Lars sits in on all of their conversations to document it all. Masha's task throughout is to convince Zoe to take part so all three of them can access the illusion (or delusion) of Zach.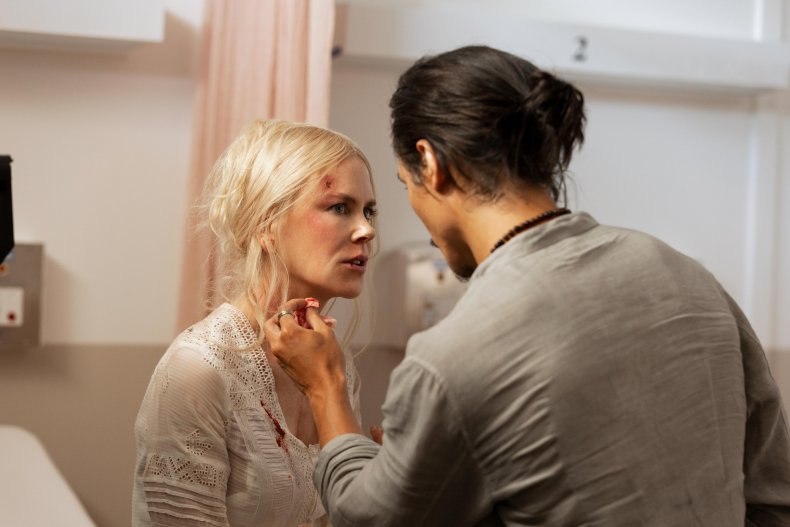 Once they agree, Masha informs Yao and Delilah (Tiffany Boone) to distract the other guests while she takes care of the Marconis. Delilah, seeing the writing on the wall, asks Yao to leave with her again and go to the police. He refuses.
Over in the sauna, Frances is having an internal crisis. When Tony arrives, she tells him she can't trust her own judgment and seemingly breaks up with him.
Back in isolation, Yao arrives to give Carmel a pill to calm her down. Carmel seems fragile and remorseful about her actions and pleads to see Masha. Eventually we watch Carmel in isolation getting better, dancing to Olivia Newton-John's "Xanadu" while packing her bags.
In the hot springs Ben and Jessica, who very much take a back seat in this episode, seem slightly high as Jessica soliloquizes about the wheels coming at Tranquillum House.
Delilah packs up and leaves the retreat without Yao, and Frances is suddenly sat on the edge of a cliff. Masha is informed about both events and must perform damage control on each incident. She opens up to Frances (who had no intention of jumping) and reveals she lost her daughter in an accident.
Delilah tries to leave but can't because the gates are locked. Speaking through an intercom, Masha refuses to open the gates, leading a furious Delilah to ram her truck through a wooden fence and leave Tranquillum House.
Arriving back at the house, the Marconis are having last-minute doubts. To set their minds at ease, Masha tells them she will take the drugs with them and join them on their journey. Once they drink up, Masha tells Yao she has 40 minutes before they take effect.
Masha finally checks in on Carmel but this is where Nine Perfect Strangers turns on its head.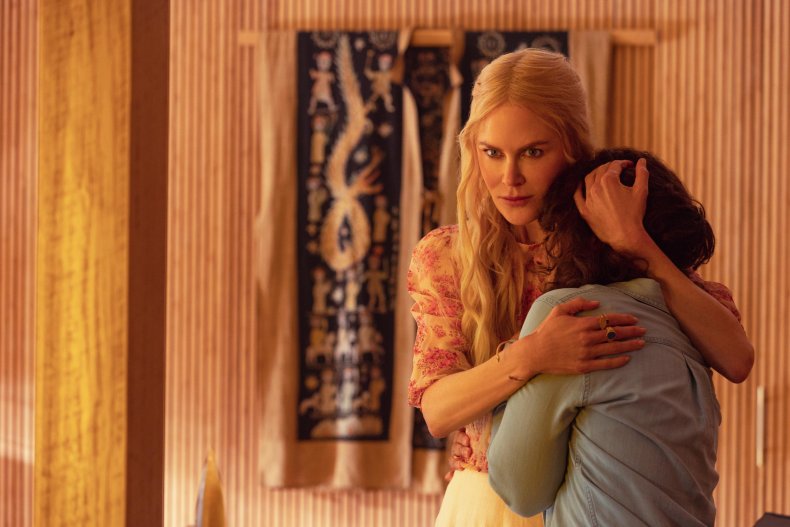 A serene Carmel tells Masha she's leaving because she doesn't think it's safe to be around her. During the conversation Carmel heads to the bathroom to do something, she walks back telling Masha: "How do I make this clear? It's not safe to be around you." Carmel looks up and reveals a white pupil in her right eye—just like the person that shot Masha years ago, nearly killing her.
Carmel's demeanor changes from sweet to menacing in an instant, asking Masha, "So, what now, lapochka [Russian for "little one"]?"
As we approach next week's finale, Masha now must deal with her tormentor head-on before the drugs kick in. She needs to take the Marconis safely on their journey to interact with their dead son, all before Delilah presumably arrives back at Tranquillum House with the police.
The final episode of Nine Perfect Strangers, "Ever After," will be available to watch exclusively on Hulu on Wednesday September 22, 2021.