'Nine Perfect Strangers': Zoe Actor Grace Van Patten Thinks Finale Will 'Shock People'
Nine Perfect Strangers comes to an end on Hulu tomorrow and one of its stars says viewers should prepare for an "unpredictable" but "perfect" finale.
Grace Van Patten stars as daughter of the Marconi family, Zoe in the drama series. Acting alongside the likes of Nicole Kidman, Michael Shannon, Melissa McCarthy and Luke Evans, Van Patten's character has unexpectedly taken center stage in the plot of the show.
Ahead of the final episode, "Ever After," Newsweek spoke to Van Patten who shared hints about what to expect as the story wraps up.
Nine Perfect Strangers' "trippy" finale
Micro-dossing and the effects of hallucinogenics has been the driving force of Nine Perfect Strangers, and Van Patten says there's still more dramatic wackiness to come from the final episode on Hulu.
Newsweek asked her what viewers can expect: "More trippiness. If you can even imagine, it gets trippier. And you really see everyone's journey come to an end in a in a hopeful way."
As we've seen throughout the season, things can change on a knife edge when drugs are involved for our nine perfect strangers but now Masha (Kidman) is joining in, there's even more at stake.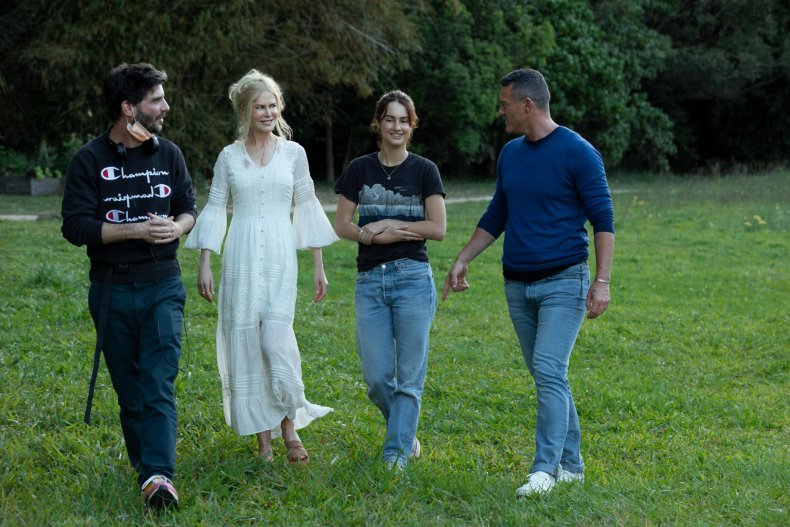 Van Patten said: "It's just unpredictable. It is very unpredictable like this show has been the entire time and I think it will shock people."
Zoe and her parents Napoleon (Michael Shannon) and Heather (Asher Keddie) have all been grieving the loss of Zoe's twin brother Zach throughout the season.
The challenge with an ensemble cast where everyone gets equal screen time is ensuring every character gets a satisfying story conclusion but as far as Van Patten is concerned, Zoe Marconi gets a suitable send off.
"I think Zoe's journey is so beautiful and hopeful at the end I think she learns that this grief that she has inside her will always be inside her and it will not go away," Van Patten said, "but she's learned to accept it and begin this process of living beyond the loss."
Michael Shannon as an embarrassing dad
Shannon has stolen the show in several scenes throughout Nine Perfect Strangers as a grieving but still stereotypically embarrassing dad to Zoe Marconi.
Zoe says the Marconi family dynamic we see on screen in the Hulu Original Show may have been formed off screen years before.
"He is the best and I've known Michael for years because my dad [Tim Van Patten] worked with him so I I grew up seeing him around all the time.
"It was such a great moment when I found out he was going to be my dad and it made my real dad very happy knowing that I was going to be with a familiar face all the way across the world in Australia." She continued, "He's just so incredibly talented and I learned so much from from watching him and speaking with him, so I feel very lucky."
Shannon shined in Episode 3 "Earth Day" when he gave an incredibly moving speech around the dinner table. However effective it was to watch, Van Patten assured Newsweek it was even more moving to be there. She said: "Watching Michael give that speech was mind blowing to me. It just doesn't feel like acting. It becomes less and less performance when you're working with the best actors ever and that's the best feeling because it doesn't feel like work, it feels like you're really living these moments."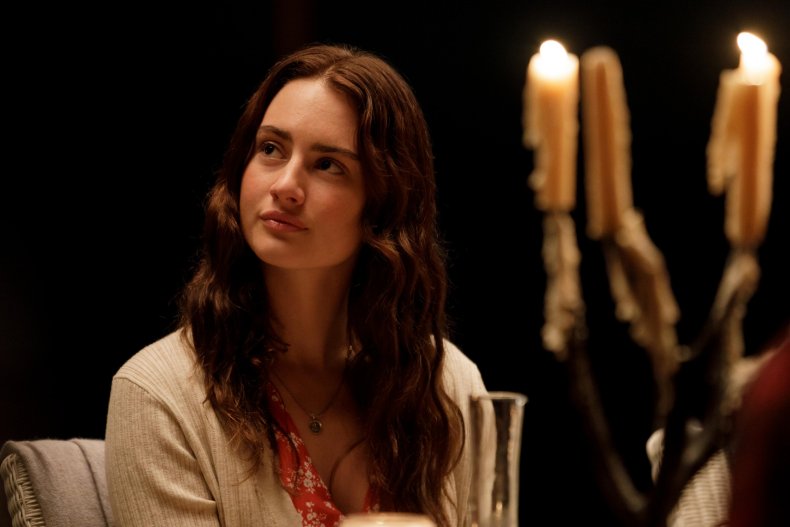 Nicole Kidman and Melissa McCarthy on double duty
While Kidman and McCarthy play lead roles in Nine Perfect Strangers, they also acted as executive producers on the show. Van Patten complimented them on creating such a calm atmosphere on set in Byron Bay, Australia.
"They made everyone feel like equals and set such a great tone of just being committed," she said. "That was so inspiring to see because they could have easily acted differently but everyone was just such a beautiful person and equally committed and dedicated and so insanely talented, I cannot believe it."
Van Patten was surrounded by an abundance of Oscar-nominated talent on set and as a young actor in the industry, she wishes she took more note. "I feel like every day was a masterclass and I just said I wish I had like a notepad I should have been writing everything down."
Episode 8, the final episode of Nine Perfect Strangers will become available on Hulu tomorrow, Wednesday September 22. The rest of the season is available to watch on the streaming service now.