Nine Tons of Dead Fish Removed From Florida Waters in Tropical Storm Elsa Aftermath
A cleanup effort of dead fish along the shores St. Petersburg, Florida, hit its busiest day yet with officials on Friday saying nine tons of dead fish were removed in the past 24 hours alone. They said the total is more dead fish collected than in the last week.
A huge red tide is being cited as the main reason behind all the dead marine life, although officials said Tropical Storm Elsa is thought to have at least contributed to bringing many of the remains to the shoreline.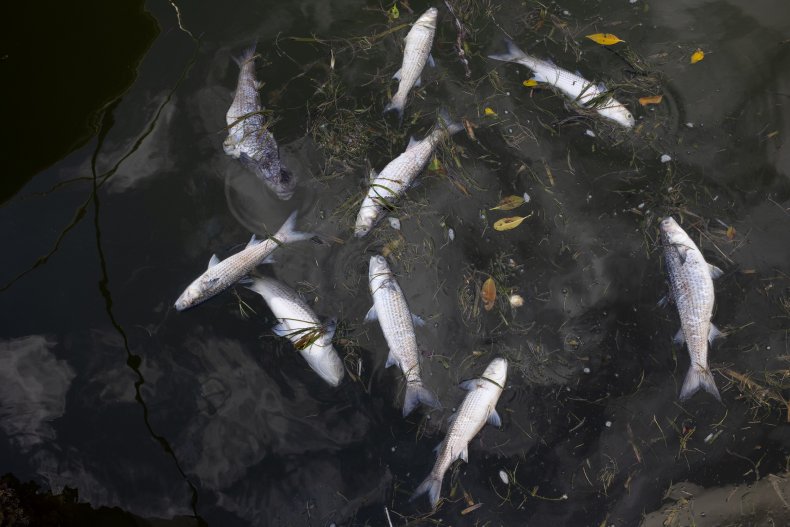 Red tides are a naturally occurring phenomenon of discoloration of sea surface. The "tide" is actually algal blooms found along coastal regions, which are caused by large concentrations of aquatic microorganisms. Species of phytoplankton and dinoflagellates proliferate during the blooms, and the resulting photosynthetic pigments vary in color from brown to red.
When the algae builds up high concentrations, the water can turn discolored or murky. Aside from an off-putting appearance, red tides are responsible for wildlife mortalities and can be harmful to humans who are exposed to them.
The waters around Florida are a common site of red tides, and St. Petersburg is experiencing a severe occurrence of it now. City officials reportedly noticed a wave of dead fish near the coast days ago, and they've since been found in mangroves, close to the shore, and in the bay.
Officials said Tropical Storm Elsa likely made it worse, though they also noted that further testing from the Florida Fish and Wildlife Conservation Commission (FWC) will be necessary before estimating the storm's exact effect on marine life.
Friday marks the 10th day of the cleanup. Amber Boulding, St. Petersburg's emergency manager, spoke with local Fox affiliate WTVT. She said, "We've collected 15 tons of fish in those 10 days and nine tons of those fish have been picked up in the last 24 hours."
"We've been dealing with red tide," Boulding added. "Tropical Storm Elsa came and really exacerbated that issue and pushed even more fish in."
WTVT reported that officials said 15 tons is equivalent to about 25,000 fish, while nine tons equals around 15,000 fish.
Boulding told the station that the city recruited more than 120 staff members from other departments help with the cleanup. Because of this, she said many city workers are away from their day jobs, resulting in some non-essential services—like tree trimming and pothole repairs—being delayed.
On Thursday, St. Petersburg Deputy Mayor Kanika Tomalin acknowledged the cleanup efforts were pulling workers away from other city jobs.
"This cleanup impacts our level of service in other areas, but we recognize the importance," Tomalin wrote on Twitter. "As fish continue to wash up, we'll continue our efforts."
The area's red tide problems have recently drawn attention from the state level. In June, Florida Governor Ron DeSantis visited St. Petersburg and met with environment leaders to discuss red tide research. DeSantis had already reinstated the inactive Red Tide Task Force in 2019, and he set up the Center or Red Tide Research at FWC that same year.