Nintendo Direct E3 2019: Start Time and How to Watch Online
Nintendo is getting ready to unleash its annual E3 online presentation, and this year is expected to be jam-packed with new gameplay, exclusive reveals and much more.
From the latest information on Pokémon Sword and Shield, Luigi's Mansion 3, Animal Crossing to more unexpected surprises,fans of Nintendo should be excited for this year's event.
The latest Nintendo Direct will have 40 minutes of information for games coming to the Switch this year. If you want to be there to watch it all go down, here's all the information you need, including the start time and how to watch the presentation online.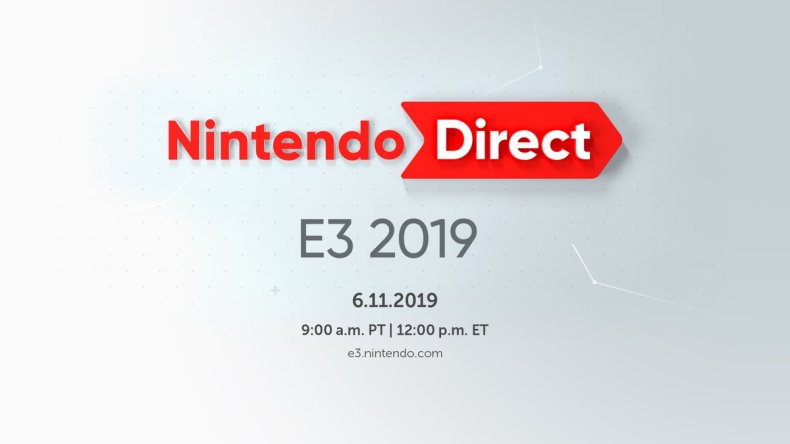 Newsweek subscription offers >
NINTENDO E3 2019 DIRECT START TIME
The Nintendo E3 2019 Direct will start Tuesday, June 11 at 12 p.m. EDT.
HOW TO WATCH NINTENDO E3 2019 DIRECT ONLINE
There are a variety of platforms fans can use to watch the E3 2019 Nintendo Direct. The official Nintendo E3 site will have the presentation streaming live on Tuesday.
Newsweek subscription offers >
Nintendo's official YouTube channel will also broadcast the latest Direct live. The YouTube app is available on mobile devices as well as all gaming consoles. PS4, Xbox One and even the Nintendo Switch can stream from the platform.
If Twitch is your platform of choice, the official Nintendo channel will also stream this year's E3 Direct live. The Twitch app is available on mobile devices as well as PS4 and Xbox One consoles. You can also watch the stream below.
This will also be the place where you can watch the Treehouse Live stream following the Direct, where more gameplay and information will be divulged.
WHAT TO EXPECT
Nintendo can reveal a lot of details on upcoming Switch games in 40 minutes.
Pokémon fans were treated to a Direct specifically for Sword and Shield last week, but more information - and perhaps a new Pokémon or two - on the Gen 8 games are likely to be announced. Maybe we'll see the first evolution of the starters, or the evil team for the Galar region.
Luigi's Mansion 3 and other top Switch titles will be playable at E3 this year, so it's safe to expect more information on those games. The aforementioned Luigi's Mansion, Sword and Shield, The Legend of Zelda: Link's Awakening and Marvel Ultimate Alliance 3 were all named by Nintendo last week, so expect new details from those titles.
As for unannounced information, the latest DLC character for Super Smash Bros. Ultimate is likely as well as a release date - or window - for Animal Crossing.
Are you excited for Nintendo's E3 2019 presentation? What do you expect to be shown? Let us know in the comments section below.
Nintendo Direct E3 2019: Start Time and How to Watch Online | Gaming