Nintendo Direct Announced for Wednesday: When and How to Watch Online
Surprise, surprise. Nintendo announced a brand new Direct online presentation that will give gamers a sense on what's to come to the Nintendo Switch system in the first half of 2021.
Announced Tuesday, Nintendo revealed on its various social media platforms that fans will receive approximately 50 minutes of news and footage on upcoming Switch titles, including Super Smash Bros. Ultimate.
It's been a while since Nintendo had a "normal" Direct presentation that was longer than 10-15 minutes and gave information on unannounced titles, meaning fans will want to learn how and when to watch.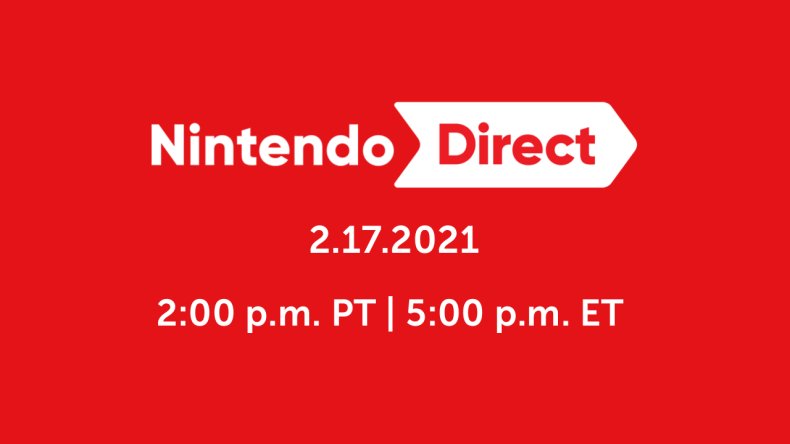 NINTENDO DIRECT START TIME
This latest Nintendo Direct online presentation begins Wednesday, February 17 starting at 5 p.m. EDT.
Nintendo confirmed that the presentation will be approximately 50 minutes long, so expect it to end around 6 p.m. EDT.
HOW TO WATCH NINTENDO DIRECT ONLINE
The official Nintendo Direct site is one way to watch the upcoming presentation online. This will also be the place to re-watch the Direct once it's over.
Nintendo's official YouTube channel will broadcast the Direct live as well. The YouTube app is available on mobile devices as well as all gaming consoles. PS4, PS5, Xbox One, Xbox Series X/S and the Nintendo Switch. The channel will upload the Nintendo Direct in its entirety after the presentation is done as well as the individual trailers that will be shown.
You can watch the latest Nintendo Direct when it goes live below.
There's also the Nintendo Twitch channel, which is another way to watch the upcoming Direct online. The Twitch app is available for mobile devices and gaming consoles like PS4, PS5, Xbox One and Xbox Series X/S.
WHAT TO EXPECT
With 50 minutes of information, there's a lot that Nintendo fans can expect from the latest Direct. The first is the reveal of a brand new character coming to Super Smash Bros. Ultimate.
Back in December 2020, Sephiroth from Final Fantasy VII was the latest DLC fighter added to the series. Fighters Pass 2 still has three more characters scheduled to be added to Super Smash Bros. Ultimate, so Wednesday will likely give us the first name arriving in the near future.
Don't expect this new character to be released after the Nintendo Direct, but we should get a release date to look forward to.
As for other Nintendo Switch titles, the console does have games like Bravely Default 2 and Monster Hunter Rise about to release in the coming weeks. Fans may get more information on those titles and when they might be released.
Fans are eager for a brand new Mario Kart, which has been a rumor for quite some time, but with 2021 being the 35th anniversary of The Legend of Zelda series, fans expect information on what Nintendo has planned for one of its most popular franchises.
Will we finally get some information on the Breath of the Wild sequel? It's possible, but we could also get a re-release of some of Link's most popular adventures from the 3D era like Ocarina of Time, Majora's Mask and more.
Also, with Pokémon Day next week, fans shouldn't expect anything from Pokémon during this Direct. Any information about Pokémon will get its own online presentation.
Fans will have to wait and see what Nintendo has planned for the first half of 2021.
What do you think will be shown during this latest Nintendo Direct? Let us know in the comments section.