Nintendo Direct Nindies Spring Showcase: How to Watch Online
A new Nintendo Direct is coming this Wednesday, and will shine a spotlight on upcoming Switch independent titles. The Nindies Spring 2019 Showcase will consist of approximately 30 minutes of information on Nintendo Switch indie games that will bulk up the console's already impressive library.
The last Nindies Showcase back in August 2018 saw games like Into The Breach confirmed for the Switch and the highly-anticipated Untitled Goose Game was shown.
Interestingly, Untitled Goose Game (from developer House House) has still yet to receive a release date. Perhaps fans will get one during this Nindies Showcase. No matter what Nintendo shows, Switch owners looking for something new and different will definitely want to check out the latest Nindies Showcase for a possible hidden gem or a surprise release.
If you're looking to watch the Nindies Spring 2019 Showcase, here's all the information you'll need including when it starts and how to stream it online.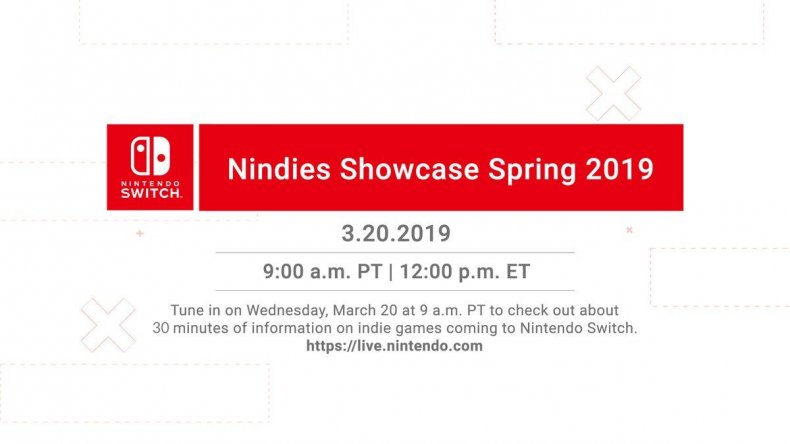 WHAT TIME DOES THE NINDIES SHOWCASE BEGIN?
The Nindies Spring 2019 Showcase will begin at 12 p.m. EDT. It may start a minute or so late, but unless Nintendo confirms a time change, expect the presentation to begin close to that time.
HOW TO WATCH NINDIES SHOWCASE ONLINE?
To watch the Nindies Spring 2019 Showcase, fans have a few options. The first is through the official Nintendo Live site. The online presentation will be hosted there through Nintendo's YouTube channel.
Nintendo Switch owners can watch from the console's YouTube app, which is free to download. As long as there is an internet connection, the stream can be watched on the Switch.
You can also watch the Nintendo Nindies Spring 2019 Showcase below.
If Twitch is more your speed, the official Nintendo Twitch Channel will also stream the Nindies Spring 2019 Showcase. Unfortunately, the Switch does not have a Twitch app,e so you'll want to visit the site directly or watch it via PS4 or Xbox One.
What do you think of the upcoming Nintendo Direct? What do you hope to see during the Nindies Showcase? Let us know in the comments section below.