Nintendo Direct Predictions: Next 'Smash Ultimate' DLC, 'Pokémon Sword and Shield' Starter Evolutions and More
Nintendo is springing a new Direct on fans this week with a lot of information expected from the 40-minute presentation.
The company has already announced that Pokémon Sword and Shield and Luigi's Mansion 3 will get the spotlight during the next Nintendo Direct, but what can viewers expect?
Here are our predictions for what will be shown and revealed on the September 4 Nintendo Direct.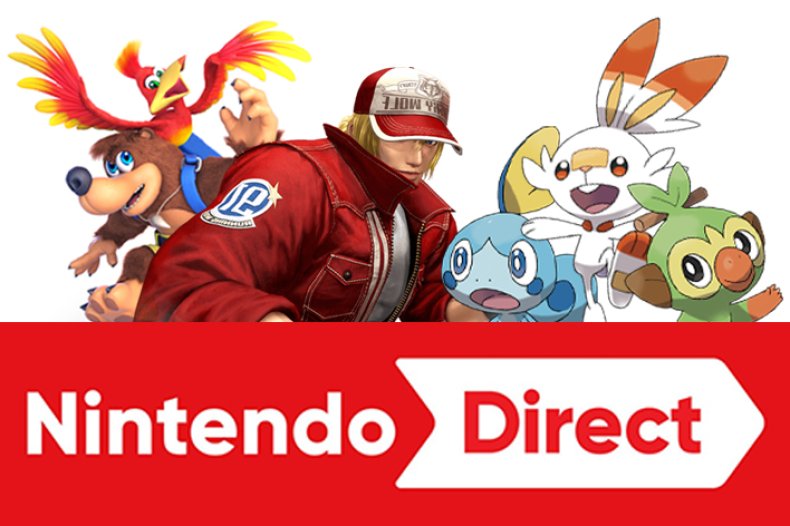 NEXT SUPER SMASH BROS ULTIMATE DLC CHARACTER
Revealing the fourth DLC character for Super Smash Bros. Ultimate seems like an easy bet for the next Nintendo Direct.
Over the holiday weekend, it seems that Nintendo UK let slip that the next DLC character will come from SNK's library of games. The listing that showed an SNK trademark was removed, but it has led to rampant fan-speculation.
For the SNK representative, one has to think its Terry Bogard from King of Fighters. He's the most recognizable character from their franchises, and he can easily fit in with Ryu and Ken. Although, we would actually prefer someone more obscure like a character from Metal Slug perhaps.
BANJO-KAZOOIE GETS A RELEASE DATE
Keeping with the Smash Ultimate news, Banjo-Kazooie is the third confirmed DLC character, but when the duo were first announced at E3 2019 there was no release date attached.
Smash Ultimate fans should expect a release date for the latest fighter, and if recent 7-11 ads are to be believed, Banjo-Kazooie will be purchasable sooner than they think. The Banjo-Kazooie ads will only appear until September 15, which means the new character will likely release before then.
If we had to make a guess, we'll get Banjo-Kazooie in Smash Ultimate starting September 10.
SWORD AND SHIELD STARTER EVOLUTIONS
The news cycle for Sword and Shield has been slower than the Alola region games. However, with just two months to go before the Gen 8 games are released fans, should expect more news to come out quicker.
During this latest Nintendo Direct, fans will likely get more gameplay footage of Sword and Shield and a new Pokémon or two. I also believe Impidimp, the Dark and Fairy-type Pokémon found in the E3 2019 demo, will get a proper reveal with its abilities and more information about it revealed.
But this is also where we feel that the starter Pokémon will get their evolutions revealed as well. There's been lots of debate whether Sobble, Scorbunny or Grookey will be the ideal starter for the Sword and Shield adventure, but seeing the first stage evolutions should help make that decision easier.
I don't expect to see the final evolutions of the starters - that'll come closer to release - but the first evolutions might give Pokémon fans an idea about what their final forms could be. It may also reveal the secondary typings of each starter.
What do you think will be shown during the Nintendo Direct? Let us know in the comments section below.