New Nintendo Direct Announced for September 4 will Have 'Pokémon Sword and Shield' and 'Luigi's Mansion 3'
A new Nintendo Direct is coming soon, giving fans a taste of what's to come for the Switch in 2019.
Nintendo announced the latest online presentation will feature approximately 40 minutes of information focused on 2019 Switch games on Wednesday September 4 at 6 p.m. EDT. Pokémon Sword and Shield and Luigi's Mansion 3 are confirmed to be given a spotlight this time around.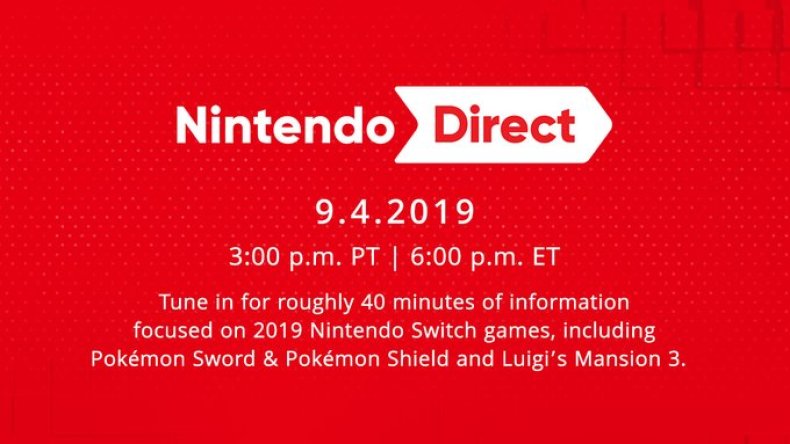 The last Nintendo Direct was the Indie World presentation, which revealed a ton of information about upcoming independent games coming to Switch. The highlight of that presentation was the reveal that Ori and the Blind Forest - a previously Xbox-exclusive title - was coming to Switch.
Prior to that, Nintendo held its annual E3 Direct which revealed new information on Sword and Shield, Fire Emblem: Three Houses, Luigi's Mansion 3 and, most notably, the announcement that a sequel to The Legend of Zelda: Breath of the Wild was in development.This was also the Direct that revealed The Hero from the Dragon Quest series and Banjo-Kazooie were coming to Super Smash Bros. Ultimate as DLC.
.Aside from the aforementioned Sword and Shield, and Luigi's Mansion 3 there isn't much more in terms of announced titles headed to Switch this year. Fans still have The Legend of Zelda: Link's Awakening to look forward to, as well as Daemon x Machina.
There is a good chance that another huge title will be announced for 2019, but, with Luigi's Mansion 3 releasing in October and Pokémon Sword and Shield in November, that doesn't leave much time for a major release this year.
The new Animal Crossing's release date is in 2020, so don't expect any news on that front.
What do you think of this upcoming Nintendo Direct? What do you hope to learn? Let us know in the comments section below.