San Diego Comic-Con is just around the corner (July 18 - 21) and Nintendo returns to the biggest pop culture event in the world with a slew of upcoming Switch titles for fans to enjoy.
From July 18-21, Nintendo booth at the San Diego Convention Center will focus exclusively on Marvel Ultimate Alliance 3: The Black Order - it is a game based on comic books, after all. The third installment of the fan-favorite series is a Nintendo Switch exclusive and will launch July 19.
If you want to try out this latest game before release, be sure to hop over to the Nintendo booth during the convention. Marvel Ultimate Alliance 3 will also be featured at the Marvel Games panel on Thursday, July 18 at 1:30 p.m. in Hall H. You can get the details from the developers themselves and may even see some exclusive footage.
Nintendo is bringing other titles to San Diego via the Nintendo Gaming Lounge at the San Diego Marriott Marquis and Marina, which is directly adjacent to the Convention Center. Nintendo has held special hands-on opportunities in this same area the last few years so con goers will want to check it out if they're interested in playing some Nintendo titles.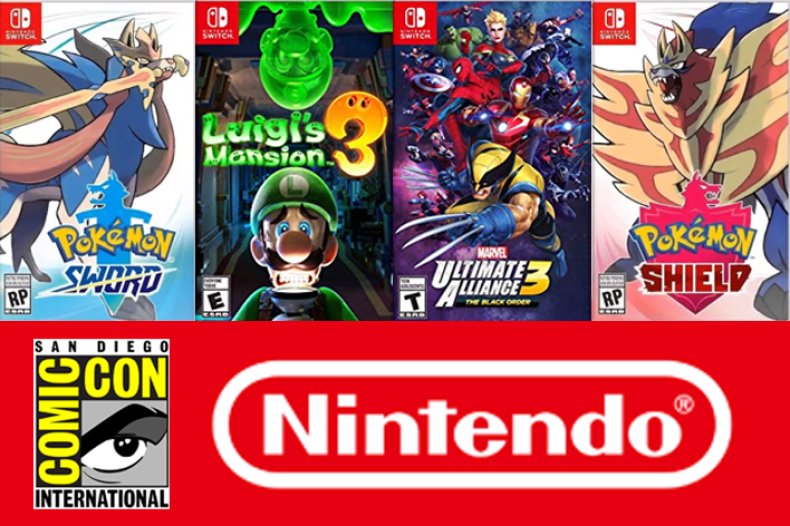 "We are excited to give everyone a chance to play some of the newly announced games that will be launching later this year and check out what's currently available on Nintendo Switch," Nick Chavez, Nintendo of America's Senior Vice President of Sales and Marketing said in a press release "We also have a variety of fun activities lined up for the show, and our aim is to bring a smile to everyone's face."
Nintendo is bringing these other games to SDCC 2019:
Pokémon Sword and Shield
Luigi's Mansion 3
The Legend of Zelda: Link's Awakening
Super Mario Maker 2
Cadence of Hyrule: Crypt of the NecroDancer
Super Mario Maker 2 and Cadence of Hyrule are out now - and are both awesome - but if you weren't at E3 2019 to try out Luigi's Mansion 3, Link's Awakening or Sword and Shield this is a great time to do so. It'll likely be the same demos as the ones from E3 2019 so don't expect anything new.
The Nintendo Gaming Lounge is open from 10 a.m. to 7 p.m. Thursday-Saturday and 10 a.m. to 5 p.m. on Sunday.
What do you think of the Nintendo games coming to SDCC? Let us know your thoughts in the comments section below.