Nintendo has announced that an OLED version of its Switch console will be released in October.
Although it does not represent the substantial improvement that many gamers were hoping for, this incremental upgrade does come with a few new features. These include a designated LAN port, a more stable kickstand and additional internal storage.
The main selling point, though, is the OLED screen. At 7 inches, it is only marginally bigger than the screen on the original unit, but it will offer better picture quality—with sharper contrast, deeper blacks and more vibrant colors—when you are playing in handheld mode.
When the Switch is docked and hooked up to your TV, however, the resolution remains 1280x720 (as opposed to 4K, like the Xbox Series X or the PlayStation 5). The new model will not bring any improvements to the CPU or RAM either.
As a result, people who already own the Nintendo console are not necessarily missing out on much if they decide not to upgrade. That said, if you're shopping for your first Switch or regularly play in handheld mode, this is definitely the version you should be looking at.
Nintendo Switch OLED Model Release Date and Price
The Nintendo Switch OLED model is scheduled for release on Friday, October 8, and priced at $349.99.
This is $50 more than the original version and $150 more than the Nintendo Switch Lite, which is handheld only and cannot be linked to a TV.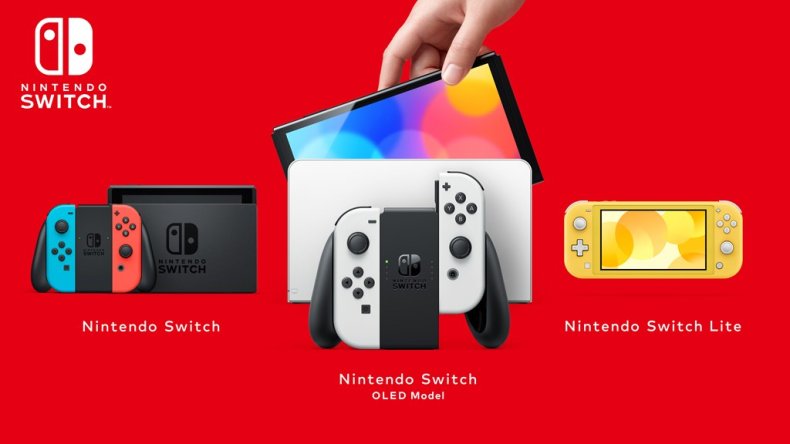 Where to Pre-Order a Nintendo Switch OLED Model
Pre-orders are now open in Australia and the United Kingdom, but U.S. customers are currently unable to purchase a Switch OLED model. This could change at any second, however.
GameStop and Best Buy have already set up product pages for the device and you can also find it on Nintendo's official storefront. So, it is reasonable to assume that U.S. outlets will soon be allowing shoppers to add the OLED model to their baskets.
It is worth keeping an eye on GameStop and Best Buy's pages, as the pre-orders will inevitably be snatched up within minutes of their release. It is difficult at the moment to find a standard Nintendo Switch unit, because of supply issues, so this new one will definitely be in demand.
You might also want to follow console tracking accounts on Twitter, such as @Wario64 and @GYXdeals, to receive the latest updates about availability. These accounts have always been reliable when it comes to restocks of the Xbox Series X and the PS5.