Nintendo Switch OLED: What Is Different About the New Model
Nintendo has announced that an OLED version of its Switch console will be released in October.
The new model will not bring any tangible improvements to performance or gameplay, as many were hoping for, but will instead have a bigger screen and a few other enhancements for the sake of player convenience.
What Is the Nintendo Switch OLED Model?
Unlike the PlayStation 5 or Xbox Series X, the Switch OLED console is only an incremental upgrade over its predecessor and does not represent a next generation of the hardware. This means that it will not feature any exclusive games that the original model cannot already handle, nor will it run the existing titles with improved graphics. In short, it is not a "Nintendo Switch 2."
It is not even what fans have colloquially been referring to as the "Nintendo Switch Pro." This highly anticipated version of the console was rumored to be announced at this year's E3 conference but never materialized. Many were hoping that, if the Pro existed, it would have enhanced processing power and also display in 4K resolution.
Instead, the Switch OLED model is simply a minor upgrade that has a different screen for when you are playing undocked and a few other convenience features. To reiterate, Nintendo has already confirmed to technology website The Verge that it will not bring improvements to the CPU or RAM currently used by the original Switch.
What Is Different About the Nintendo Switch OLED Model?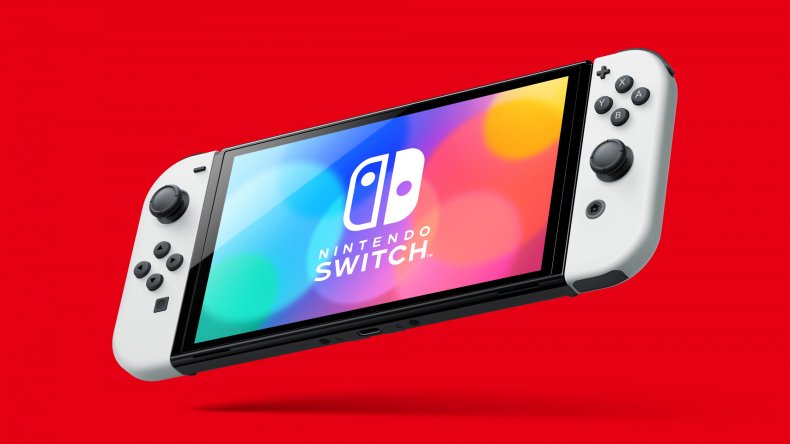 There are a number of differences between the original Nintendo Switch and the new OLED model.
A New Screen
The headline feature for the new Switch Model is its OLED (organic light-emitting diode) screen. For a start, it is 7 inches in size, as opposed to the original unit's 6.2 inches or the Nintendo Switch Lite's 5.5 inches. This means that, if you are playing handheld, you will get a marginally bigger image.
In addition to this, because the new screen utilizes OLED technology, you will get a better picture quality with sharper contrast, deeper blacks and more vibrant colors (although the resolution will still be 1280x720). Again, this will only make a difference for those who are playing with the device in its handheld mode, as there will not be any visual upgrades for when the console is docked and hooked up to your TV.
An Inbuilt LAN Port For the Dock
That being said, the dock itself will be getting a new, inbuilt LAN port that should make online play a lot smoother. The original iteration of the Switch was quite reliant on you having a stable wireless internet connection, so this is definitely an improvement.
As a bonus, Nintendo has also revealed that the new dock can be purchased separately from the OLED model, meaning that you do not have to shell out for another console if you want the LAN port.
Increased Internal Storage
The Nintendo Switch OLED model will have an internal storage capacity of 64GB, which is double the original unit's 32GB. Even with this upgrade, there is still not an overabundance of space on the console, when you consider that games like The Legend of Zelda: Breath of the Wild take up 13.4GB.
As such, if you want more than a handful of titles on The Nintendo Switch OLED model you will probably still need to buy a separate SD card.
A New Kickstand
The original Nintendo Switch's controversial kickstand has been revised for the OLED model. The old version was a fragile pull-out leg barely capable of supporting the weight of the console without wobbling.
The new model replaces this with a wider stand that runs the entire width of the console's back, which should be far more stable. It is also fully adjustable, meaning that it can be set to multiple different angles.
In addition to all of the above, the OLED model will also benefit from "enhanced audio," although Nintendo has not provided any clarity yet on what this actually means.
In a nutshell, the OLED model is not a dramatic renovation of the original console. If you have not already got a Nintendo Switch, or if you play handheld a lot, then this is certainly the version to get. Otherwise, it is hardly an essential purchase.
The new console will be available from October 8, at a price of $349.