With less than a month until the PlayStation 5 and Xbox Series X/S are both released, some gamers may be on the fence as to which of the next-gen consoles to pick up this holiday season.
For some, the lineup of games at launch, as well as future exclusives, will be a defining factor. For others, it's about habit, like with phones; the system gamers are used to, whether it's PlayStation or Xbox, will determine whether they'll continue to play that system's successor.
However, there are some gamers, both casual and hardcore, that will want to know which of the next-gen consoles are more powerful, and that's where this spec comparison comes in.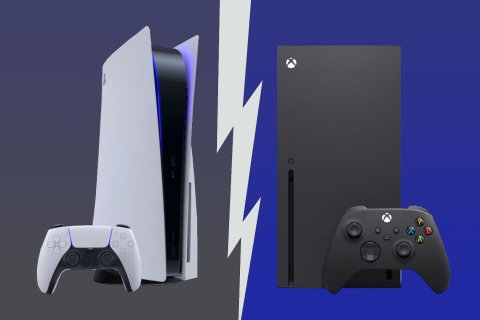 Both systems have similar costs, with the Xbox Series X and the base PS5 costing $499. However, both companies will be selling a more economic option in the Xbox Series S ($299) and the PS5 Digital ($399) that offer similar experiences, but without disc drives.
Sony is boasting that the Digital and base versions of the PS5 will have similar specs, while the Xbox Series X has better specs than the Series S.
Here's a rundown of the major specs of the PS5, Xbox Series X and Xbox Series S:
| | | | |
| --- | --- | --- | --- |
| | PS5 | Xbox Series X | Xbox Series S |
| Processor | 8-core AMD Zen 2 CPU with variable frequency at 3.5 GHz | 8-core AMD Zen 2 CPU with variable frequency at 3.8 GHz | 8-core AMD Zen 2 CPU with variable frequency at 3.8 GHz |
| Graphics | 10.28 teraflops, 36 CUs clocked at a variable frequency of 2.23 GHz | 12.15 teraflops, 52 CUs clocked at 1.825 GHz | 4 TFLOPS, 20 CUs clocked at 1.565 GHz |
| RAM | 16GB of GDDR6 SDRAM | 16GB of GDDR6 SDRAM | 10GB GDDR6 SDRAM |
| Storage | 825 GB SSD | 1TB SSD | 512 GB SSD |
| Expandable Storage | NVMe SSD slot | 1TB Microsoft expansion card slot | 1TB Microsoft expansion card slot |
| Optical Drive | 4K UHD Blu-ray (none for the digital version) | 4K UHD Blu-ray | None |
| Display | Up to 8K | Up to 8K | Up to 4K |
If you're someone who's concerned with the numbers, the Xbox Series X is slightly more powerful than the PS5, with the Xbox Series S coming in third.
Some of the most important info included in the above specs has to do with the systems' storage. The new Xbox Series X states that it comes with 1TB of storage, but the number of usable storage is much lower. Gamers will get 802 GB of storage for their games on the Xbox Series X. The rest is used to run files and the user interface of the console, so gamers won't have the complete 1TB to use to download games or save files on the console.
The Xbox Series S has 512 GB of storage, but will only have 364 GB of usable storage for games.
As for the PS5, we now know that the 825 GB on the box is not what's usable. Sony's new system has just 667.2 GB of usable storage so gamers will have to prioritize which games to keep on the system or purchase an external hard drive to expand the console's storage.
Both consoles will also have backwards capabilities. The Xbox Series X will allow for games from as far back as the original Xbox console to be played on the next-gen system—you can read more about that here.
The PS5, on the other hand, will only allow PS4 games. You can read more about that here.
Deciding whether to choose a PS5 or Xbox Series X/S can be tricky. If price is an issue, the Xbox Series S is a great option as it's sold for just $299. The PS5 Digital edition at $399 is a perfect middle ground between the Series S and the suped-up Xbox Series X and base PS5 consoles.
If price isn't an issue, then there are some factors to consider.
Like smartphones, staying in the same "ecosystem" makes transitions easier. If you already own a PS4, the PS5 is probably your best bet as you'll be able to play your PS4 games on the new system, keep your online log-ins, etc...
The same goes for the Xbox. If you own an Xbox One, they'll be able to smoothly transition into the Xbox Series X/S.
If you're looking for the most powerful gaming experience, the Xbox Series X is your best option. However, if you're a gamer who wants exclusive games to play on your new system, the PS5 is your best bet. Sony has Spider-Man: Miles Morales, Sackboy A Big Adventure and more exclusives on the horizon that most gamers will want to play, and they'll only be available on PS5.
What do you think of the two consoles? Let us know which you prefer in the comments section.