Xbox Series X vs PS5: Every Launch Game For Each New Console
While the pre-orders for the Xbox Series X/Sand the PS5 are out in the wild, some gamers have already made their choice of next-gen console.
However, for those on the fence of which console to purchase the games it offers is a big part of that decision, especially at launch. With the Xbox One X and PS4 offering a lot of games this holiday season, the games that launch exclusively for next-gen or those that can be upgraded from the previous generation is crucial.
We've compiled a growing list of titles for both the Xbox Series X and PS5 that are scheduled to release at launch. These lists will continue to be updated as more dates are confirmed.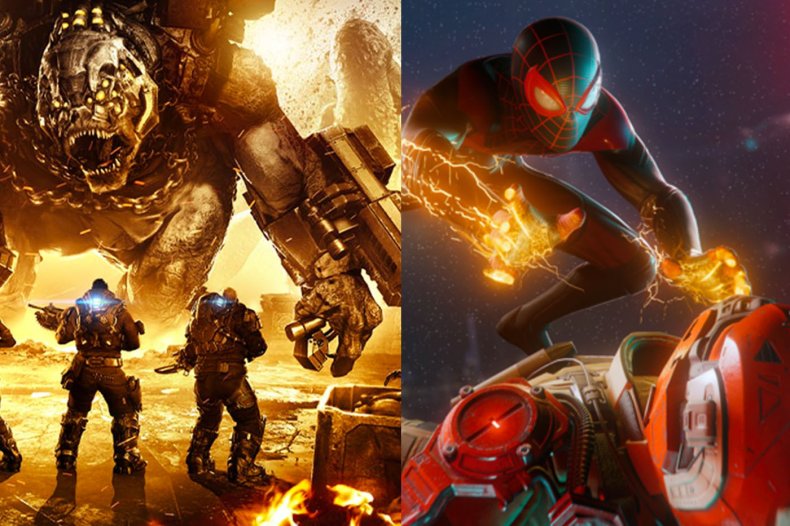 XBOX SERIES X LAUNCH TITLES
The Xbox Series X and S are set to release November 10 and while Halo: Infinite was originally scheduled to be a launch title for Microsoft's next-gen console it needs more time and will release sometime in 2021.
Just because you won't be able to play as Master Chief this year doesn't mean the Xbox Series X won't have plenty of titles for gamers to get engrossed in.
Assassin's Creed: Valhalla
Bright Memory
Dirt 5
FIFA 21
Fortnite
Gears Tactics
Marvel's Avengers
Observer: System Redux
Tetris Effect: Connected
The Falconeer
Yakuza: Like a Dragon
On Thursday, October 15 Microsoft confirmed 30 titles that will be available on Day One as Xbox Series X|S Optimized Titles
Assassin's Creed Valhalla (Smart Delivery)
Borderlands 3 (Smart Delivery)
Bright Memory 1.0
Cuisine Royale (Smart Delivery)
Dead by Daylight(Xbox Game Pass + Smart Delivery)
Devil May Cry 5: Special Edition
DIRT 5 (Smart Delivery)
Enlisted
Evergate
The Falconeer (Smart Delivery)
Fortnite
Forza Horizon 4 (Xbox Game Pass + Smart Delivery)
Gears 5 (Xbox Game Pass + Smart Delivery)
Gears Tactics (Xbox Game Pass + Smart Delivery)
Grounded (Xbox Game Pass + Smart Delivery)
King Oddball (Smart Delivery)
Maneater (Smart Delivery)
Manifold Garden (Smart Delivery)
NBA 2K21
Observer: System Redux
Ori and the Will of the Wisps (Xbox Game Pass + Smart Delivery)
Planet Coaster (Smart Delivery)
Sea of Thieves(Xbox Game Pass + Smart Delivery)
Tetris Effect: Connected (Xbox Game Pass + Smart Delivery)
The Touryst (Xbox Game Pass + Smart Delivery)
War Thunder (Smart Delivery)
Warhammer: Chaosbane Slayer Edition
Watch Dogs: Legion (Smart Delivery)
WRC 9 FIA World Rally Championship (Smart Delivery)
Yakuza: Like a Dragon (Smart Delivery)
Yes, Your Grace (Smart Delivery)
PS5 LAUNCH TITLES
Sony took its time revealing the price and release date of the PS5, but gamers can start playing the next-gen console starting on November 12.
During its last PS5 online presentation, Sony announced new launch titles and a slew of games that will be included as part of the PlayStation Plus subscription program.
Assassin's Creed Valhalla
Marvel's Spider-Man: Miles Morales
Astro's Playroom
Demon's Souls
Destruction All Stars
Devil May Cry 5: Special Edition
Fortnite
Godfall
Sackboy: A Big Adventure
PlayStation Plus Collections
At launch, PlayStation Plus subscribers--the same subscription needed to play online--will give the following games at no extra cost as long as it's part of the Plus library.
The following games were confirmed during the PS5 Showcase:
Battlefield 1
Batman: Arkham Knight
Bloodborne
Days Gone
Detroit: Become Human
Fallout 4
Final Fantasy 15
God of War
Infamous Second Son
The Last Guardian
The Last of Us
Monster Hunter: World
Mortal Kombat X
Persona 5
Ratchet and Clank
Resident Evil 7: Biohazard
Uncharted 4: A Thief's End
Until Dawn
Which console do you think has the best launch titles? Which game are you looking forward to most? Let us know in the comments section.