When Does the Nipsey Hussle Murder Trial Begin? Everything You Need To Know
Nipsey Hussle was gunned down outside a clothing store he owned in Los Angeles on March 31, 2019.
Moments before his death, Hussle was standing, talking to friends, when Eric Holder approached him and they had a conversation.
Throughout the conversation Hussle supposedly told Holder that he was gaining a reputation for being a "snitch."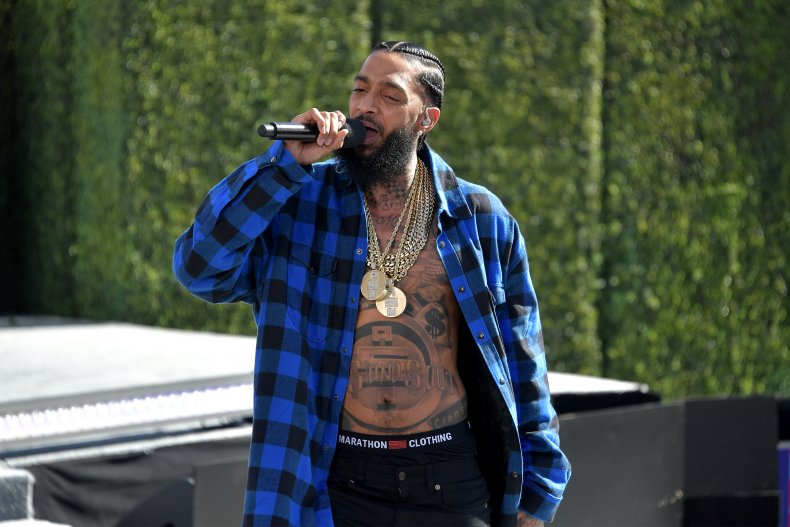 Who was Nipsey Hussle?
Airmiess Joseph Asghedom, known as Nipsey Hussle, was a musician, entrepreneur and philanthropist. The Los Angeles-born rapper—who was signed to Roc Nation, Jay-Z's entertainment agency—was 33 years old when he died.
Hussle quickly rose to fame after releasing numerous mixtapes, including his "Bullets Ain't Got No Name" series, "The Marathon," "The Marathon Continues" and "Crenshaw."
In January 2020, nearly a year after his death, Hussle was awarded two Grammy awards.
When is the Nipsey Hussle murder trial?
The trial of 32-year-old Holder will begin on June 2. Holder was indicted in May 2019 on one count of possession of a firearm by a felon, one count of murder and two counts of attempted murder, as well as assault with a firearm.
The trial was originally meant to start on 5 January, 2021 but was delayed by the COVID-19 pandemic. The trial, along with jury selection, is set to last about four weeks.
Who killed Nipsey Hussle?
Holder is accused of gunning Hussle down and was indicted by a grand jury. He had been a friend of the rapper and was a member of the Rollin' 60s gang, which Hussle had also belonged to, according to a 2019 CNN report.
What happened the day Nipsey Hussle died?
After a conversation between Hussle and Holder turned sour, Holder allegedly drove off with his then-girlfriend. After pulling out a gun, he told her to drive around the block and then to pull over close to the strip mall where Hussle's shop was. He allegedly told her to wait there, saying he'd be "right back."
A 512-page long transcript of grand jury testimony states that Holder "walked within a few feet of Hussle, and fired multiple rounds into him from two different guns."
His defense attorney has attempted to keep the transcript private over concerns it would prevent his client from having a fair trial.
An autopsy report stated that Hussle died of gunshots to the torso and heart and was pronounced dead upon arrival at a local hospital.
Holder's former girlfriend is set to testify at the trial. He has pleaded not guilty.