Why Are Companies Telling Black Women to Be White? Nivea's Latest Ad Stirs Controversy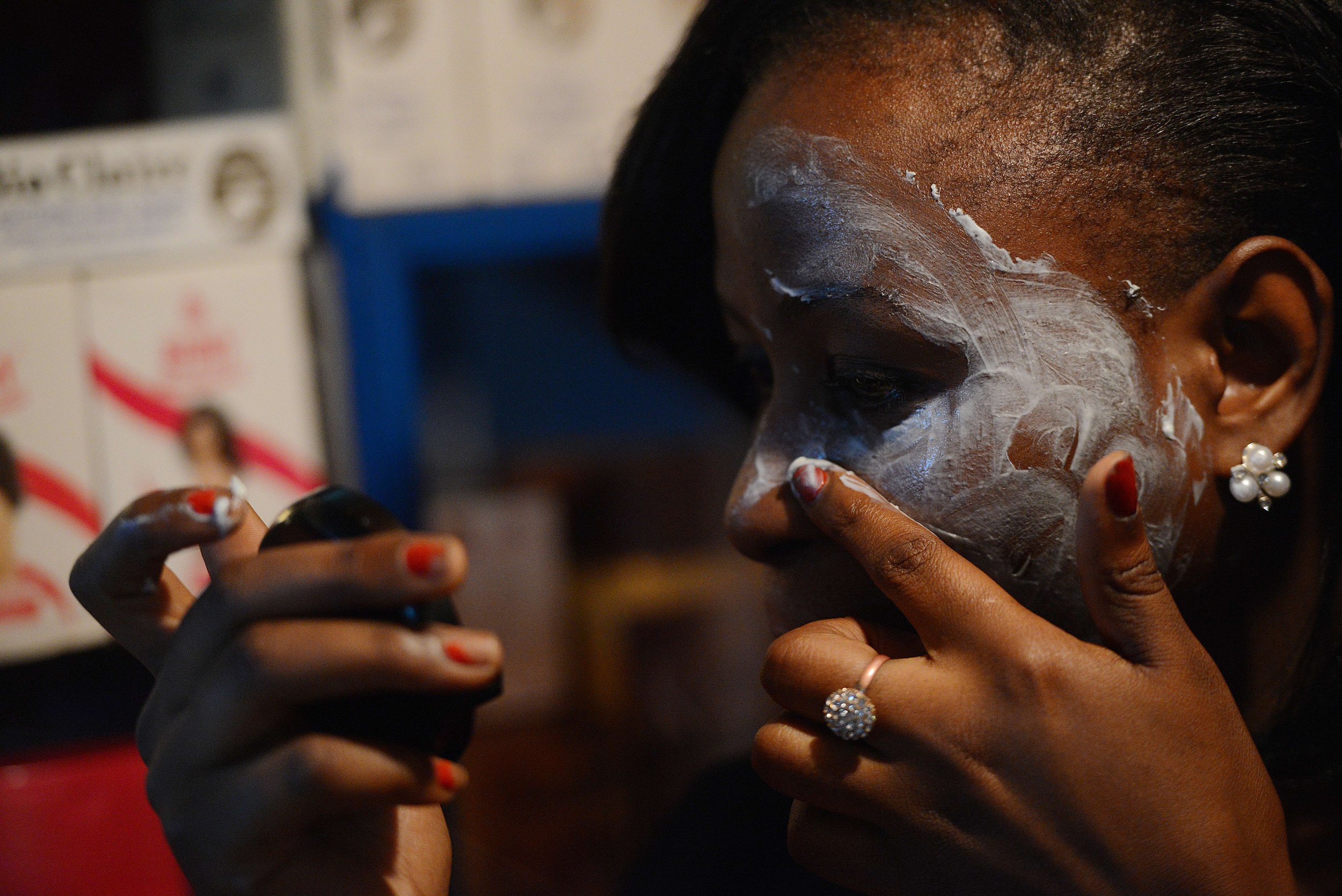 Another skincare corporation is under fire for suggesting that black is not beautiful in a campaign advertising a product for "visibly fairer" skin.
Nivea's new ad for "Natural Fairness Body Lotion," which is being displayed across Africa, features a black woman looking disappointedly at her own skin.
"I need a product that I can really trust to restore my skin's natural fairness," she says. But after applying the miracle cream, which a narrator says can "visibly lighten" skin, the woman beams.
"Now, I have visibly fairer skin, making me feel younger," she says.
Critics say the ad is racist and encourages skin lightening in the black community, which for years has been told that acting and looking white is better. Some users on Twitter said the ad contributes to the ideals of white supremacy and anti-blackness by promoting self hatred in the black community.
"As a Pan-African, I believe ads such as this one do nothing but hold us back," hip-hop artist Ramey Dawoud told Newsweek. "Our youth see these ads and a seed of self-hate gets planted in their subconscious. To see these ads suggesting and dictating what is beautiful for us was never and will never be acceptable."
Nivea's campaign is one of several similar advertisements that have made the rounds telling black women that white is better. Amid a backlash, Unilever recently pulled its Dove ad that featured a black woman transforming into a white woman.
"Dove is committed to representing the beauty of diversity," the company said in a statement. "In an image we posted this week, we missed the mark in thoughtfully representing women of color, and we deeply regret the offense that it has caused."
Yet Dove's Summer Glow Nourishing Lotion markets itself for "Normal to Dark Skin," as if dark skin were not normal. The product resulted in a Twitter firestorm in 2012 yet is still being sold with the controversial wording.
Social media users are wondering when companies will learn. The ads are not firsts for either Unilever or Nivea, which have both received heat for racist campaigns in the past.
Nivea removed a deodorant ad that said "White is Purity" in April when outrage grew online, with social media users saying the ad promoted white supremacy.
A spokesperson with Nivea's parent company, Beiersdorf, told The New York Times the company "never intended to hurt anybody or to raise any wrong interpretation."
Dove also received criticism for a 2011 ad of three women standing next to one another. In the ad, a black woman stands in front of a picture of cracked skin with the words "before" above her, while down the line, a white woman has an image of smooth skin behind her with the word "after."
Communities of color know advertisements for fairer skin are nothing new. India used 258 tons of skin-lightening cream in 2012. Fair & Lovely has long been a skin-lightening brand used in India and endorsed by celebrities.
Nii Kotei Nikoi told Newsweek he sees skin-lightening ads everywhere while walking in Ghana.
"I feel like it reflects our inability to deal with our colonial past and the residual impact-—colorism," he said.
Skin lightening has grown into a booming business. The Global Industry Analysts found in 2009 that skin lightening was a $10 billion industry and expected to make $23 billion in 2020.
In 2016, Ghana placed a ban on the chemical used in skin-lightening products, which often contain hydroquinone used to bleach skin. Cote d'Ivoire and South Africa have also placed similar bans on the chemical.