N.J. Student's Hitler Essay Prompts Borough to Launch Holocaust Education Program
A fifth grader's controversial school essay about Adolf Hitler in Tenafly, New Jersey, has led the borough to partner with a global human rights organization to promote Holocaust awareness in the community.
The Holocaust education program will kick off on July 12, after a school essay that appeared to extol Hitler prompted outrage across Tenafly last month. In the report, the fifth grader used phrases such as "I was very popular" and "I was pretty great, wasn't I?" to describe the Nazi leader.
"My greatest accomplishment was uniting a great mass of German and Austrian people behind me," the essay stated, before adding that Hitler was responsible for murdering 6 million Jews.
The fifth grader's report came after a teacher at Maugham Elementary School asked students to write a biography from the perspective of historical figures who "personify good or evil." The essay was then displayed on the walls of the school for several weeks before a concerned parent took a photo of it on Memorial Day Weekend, The Washington Post reported.
Shortly after, parents and community members across Tenafly's Bergen County, began calling and writing to school officials, demanding accountability for what many viewed as an insensitive report. In response, the school district launched an investigation in June and placed the fifth-grade teacher and school principal on leave, NorthJersey.com reported.
In the aftermath of the outrage, the school district and Jewish Federation of New Jersey both stated that the report was not intended to be antisemitic and that the student's family should not be blamed, but noted that the assigned project led to miscommunication and insensitivity toward the Jewish community.
The project came at a time when the U.S. saw an uptick in antisemitic violence and harassment following the conflict between Israel and Hamas.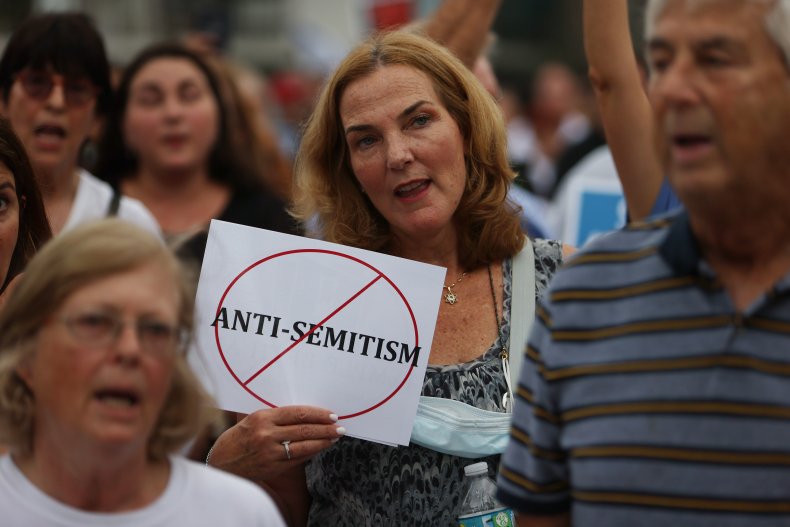 "This has had a devastating impact on the student involved and their family, who have been thrown into turmoil through no fault of their own," Tenafly Superintendent Shauna DeMarco said in June, according to NorthJersey.com. "It has also been incredibly painful for our Jewish community members in the face of increasing instances of antisemitism around the country."
Now, Tenafly Mayor Mark Zinna announced Friday that the borough is launching an educational program in order to turn last month's controversy into a "teachable moment."
"Rather than arguing over what should and should not have been said, we're using this situation as an opportunity to learn," Zinna said at a Friday morning news conference.
The Holocaust education program is a collaboration between the borough of Tenafly and the Simon Wiesenthal Center. The event will be free and open to the Tenafly community and will kick off next week with a conversation with Holocaust survivor Mark Schonwetter.
Schonwetter, an 86-year-old, grew up in Poland and survived the Holocaust by hiding with family in attics, pigpens, and the forest, according to NorthJersey.com. His father was taken into custody by Nazis and murdered in a mass grave.
In addition to the speaking event, Tenafly will display an exhibit on Holocaust history in September in order to show that "it is serious about Holocaust education," Michael Cohen, Eastern director of the Simon Wiesenthal Center, said Friday.
Newsweek contacted the borough of Tenafly for additional comment, but did not hear back in time for publication.