ADL CEO Jonathan Greenblatt Says Antisemitic Attacks Are 'Like a Charlottesville Every Day'
Anti-Defamation League (ADL) CEO Jonathan Greenblatt compared a rise of antisemitism in the wake of the recent conflict in Gaza to experiencing "a Charlottesville every day" for terrified Jewish Americans.
Greenblatt made the remarks during a Friday appearance on MSNBC. He told host Nicolle Wallace that synagogues had recently been hit with antisemitic vandalism while Jewish people were harassed, assaulted and "chased down and beaten" across the United States amid rising tensions over the conflict in the Middle East.
"I've heard from Jewish people all over the country in the past week who are alarmed," Greenblatt said. "It's like a Charlottesville every day when someone is driving down the street targeting Jewish neighborhoods... through a bullhorn and a megaphone screaming 'Are you Jewish?' and then, again, throwing bottles at people."
Greenblatt compared the rise in antisemitic incidents to the recent wave of anti-Asian incidents amid the COVID-19 pandemic, stressing that "holding Jews collectively responsible for Middle East policies, that's not activism... it's antisemitism, and it should have no place in our political dialogue."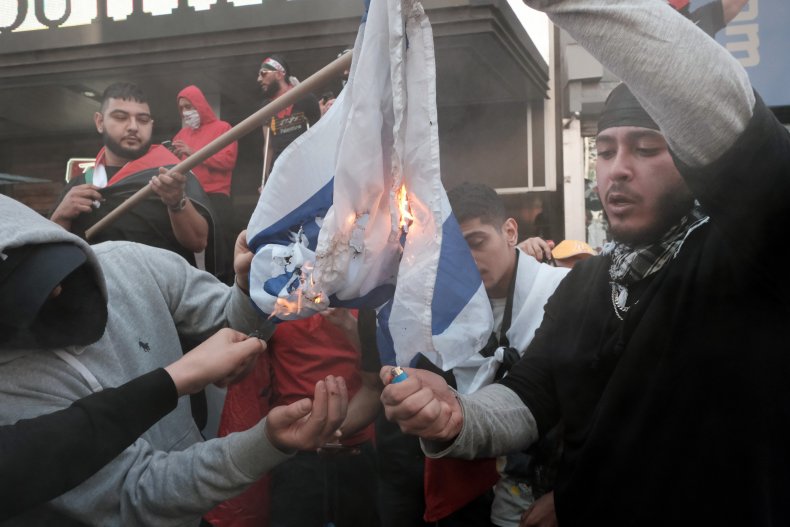 During an incident in Los Angeles on Tuesday, which authorities are investigating as a hate crime, witnesses said that a pro-Palestinian mob of around 30 attacked diners gathered a sushi restaurant in a Jewish neighborhood. The group threw glass bottles and cups at the diners while shouting antisemitic slurs and indiscriminately asking "Who's Jewish?"
"L.A. is a city of belonging, not of hate," Los Angeles Mayor Eric Garcetti tweeted in response to the incident. "There is simply no place for anti-Semitism, discrimination, or prejudice of any kind in Los Angeles. And we will never tolerate bigotry and violence in our communities."
In New York City, clashes between pro-Palestinian and pro-Israel demonstrators erupted into violence on Thursday while Israel and Hamas enacted a cease-fire that at least temporarily ended the deadly conflict in the Middle East. Multiple online videos appeared to show Jewish people being targeted and physically attacked during the confrontations.
Other antisemitic incidents have been reported around the country. Recent preliminary data from the ADL indicates that there has been a roughly 50 percent uptick in antisemitic incidents since this month's conflict began. During the week of May 7 to May 14, the group also tracked more than 17,000 tweets that expressed support for some variation of the statement "Hitler was right."
"ADL has been fighting hate for over 100 years," said Greenblatt. "We've seen in the past that tension in the Middle East can spawn hate crimes here. But I must say, from the far right... to the radical left who make these unhinged claims about the Jewish people or the Jewish state, the Jewish community is feeling pressure from both sides."
The August 2017 "Unite the Right" rally in Charlottesville, Virginia was attended by a large group of white supremacists espousing racist and antisemitic rhetoric. The event turned deadly when white nationalist James Alex Fields Jr. drove his car into a crowd of people protesting the event, killing 32-year-old Heather Heyer.
Newsweek reached out to ADL for additional comment.