'No Backbone': Dad Dragged for Complaining About 'Babysitting' His Own Kid
Members of a popular internet forum were furious after one father complained about his wife's social life, and revealed how his mother intervened between the new parents.
In a viral Reddit post published on r/AmITheA**hole, Redditor u/Comfortable_load_452 (otherwise referred to as the original poster, or OP) said that his wife gave birth to the couple's first child two months ago, but expressed his frustration with her spending time with her friends, leaving him to "babysit" the infant.
Titled, "[Am I the a**hole] for siding with my mother when she and my wife got in an argument?," the viral post has received nearly 10,000 votes and 4,000 comments in just 8 hours.
"As soon as the baby turned 2 months, my wife started trying to get back into her social life," the original poster began. "Sometimes she'd bring the baby with her but sometimes she'd expect me to babysit."
"My wife's a great mom and she truly cares for our baby but it's frustrating how she feels the need to go out," he continued.
After lamenting over her attempts at regaining a social life, u/Comfortable_load_452 said his own mother got involved: by accusing him of being spineless, and attacking his wife for her time outside of the house.
"One day while she was out shopping with a friend...I was babysitting the kid and my mom visited and asked where my wife was," he wrote. "My mom got very mad about how my wife went out and she told me I have no backbone for not calling her out and telling her to stay home with the baby."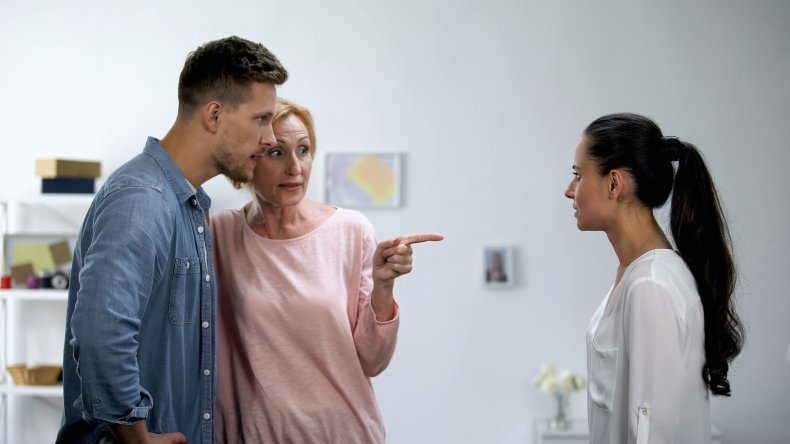 "My mom waited until my wife got back home and she started scolding her. It wasn't a proud moment...and I really didn't want my mom to get involved but my wife needed to hear it from someone else too," he continued. "[She] told my wife that she's irresponsible and that she should cut down on her meetings with friends and stay home to care for the kid as a proper mother would."
"I agreed with my mother on all that and my wife is not speaking to me," he added. "She even sleeps in the guest room now and took the baby's crib there as well."
Despite traditions and stereotypical quips that fathers taking care of their children without the assistance of a mother are simply babysitting, the "babysitter" label can have adverse effects.
In an article titled, "Dads Watching Their Own Kids is Not Babysitting," For Every Mom writer Jenny White dispelled the notion that all fathers are ill-equipped to take care of their own children.
"Calling a dad a 'babysitter' serves to devalue to the role that fathers play in their children's lives, which is just as important as the roles that mothers can play," White wrote."I'm tired of the old fashioned notion that mothers are always the primary caregivers and the only ones who know how to properly parent a child."
While the commentary surrounding fathers "babysitting" their children has evolved over the last decade, and outlets including The Atlantic and The Washington Post have offered rival perspectives on the issue, some dads continue to perpetuate the stereotype themselves.
Throughout his original Reddit post, u/Comfortable_load_452 referred to watching his 2-month-old child as babysitting—something commenters were quick to call him out for.
"Notice how you say taking care of your own kid is babysitting?," Redditor u/dldoom wrote in the post's top comment, which has received more than 30,000 votes.
"You didn't even mention the amount of time she goes out versus you but you just want us to trust you that it's 'different' for you?," they continued. "Too bad your wife has two kids at home."
Redditor u/Substantial-Fox-4905, whose comment has received nearly 18,000 votes, echoed that sentiment.
"[You're the a**hole] simply for referring to looking after your own child as 'babysitting,'" they wrote.
In a separate comment, which has received more than 10,000 votes, Redditor u/Comfortable_Read3801 was adamant that the original poster is a parent, not a babysitter, and also pointed out his indifference to his mother berating his wife.
"You and your wife decided to become a family [and] a team when you got married, even before the baby," they commented. "Your mom is now extended family, she should NEVER feel comfortable to 'scold' your wife, especially in her own home."
"BOTH of you are the parents to that baby," they added. "You are not babysitting, you are being a parent."