'No Emissions, No Questions': Electric Vehicle Use May Not Change the Taste of Wine
In a time where wineries and winemaking are threatened by the effects of climate change, researchers are beginning to understand the relationship between contaminants in the air and the wine production process.
The wine growing community has recently begun investigating the smoke taint phenomenon. In the event of a brush fire or forest fire, nearby wine grapes that are exposed to smoke for extended time periods will store those aroma compounds and contaminate the final product.
During prolonged periods of smoke exposure, wine grapes can absorb those compounds and attach sugars to them in a detoxification process. But when those grapes are vinified later, the sugars are separated from the accumulated compounds by the yeast used in fermentation. What seemed like perfectly fine grapes are turned into wine that smells like smoke.
Researchers like Dr. Gavin Sacks, a professor of food science at Cornell University, told Newsweek that while smoke taint is a well-documented problem, the same can't be said for gasoline emissions.
At Cornell's viticulture and enology department, Sacks' research looks at how outside forces shape the flavor and aroma of the final product. He said that there's no data available to suggest that gasoline emissions are causing any noticeable difference in how wine grapes ferment.
Automotive exhaust isn't as concentrated in the environment for very long, so it's unlikely that there's a similar effect.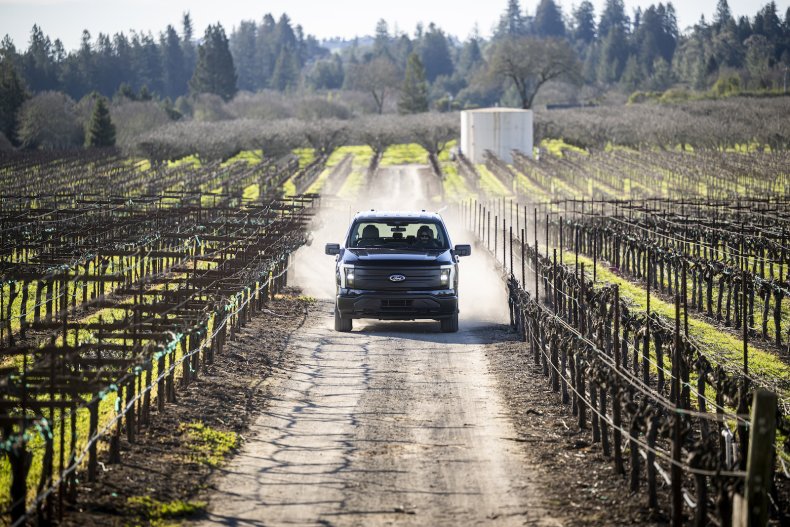 "The difference is that when you've got smoke taint, you have long periods where grapes are being exposed to very high concentrations of these compounds in the vineyard," he explained. "As opposed to a tractor going through the vineyard, there might be momentary exposure but it's going to dissipate quickly in the environment due to mixing."
As the automotive industry prepares for an electric future though, special attention is being paid to commercial operations like vineyards.
Last month, in California wine country, Ford announced a pilot partnership with a group of Sonoma County winegrowers to test the mettle of its newest electric vehicles (EVs), the 2022 Ford E-Transit and the 2022 Ford F-150 Lightning.
Over the course of a year, three winemakers in the region will utilize these vehicles - along with Ford Pro's suite of telematics and charging solutions for commercial customers - to show that the company is going all in on commercial sustainability.
Ford estimates that the use of EVs and the cloud-based software will reduce the cost of fleet ownership by up to 20 percent.
Winemakers have touted the possibilities of strengthening their sustainability missions and being able to perform tasks that would be off-limits to gasoline-powered vehicles.
For example, an E-Transit can be driven through a wine cave or cellar, where California regulations prevent an internal combustion engine from doing the same. An F-150 Lightning, with its charging capabilities, can be brought into the field to charge another vehicle or piece of equipment.
But can it also make grapes cleaner?
During a Ford presentation at Inglenook estate winery in Rutherford, California, associate winemaker Chris Phelps brought up the potential issue, referencing studies done in previous decades that showed increased lead content in wine until leaded gasoline was banned in the 90s.
"In the pre-unleaded years, they found that lead was actually making it into the grapes right along the highway," he said. "We finally went to unleaded gas, but now we can take it a step farther going electric. We can do away with those emissions. We can take care of our fruit and make super premium wines."
Sacks and a group of researchers are starting to look into more "environmentally derived taints," like smoke or methane. They're also looking at asphalt, but not car exhaust.
But Sacks thinks that if taint from car exhaust is happening, it's subtle enough to where nobody is noticing it.
"It's a small portion of the vineyard that's going to be affected," he argued. "Whatever's closest to the road or downwind of the road. And that means it can be averaged out when you harvest an entire vineyard. Unless you're making wines from very small, separate blocks within the vineyard you wouldn't notice that."
Phelps told Newsweek that while he doesn't know the current effect that gasoline emissions have on grapes, he'd rather switch to electric before finding out.
"We know that if they're exposed to smoke from a fire, they're harmed," he said. "There's nothing good about emissions. So no emissions, no questions."