No Joke: Trump Bows Out of White House Correspondents' Dinner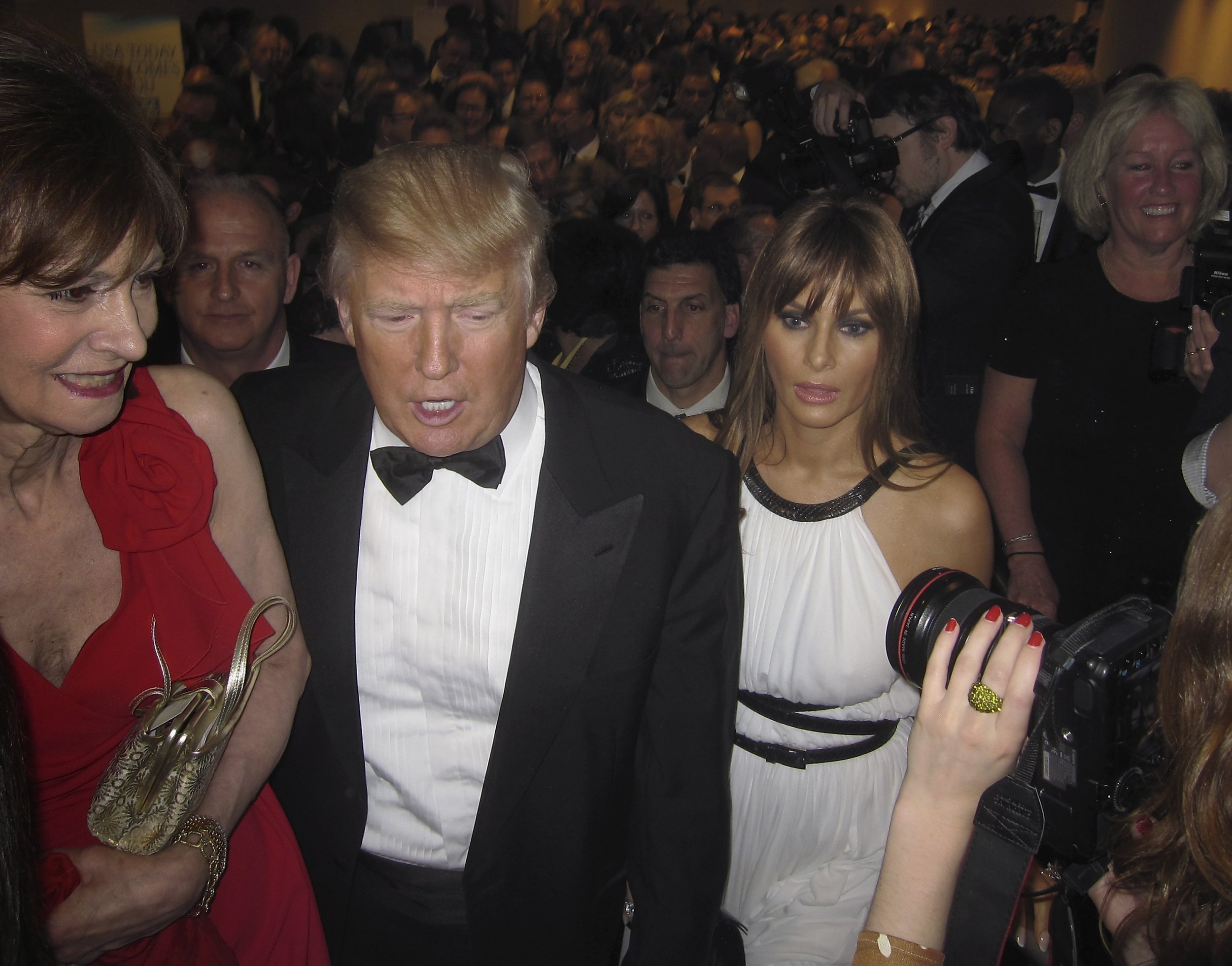 Donald Trump didn't look very happy to be teased at the 2011 White House Correspondents' Dinner as a private citizen, and he's not going to stomach jokes at his expense as president.
Trump announced on Twitter Saturday that he "will not be attending the White House Correspondents' Association Dinner this year. Please wish everyone well and have a great evening!" Organizers say the annual event, which awards scholarships for children, will still occur on April 29 despite the president's absence.
RELATED: McCain, critics say Trump's gone too far with press war
The dinner, sponsored by the White House Correspondents' Association (WHCA), is attended by press and politicos and customarily functions as a light-hearted roast of the sitting president and political establishment, with the object of jokes shrugging them off with a smile. Trump, not so much. The then-birther was grim-faced as he endured mocking in 2011 by both President Obama and comedian Seth Meyers, who took aim at his focus on Obama's birth certificate, qualifications and ambitions.
"Donald Trump said recently he has a great relationship with the blacks," Meyers said. "Unless the blacks are a family of white people, I bet he's mistaken." The late-night host also joked that Trump "owns the Miss USA pageant, which is great for Republicans because it will streamline their search for a vice president."
Obama was less cutting in his remarks and managed to at least elicit a smile or two from Trump during several minutes of jokes. "I know that he has taken some flak recently, but no one is happier, no one is prouder to put this birth certificate matter to rest than The Donald. And that's because he can finally get back to focusing on the issues that matter. Like, did we fake the moon landing? What really happened in Roswell? And where are Biggie and Tupac?"
This year's White House Correspondents' Dinner already had promised to be a break from the norm due to the toxic relationship Trump and his advisers are avidly pursuing with the press. The president frequently slammed the media on the campaign trail but has made a concerted effort as president to undermine media credibility, calling out specific organizations as "fake news" and going so far as to label the media the "enemy of the American people." His surrogates echo his remarks, with Kellyanne Conway, Chief of Staff Reince Priebus and others slamming stories, especially those relying on leaks within Trump's own government, as false and dishonest. Chief Strategist Steve Bannon—who weeks ago advised the press to "keep its mouth shut"—just this week denounced the "globalist, corporatist media" as crybabies at the annual Conservative Political Action Conference, while press secretary Sean Spicer was roundly condemned Friday for blacklisting certain organizations from a private, untelevised press gaggle in his office.
The annual black-tie dinner is always a source of minor controversy, with some media watchdogs criticizing the affair as a too-cozy evening of journalists and their sources and subjects. Some organizations do decline to send representatives, but expectations are heightened this year due to Trump's assault on the press. Bloomberg, Vanity Fair, and the New Yorker all have already pulled out of parties around the dinner, while CNN and MSNBC are reportedly deliberating whether they'll attend at all, The Hill reports.
Regardless, the WHCA says Trump's absence won't affect the event. "(The dinner) has been and will continue to be a celebration of the First Amendment and the important role played by an independent news media in a healthy republic," WHCA president Jeff Mason said in an email to the Washington Post. "We look forward to shining a spotlight at the dinner on some of the best political journalism of the past year and recognizing the promising students who represent the next generation of our profession."
However the evening unfolds, viewers won't have the chance to see an unpopular president enduring a comedian's material, as President George W. Bush did in 2006. Stephen Colbert, then the host of Comedy Central's "Colbert Report," brought his faux conservative persona to the dais to the befuddlement of the president.
"It is my privilege to celebrate this president because we're not so different, he and I. We both get it. Guys like us, we're not some brainiacs on the nerd patrol. We're not members of the fact-inista. We go straight from the gut. Do you know you have more nerve endings in your gut then you have in your head? You can look it up. Now I know some of you are going to say, I did look it up, that's not true. That's because you looked it up in a book," Colbert said.
"The greatest thing about this man is he's steady. You know where he stands. He believes the same thing Wednesday that he believed on Monday, no matter what happens Tuesday."