No Man's Sky fans are watching the Waking Titan ARG closely, and we have new developments to share. The ties between Titan and a seemingly fictitious VR company called WARE are getting stronger, and there are free game codes to show for it.
The teases surfaced late Monday evening, when the Waking Titan website updated its Status command to read "Code -5/ Monarch Repository: Data Loss Imminent/ Booting Up Command Center.v11/ Pending Approval By Monarch."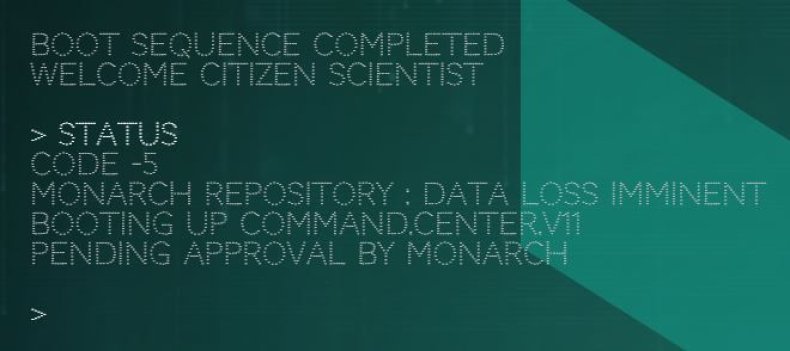 The change was quickly followed up by an email from the WARE VR software company. The full email can be read via the Imgur gallery below, but the gist of it is that WARE will soon launch its English site and has passed along this application form for the chance to get a Developer Kit. The message also mentions that 25 recipients of the newsletter will win keys for games from a WARE development partner.
Those keys were dispersed, and they all offer copies of Mimimi Productions' Shadow Tactics: Blades of the Shogun. Like No Man's Sky's Hello Games, Mimimi Productions is a European indie studio. However, Mimimi is based in Germany as opposed to England.
As with all things Waking Titan, plenty of questions still need answers. While WARE's IP address was originally posted on the ARG's website, it's unclear how the VR company's work links to the ARG or No Man's Sky's NEXT update. The easiest link to draw is that a No Man's Sky VR experience may be on the way, but there are many clues left to uncover before that assumption can truly be made. On the status side, what do these references to Monarch mean? Might Monarch be code for WARE?
ARG players are also unsure about what to do with WARE's devkit application form. While many fans have been filling the required fields with contact details for various indie studios, it hasn't yet been confirmed that this is the correct course of action. Like many other puzzles associated with this ARG, there may be a more precise solution required to trigger another step. WARE has kicked off the next phase in a big way, but the new Waking Titan status command suggests it'll be the ARG's main site that serves up the next bit of lore.
No Man's Sky 's Waking Titan ARG first resurfaced in January and took an extended break through late March. Evidence of WARE was first discovered shortly before Hello Games publicly announced that No Man's Sky would be coming to Xbox One alongside a substantial update, called NEXT, this summer. Established themes of the ARG include sleep, mirrors and virtual reality.
No Man's Sky is available now on PS4 and PC.
What are your thoughts on these recent Waking Titan developments? Do these free keys have any relation to No Man's Sky? Tell us in the comments section!