FBI Director Christopher Wray told lawmakers there's "no question" cartel activity from Mexico is spilling across the southern border.
Wray made the remarks during a House Judiciary Committee oversight hearing on Thursday.
Representative Tom McClintock (R-Calif.) questioned Wray on whether foreign nationals coming across the U.S.-Mexico border are "deeply indebted" to the cartels, and if those debts are collected through "indentured servitude."
"In some cases, definitely," Wray responded. "We have a number of human trafficking task forces as well as working on certain task forces with [Department of Homeland Security] to try to address that issue."
The FBI director continued, "But there's no question that the cartel activity on the other side of the border is spilling over in all sorts of ways, and you just put your finger directly on one that is extremely concerning to us all."
Wray added that he considers human trafficking a "modern form of slavery" after McClintock stated "170-plus years after the 13th Amendment have slavery burgeoning in this country."
"I mean, it's almost medieval," the FBI director said of human trafficking.
A record number of people, including unaccompanied minors, have attempted to cross the U.S. border with Mexico in recent months.
In April, immigration officials stopped almost 179,000 people trying to cross the border—the largest figure in more than two decades, according to data released by U.S. Customs and Border Protection. The total number of border crossings this year is on pace to reach a two-decade high.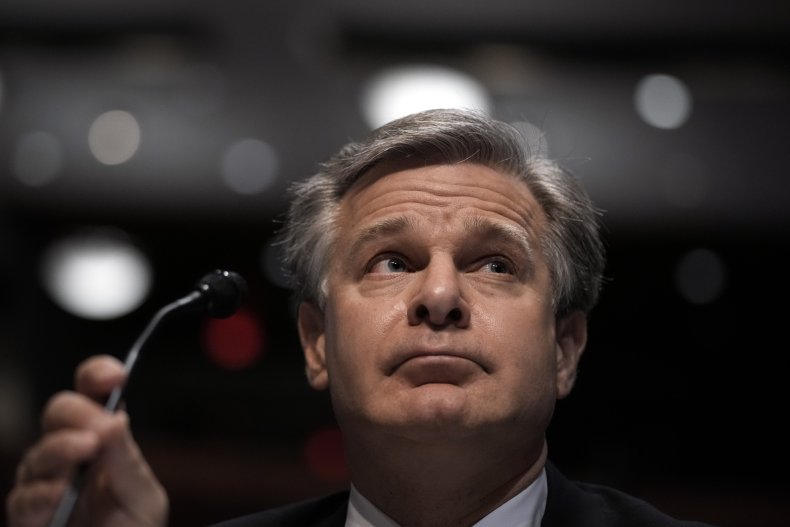 Brandon Judd, the president of the National Border Patrol Council, recently told Fox News that the situation at the southern border is "worse than we've ever seen."
Vice President Kamala Harris, who has been tapped by President Joe Biden to lead the administration's effort to curb migration, urged people not to come to the U.S. during her first foreign trip to Guatemala and Mexico.
"I want to be clear to folks in this region who are thinking about making that dangerous trek to the United States-Mexico border: Do not come. Do not come," she said during a press conference alongside Guatemalan President Alejandro Giammattei on Monday.
While in Guatemala, Harris announced that a task force would be created to work with the Justice, Treasury and State departments to investigate corruption and human smuggling in the region.
She also said they discussed illicit drugs that are being smuggled and humans who are being trafficked across the borders.
"I have personally worked on these cases in my career and can say that when we see some of the most vulnerable in our communities being taken advantage of, being sold for profit, being abused, it should be a priority for all of us who care about the human condition and humanity," Harris said at the press conference .
Newsweek reached out to the FBI for additional comment on the cartel activity spilling over to the U.S. but didn't receive a response before publication.