No Vaccine Proof Needed for 40,000 at Kanye West 'Donda' Listening Party
Almost 40,000 people attended Kanye West's latest Donda listening event in Chicago last night—with minimal COVID-19 restrictions.
Taking place at Soldier Field stadium, the listening party—also called The Donda Listening Experience—was the third event the rapper has organized that offers fans a chance to hear his upcoming album in a unique, concert-like setting.
Despite operating at a reduced capacity, guests did not have to show proof of vaccination from coronavirus or a negative test to gain entry.
Several other large-scale events this summer, like Lollapalooza, required punters to be able to provide proof of vaccination or a negative test to gain entry, making this event even more unusual.
However, in an interesting move, the venue actually offered vaccines to unvaccinated attendees who wanted one for the Donda show, with more than 2,000 doses available on the night.
One fan, who got vaccinated at the show, said attendees could probably sit near the front of the stage with West if they got the jab on site.
"They told us we could possibly sit at the front of the stage with him if we got vaccinated, so we said 'sure,'" Michael Airth told NBC Chicago.
The vaccine initiative at Soldier Field was supported by the Chicago Department of Public Health.
"We know that Soldier Field has adopted many COVID-19 safety protocols, and feel this event can be held safely so long as attendees abide by these precautions," the department said, per NBC. "Soldier Field will be at only a little over half capacity... and we know that transmission is less likely at outdoor events."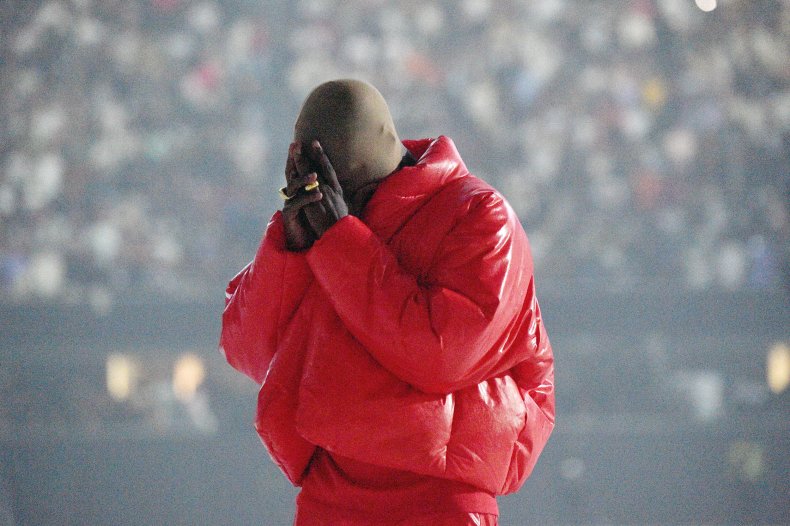 Ahead of the show, Chicago Park District communications director Michele Lemons told the Chicago Sun-Times West's event is "is one of many examples that show that Chicago can be open and safe at the same time."
He added: "We have worked with Soldier Field on COVID-19 safety protocols, as we have other venues including Wrigley and Guaranteed Rate fields, and feel this event can be safely held with the proper mitigation efforts in place. ... and we know that transmission is less likely at outdoor events."
West's spectacle on Thursday night saw him set himself on fire (in a fireproof suit) and stage a wedding with his estranged wife Kim Kardashian West.
A replica of his childhood home was created and set ablaze with West inside it.
He also shared the stage with disgraced musicians Marilyn Manson and DaBaby.