Kanye West Fans to Be Offered Vaccines at Next 'Donda' Event
The next Donda listening event will see unvaccinated Kanye West fans offered the COVID-19 jab on site.
Taking place on Thursday August 26 at Soldier Field stadium in Chicago, the listening party—also called The Donda Listening Experience—is set to be the third and final event before the highly anticipated album release.
A spokesperson for Soldier Field confirmed to TMZ that 1,500 doses will be made available for attendees who wish to receive the vaccine on the night.
Will be available the Pfizer vaccine as well as the one-shot Johnson & Johnson vaccine.
The initiative is being run by organizers at Soccer Field alongside officials from the Chicago Department of Health who will also be on site.
Aside from offering the vaccine, the event is set to have minimal COVID-19 safety measures for guests who will not have to show proof of vaccination or negative COVID test results to gain entry.
The stadium, which is the home of the NFL's Chicago Bears, will be operating at reduced capacity, with 38,000 seats available. Masks are recommended.
Chicago Park District communications director Michele Lemons told Chicago Sun-Times that masks will be optional for all outdoor areas at Soldier Field but, "they are recommended for unvaccinated individuals in crowded outdoor settings."
"Kanye West's performance is one of many examples that show that Chicago can be open and safe at the same time," Lemons said. "We have worked with Soldier Field on COVID-19 safety protocols, as we have other venues including Wrigley and Guaranteed Rate fields, and feel this event can be safely held with the proper mitigation efforts in place. ... and we know that transmission is less likely at outdoor events."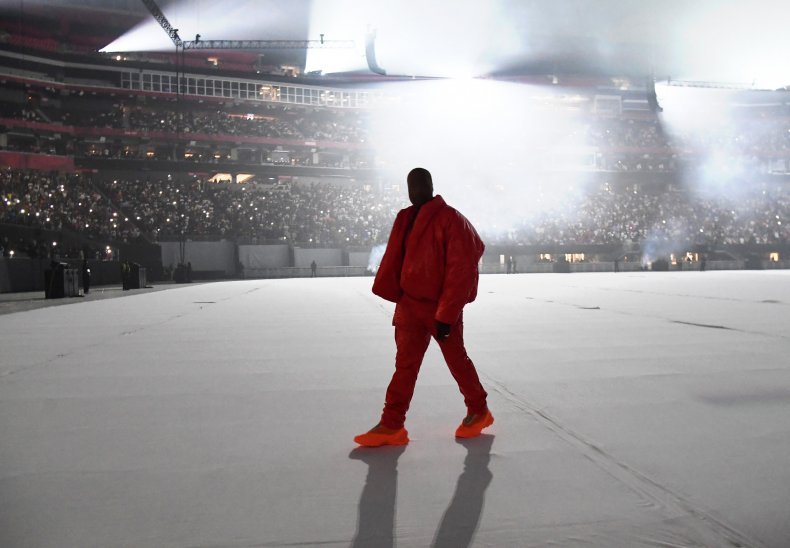 West's manager has said that the much-delayed Donda will "absolutely" be released this week.
Abou "Bu" Thiam has revealed that the album will drop after Thursday's listening party.
Last week, when asked by a fan on Twitter if West will drop the album after the event, Thiam responded: "Absolutely!" as the continued delays for the album release have frustrated fans.
Thursday's Donda listening event comes as the rapper has filed to legally change his name to Ye.
West cited "personal reasons" in court documents filed in Los Angeles seeking to change his full name—Kanye Omari West—to simply Ye, with no other first name or surname.
The 44-year-old previously announced the name change in back 2018, when he tweeted he was "the being formally known as Kanye West. I am YE."